Science and Civics: Sustaining Wildlife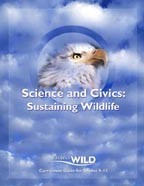 Project WILD's high school curriculum, Science and Civics: Sustaining Wildlife, is designed to serve as a guide for involving students in local environmental action projects aimed at benefiting wildlife. It involves young people in decisions affecting people, wildlife, and their shared habitat in the community.
The program consists of four major components:
Awareness: alerts students to the impact of human and individual activities on habitat quality and quantity
Participatory Democracy: develops principles related to government structures and is appropriate for government and civics units of social studies courses
Habitat Exploration: studies biotic and abiotic parameters of a site and is appropriate for ecology and environmental science units of science courses
Taking Action: guides both science and social studies students in designing, implementing, and communicating projects to enhance a particular site.
Science and Civics: Sustaining Wildlife is distributed through the Texas Parks and Wildlife's Project WILD program. Educators, youth group leaders, and others can receive the Science and Civics: Sustaining Wildlife Curriculum Guide for Grades 9-12 by attending a Science and Civics workshop. The workshop is a minimum of 2 hours and teachers are given SBEC (State Board of Educator Certification) credit. See a sample activity.
See the list of current workshops or contact us at education@tpwd.state.tx.us for information on how to schedule a workshop for your group.