Activities
Colorado Bend is the outdoor enthusiast's paradise. With over 5,300 acres of unspoiled wilderness, the park offers plenty of opportunities to enjoy nature. From a two-hour visit to a full three-day weekend, you will never run out of things to do.
On the Trails
Colorado Bend offers over 35 miles of trails. Trails drain well, so they are rarely closed.
All trails are open to hikers and bikers unless otherwise posted. However, we do not allow horses. The park's trails vary in terrain and difficulty, so you can choose your experience!
Download or pick up our trails map before you set out.
Hiking
Some popular hiking trails in the park include:
Spicewood Springs - Enjoy a trail along breathtaking pools and waterfalls fed by Spicewood Springs. Watch your footing as you meander back and forth across the creek and as you hike up the canyon to take in gorgeous views.
Gorman Falls - Our most popular trail is very rocky and includes a steep descent near the falls.
River - Enjoy the dense canopy and river access on this easily navigable trail.
Backpacking
A multiday backpacking trip is a rewarding way to experience Colorado Bend. Primitive backpacking campsites are available. A staff member can help you plan your trip to include a variety of trails and destinations.
Mountain Biking
We don't want to boast, but we have some of the best mountain biking in the state! The majority of our trails are single-track.
The variety of trail difficulty will fit any riding style and experience level. But this rugged terrain offers a challenge for even the most experienced riders.
In the Water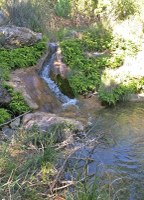 If you are looking for water, we've got you covered. Six miles of Colorado River frontage allow you to cast a line, go for a swim, or enjoy a leisurely kayak trip. (Kayaks available for rent.)
Fishing
Colorado Bend has historically offered some of the best bass fishing in Central Texas. You do not even need a fishing license when fishing in a state park. We also have a fish cleaning station.
Swimming
Spicewood Springs is one of the best swimming holes in the Hill Country. A short, flat trail will lead you to the first of multiple spring-fed swimming holes. Continue up the Spicewood Springs trail for more pools and waterfalls.
Underground
Have you ever wondered what lies beneath your feet? With over 400 caves, Colorado Bend is the place to explore this underground world. Reservations are required for all cave tours.
Make reservations for cave tours.