Blanco State Park Celebration - Free Entry
10:00a

to

3:00p




Sat, May 20, 2023
🎉 Join us for an array of interactive activities and information stations set up throughout the park.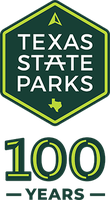 We will celebrate the historical, cultural, and natural heritage of Blanco State Park and the surrounding area.
Park visitors will share in the celebration through multiple informational and activity stations throughout the park--programs and activities such as The History of Blanco State Park and the Civilian Conservation Corps, Animals in Blanco State Park (skins, sculls, and scat), wildlife viewing at the Wildlife Viewing Station, fishing programs, kayaking programs, and stations offered by our community and Texas Parks and Wildlife partners.  Most of the activities will be set up on a level grassy surface.
Bring:  water, sunscreen, and a towel (if participating in water activities).  
This is one of many 100-year celebration events happening in Texas state parks this year. Entry to a park is free on the day it hosts an official 100-year celebration event (applies to day passes only). Guarantee entry by reserving your free pass
.