Choke Canyon Bird Festival
8:00a

to

2:00p




Sat, February 17, 2018
Mark your calendars for our 2018 Bird Festival!
Choke Canyon State Park, in partnership with the Three Rivers Chamber of Commerce, is pleased to announce the 2018 Bird Festival to be held at Choke Canyon State Park, Calliham Unit. This year's Festival is organized to explore birding at Choke Canyon, highlight some terrific Texas birding and wildlife organizations, as well as hear from experts in the area. Whether you are an expert, novice, or just want to learn more about birds, we invite you to come out for a day at the Park. Please mark your calendars, pack a picnic lunch or pick one up in Three Rivers, and come out to learn a new hobby and meet others who share your passion for birds!
WHAT and WHEN:      Guided bird walks 8:00AM – 10:30AM   
                                         Speakers, Booths and Activities 9:00AM – 2:00PM  
WHO and HOW:   All ages are welcome.  Please dress appropriately for the weather!
This event is FREE, but Park entrance fees apply: Adults $5, Children 12 Years and Under Free. Obtain permit at the park's main headquarters.
For the "early birds" -  Park gates open at 6AM, but the office doesn't open until 8AM.  Please use the Self-Pay station (red metal box) at headquarters to pay your entrance fees and obtain a permit. Instructions are posted on the red metal box.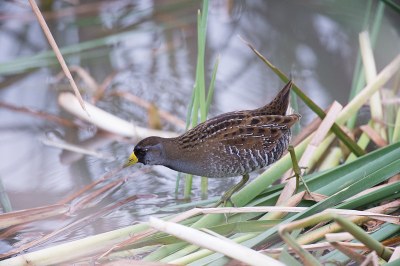 *All photos by Alan Clampitt
EVENT TIMELINE:
On the Hour Guided Bird Walk(s): 8:00AM -11:00AM (last guided walk at 10:00AM)
Guided Bird Walks are on a "first come basis." Up to 20 participants per group. Arrive early and sign-up at the Gymnasium. Some guides will have a limited number of binoculars for visitors to use during guided walks
Speakers (Gymnasium): 9:00AM – 1:00PM
9:00: Dr. Maureen Frank, Ph.D, Assistant Professor and Extension Wildlife Specialist, Wildlife and Fisheries Science Department, Texas A&M AgriLife Extension Service: "Bird Habitat in Your Backyard"
10:00: Patsy and Tom Inglet, San Antonio Audubon Society: "Birding 101 and Use of Binoculars"
11:00: Dr. Tania Homayoun, Ph.D, Nature Tracker Biologist, TPWD: "Importance of bird habitat, bird conservation, and citizen science"
12:00: Ben Hortsmann, Regional Interpreter, TPWD: "Birding in Texas State Parks"
1:00: Kevin Gaines, Sky Kings Falconry: "Raptors Revealed: features live birds and discusses the natural history of raptors, their unique traits, and natural abilities"
Education/Information Booths (Gymnasium): 9:00AM- 2:00PM
San Antonio Audubon Society
Texas A&M University (TAMU) Wildlife and Fisheries Science Department
TAMU Society for Conservation Biologist
Three Rivers Chamber of Commerce                                                                      
Brush Country Photo Safari, Beeville
Sky Kings Falconry, Wildlife Revealed
Texas Nature Trackers, Texas Parks and Wildlife Department (TPWD)
Skins and Skulls, TPWD
Inland Fisheries, TPWD
Game Thief Trailer, Game Warden, TPWD
Family Activities: 9:00AM – 2:00PM
Bird Feeder Making – Kitchen Covered Patio Area (next to gymnasium)                                
Bird Mask Making – Kitchen Covered Patio Area (next to gymnasium)
Children's Beak Activity at San Antonio Audubon Society Booth
Visitors are encouraged to be prepared for the weather and dress in layers, bring binoculars, and wear sturdy walking shoes. There are no concessions at the Park. Visitors should bring their own drinks and a picnic lunch or visit Three Rivers prior to coming to the Park.