Festival of the Fish
9:00a

to

3:15p




Sat, April 01, 2023
🎉 Here fishy, fishy, fish! We will have several come and go programs during this celebration of fish.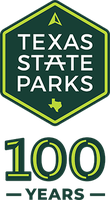 Join us for Festival of the Fish! 
We will feature different stations that cover fish themed come and go programs. 
All programs will be at the Bluebonnet Day-use Area starting at 9 a.m. and lasting until 3 p.m. 
Programs include:

Fishing with the Ranger -
Registration is required for this program
Try your hand at casting a line and catching a fish or two - limited amount of loaner fishing poles available - earn your First Fish Certificate.
Back Yard Bass - fishing on dry land 
Cast a line, and catch a fish.

Arts and Crafts - featuring Gyotaku - fish painting
Learn fish anatomy and other species specific information during a hands-on painting activity.

Fishing knots and tackle tips
Learn to tie and attach tackle to your line.

Texas Parks and Wildlife Fishing Trailer - 
Lots to see and learn at this educational trailer. 
This is one of many 100-year celebration events happening in Texas state parks this year. Entry to a park is free on the day it hosts an official 100-Year celebration event (applies to day passes only). Guarantee entry by reserving your free day pass up to one month before this special event. 
​