An "Un" Natural Halloween
9:00a

to

10:00p




Sat, October 07, 2023
🎉 Join us for An "Un" Natural Halloween! We will host morning and evening activities.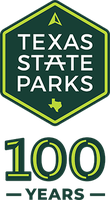 Program locations will vary within the park. 
Morning programs:
10 - 11 a.m. - Native American Fall Harvest 
9 a.m. - noon - Historic Uses of the Land 
9 a.m. - 3 p.m. Buffalo Soldiers
9 a.m. - until dark - Angler Education Fishing Trailer
9 a.m. - until dark - Self-Guided Harper's Ferry Adventure
All evening programs continuous from 6:30 - 10 p.m.
Campfire Stories
Stargazing - Moongazing
Creatures of the Night - Night Hike 
This is one of many 100-year celebration events happening in Texas state parks this year. Entry to a park is free on the day it hosts an official 100-Year celebration event (applies to day passes only). Guarantee entry by reserving your free day pass up to one month before this special event.