Welcome to the Dark Side of State Parks
🎉 Cavern tour, eclipse viewing, bat flight, and stargazing- experience darkness like you never have before at Kickapoo Cavern State Park! Watch the eclipse from the bat deck, maybe we will get to see some confused bats exiting midday!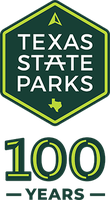 7 am:  Begin the day with the sunrise return of the bats! Watch the early rising raptors swoop and dive as they hunt for breakfast. 
1 pm: Cavern tour with a ranger- reservations required! (Follow reservation link below.) 
4 pm: Experience the solar eclipse from Kickapoo Caverns State Park, where you'll be in the middle of the shadow! Blackout will occur at 11:51 am, when the "ring of fire" will be visible. 
7:15 pm: Watching the evening bat flight at state parks is not to be missed! This site is one of the best places for public viewing.
9 pm: Join volunteer astronomers for a Stargazing Party! Take advantage of their expertise and equipment to spark your own interest in astronomy. Become part of the 15% of the population to appreciate the brilliance of the Milky Way!
*Limited day passes available. Advance reservations highly recommended* 
This is one of many 100-year celebration events happening in Texas state parks this year. Entry to a park is free on the day it hosts an official 100-Year celebration event (applies to day passes only). Guarantee entry by reserving your free day passes up to one month before this special event.