Opt-Out Paddles
Opt out of the biggest shopping day of the year by taking an adult paddling tour. We have two trips going out this day: 9am-12pm or 3:30pm-6:30pm
Two trips to sign up for. Read the information below and you only sign up for one trip. 
The Friends of Galveston Island State Park support provides a great experience on the water with a guide. Safety, paddling tips, and environmental education given during this active aquatic tour.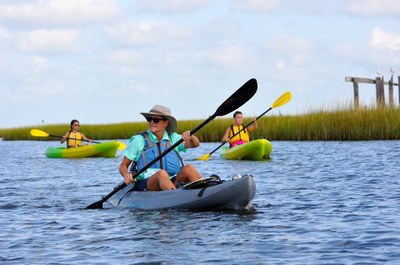 Please consider reserving your spot for a quick instruction, free gear rental, and guided trip with a trained guide into a protected cove of Galveston Bay. We will start with an orientation on land, paddle out into the bay, and return before the sun sets. Starting location is the Oak Bayou picnic area.
Click on the time below to sign up for that paddle trip!
Register for the tour 9:00am-12:00noon
Register for the tour 3:30pm-6:30pm
Maximum 4 tickets per person. 
Check out this preview of paddling at Galveston Island State Park.
Before you can join us:
• Park entry fee paid before trip.
• All children must be accompanied by an adult, and the program is for ages 13 and older.
• Close-toed shoes and life jackets must be worn during trip.
What to expect:
• Prepared for physical, outside, water-based activity. (Suggested weight limit for kayaks = 250 lbs.)
• Free safety and paddling lesson
• Free gear use (kayak, paddle, and life jackets)
• Small group instruction and guide (<17 people)
• 1.5 hour paddling trip to Galveston Bay, over sea grass beds and bay bottom.
• Anything that goes out on the tour may get wet, muddy, salty, or completely submerged