Experience a Day in the Life of a CCC Enrollee
9:00a

to

2:00p




Sat, February 18, 2023
🎉 Take an interactive tour through the life of the Civilian Conservation Corps. Read about their formation, get hands-on with their tools and uniforms, visit the camp store to shop the benefits of being an enrollee. And hear from the men themselves, though their newsletter, as you stand in Ravens Lodge and look out at Lake Raven that they helped create.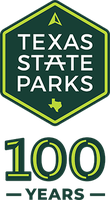 Join us in Ravens Lodge for an interactive tour through the CCC Camp, from its formation and recruitment requirements to daily life.
Feel the uniforms they wore and tools they used. Budget your pay at the camp store. Consider how your time in the CCC could benefit your career. 
Letters from the National Archive will be on display regarding the placement of our company and the struggles they went through as a Colored Veteran Company. And hear directly from the men through their camp newsletter.
This activity can be self guided or gone through with a staff member. It is accessible and Indoors.
This is one of many 100-year celebration events happening in Texas state parks this year. Entry to a park is free on the day it hosts an official 100-Year Celebration (applies to day passes only). Guarantee entry by reserving your free day pass up to one month before this special event.