Huntsville Centennial Wrap-up
🎉 Wrap up this year's centennial celebration by learning how to enjoy Huntsville State Park for the next 100 years.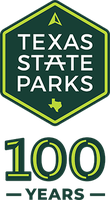 Ignite your passion for recreation and stewardship at our park with the assistance of local partners. They will be hosting recreational activities like hiking, biking, canoeing, fishing and archery. Ending the day with campfires, s'mores and gazing into the night sky.
As excited as we are about the future of Texas State Parks, it is also inspiring to explore our past. Visit the historic Raven Lodge built in 1942 and embark on a journey through time as you walk the footsteps of the young men that transformed this landscape from an east Texas piney woods logging site to a place where wildlife thrives, nature is preserved and families and friends come together to make memories that last a lifetime.
Little ones can join in on the fun as well by completing a Junior Ranger book with various activities around the park and earning our brand-new Huntsville State Park Junior Ranger badge! Watch as a whole new generation of Junior Rangers are sworn in by our superintendent at the Junior Ranger Ceremony. 
This is one of many 100-year celebration events happening in Texas state parks this year. Entry to a park is free on the day it hosts an official 100-Year celebration event (applies to day passes only). Guarantee entry by reserving your free day pass up to one month before this special event.