Annular Solar Eclipse Viewing
10:00a

to

2:00p




Sat, October 14, 2023
🎉 Celebrate 100 Years of Texas State Parks with us by watching the solar eclipse!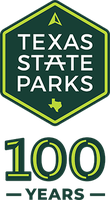 Join us at the park to safely view the Annular Solar Eclipse, which we will see in a partial view.  We will have solar glasses to borrow as well as telescopes to watch as the sun is eclipsed, as well as other fun activities!  Remember, NEVER look directly at the sun or a solar eclipse without protective eyewear.
The solar eclipse will be at its peak at 11:52 am over our park.
What to bring: solar glasses (if you have them), sense of curiosity
Where to meet: Day Use Area/Dining Hall
This is one of many 100-year celebration events happening in Texas state parks this year. Entry to a park is free on the day it hosts an official 100-Year celebration event (applies to day passes only). Guarantee entry by reserving your free day pass up to one month before this special event.