Palmetto State Park -100 Years, 100 Species
9:00a

to

2:00p




Sat, April 01, 2023
🎉 Celebrate 100 years of Texas State Parks at Palmetto State Park by helping us identify 100 different species!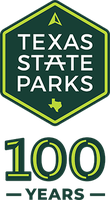 Join us with FREE entry at Palmetto State Park as we reach our goal of identifying 100 different Texas native fauna and flora species here at the park! Learn the different tips and tricks of identifying; some include sound, sight, and apps such as iNaturalist and SEEK. Staff and volunteers will be stationed around the park with games, activities, species checklist, and how-to tips of identifying what you saw out on the trails. 
 This event will include a personal or group challenge to identify 100 different species of plants and animals found within Palmetto State Park on iNaturalist.
This is one of many 100-year celebration events happening in Texas state parks this year. Entry to a park is free on the day it hosts an official 100-Year celebration event (applies to day passes only). Guarantee entry by reserving your free day pass up to one month before this special event.