Prairie Palooza: Palo Duro Canyon – Back to the Future
5:00p Fri, September 15, 2023
to
2:00p Sun, September 17, 2023
🎉 Celebrate Texas State Parks' 100-year anniversary at Palo Duro Canyon State Park! This three-day event will chronical 100 years of our past and showcase 100 years of partnerships for the future!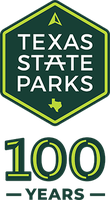 Join Palo Duro Canyon State Park's newest Prairie Palooza celebrating Texas State Parks' 100-year anniversary. This event will take place over three days and will include several different vendors and booths to explore provided by both Palo Duro Canyon State Park staff and our partners.
Saturday will focus on the last 100 years of state parks, and Sunday will focus on 100 years of the future.
Things you should know: 
Meet: Various locations, centered around the Mack Dick Pavilion and Pioneer Amphitheater Parking Lots.
Bring: Weather appropriate clothing (jackets, etc.). 
 This program may be cancelled due to weather.
No pre-registration required.
This is one of many 100-year celebration events happening in Texas state parks this year. Entry to a park is free on the day it hosts an official 100-Year celebration event (applies to day passes only). Guarantee entry by reserving your free day pass up to one month before this special event.