First Day Hike of 2023
Get a start celebrating Texas State Parks' 100th Year on New Year's Day with a nature-minded hike at Seminole Canyon State Park & Historic Site. Windmill Trail is open for day-use; you can participate in this self-guided hike at anytime.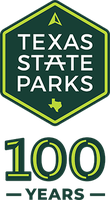 Perfect for family and friends to enjoy the outside and the New Year together. Join in a tradition happening around the nation as we hike on New Year's Day. Start with a self-guided hike with selected activities on the easy Windmill Trail (3/4 mile hike). After this hike, stop in at Headquarters Building to receive your First Day Hike sticker(s).
Feel like staying outside longer and enjoy some longer hikes? There are more trails within the park; talk to a staff member at Headquarters Building and grab a map.
Park's day-use entry fee (which includes the use of the trails) is $4.00 per person ages 13 and up. Children under 12 of age are free. You can purchase your park entry fee(s) in person or reserve online.