Kerr WMA Technical Guidance and Research
Habitat Improvement: Endangered Species
Three endangered species inhabit the Kerr Wildlife Management Area. The golden-cheeked warbler, black-capped vireo, neotropical migrants, utilize the area during their breeding and nesting seasons, from mid-March through July. The Tobusch fishhook cactus is an endangered plant that is found on 4 sites.
All three endangered species have increased in number under the holistic management program implemented on the Area. Golden-cheeked warbler territories increased from 18 in 1984 to 56 in 1999. Black-capped vireos (singing males) increased from 27 in 1986 to 408 in 2000! Research results indicated that black-capped vireos on the Area increased disproportionately on burned sites than on unburned sites (i.e., bird numbers increased on burned sites, and were stable on unburned sites). Trapping brown-headed cowbirds has resulted in a decrease in nest depredation from 75% to 12%. Tobusch fishhook cactus surveys indicate that this plant also responds well to prescribed burning. Only 1 plant was known to exist on the Area in 1989. That number has increased to 30 today.
Check out the population trends for black-capped vireos!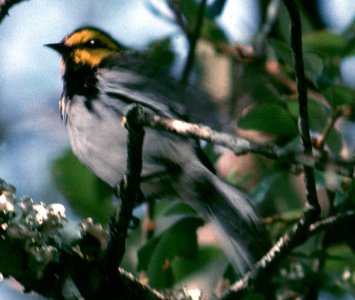 Golden-cheeked Warbler
Black-capped Vireo