Giant Salvinia
Giant salvinia is a highly invasive, floating aquatic fern. Native to southern Brazil, it came to the United States by way of the pet and ornamental plant industry. When it escapes into public waterways, this plant can double its coverage area in one week. It forms dense mats, typically several inches deep. These mats restrict boating access, crowd out beneficial native vegetation, and degrade water quality.This plant has infested lakes and rivers throughout eastern Texas, often interfering with access and navigation.
TPWD's Aquatic Habitat Enhancement is using Integrated Pest Management to manage this plant, combining treatments of EPA-approved herbicides with other control measures.
Public Awareness
Prevention is the first line of defense against invasive species. An annual public awareness campaign informs boaters and anglers how fast giant salvinia can spread in certain parts of Texas and reminds them to clean, drain, and dry their equipment.
Salvinia Weevils
Weevils are in production at TPWD facilities in Brookeland and Jasper and a partner facility in the Caddo Lake National Wildlife Refuge. In the past year, 583,200 adult weevils were produced and stocked by TPWD in salvinia-infested lakes.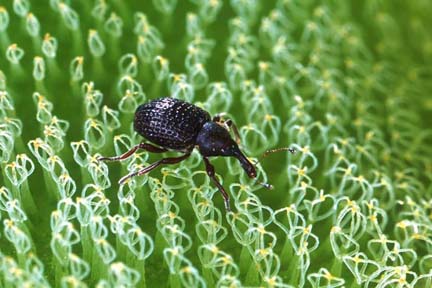 Rapid Response to New Infestations
Lake Fork, one of the state's premiere bass fisheries, was not known to be infested with giant salvinia until November 2015, when plants were discovered in the Chaney Branch cove. TPWD was immediately tasked with neutralizing this new threat.
The first step was to contain the invasive plant to Chaney Branch. The Sabine River Authority (SRA) closed boat ramps at Secret Haven and Chaney Point. TPWD and SRA installed nearly 1,000 feet of floating containment boom to prevent the giant salvinia from spreading elsewhere in Lake Fork. These successful containment efforts were followed by control of measures behind the floating boom, starting with several days of physical removal and followed by applications of EPA-approved herbicides. Thirteen herbicide treatments were conducted from November 2015 through November 2017.
The initial infestation was thought to be about 3.25 acres of giant salvinia alone, but the plants were scattered over approximately 15 acres of water. Through the use of multiple herbicides and routine treatments, giant salvinia was eradicated from Chaney Branch in November 2017. Unfortunately, a separate infestation was later discovered in the White Oak Creek area. This infestation had spread beyond the cove, making eradication almost impossible. A floating boom was installed, which contained the majority of the infestation. Herbicide treatments began in November 2017, focusing on open mats of giant salvinia. Treatments continued in March 2018 when new salvinia was discovered behind the boom. By June 2018, giant salvinia was no longer detected in TPWD's vegetation surveys. Surveys and herbicide applications will be continued as necessary through Fall 2018. If no giant salvinia is found, TPWD will remove the floating boom in White Oak Creek.
Giant salvinia was discovered in Falcon Lake in May 2016. Fishery management biologists from the San Antonio field office were doing a creel survey when they spotted the invasive plants near the Zapata County boat ramp. The team immediately removed all visible giant salvinia. They followed up with close inspection of all nearby shorelines and found no additional plants. Containment booms were purchased, delivered, and installed June 15 as a cautionary measure. Over the course of the following month water levels dropped and no giant salvinia was found, so the containment booms were removed. As of August 2016, giant salvinia was not observed anywhere on Falcon Lake.
As a result of the Chaney Branch infestation, the Aquatic Habitat Enhancement group now serves as the agency's Rapid Response Team to prevent the spread and establishment of new unwanted plant infestations in reservoirs.
Weather
Environmental conditions often contribute to the spread of aquatic invasives, but sometimes they work in favor of control. Some giant salvinia populations in southeastern Texas were washed out by floods after Hurricane Harvey. A severe cold snap in January 2018 significantly reduced amounts of giant salvinia in Clear Creek and a number of reservoirs including Caddo, Fork, Murvaul, Martin Creek, Steinhagen, Striker, Sam Rayburn, Timpson, and Toledo Bend. Spring surveys found so few plants in some places that teams were able to postpone treatment and apply funds in areas of greater need.