History
Ranching and "healing waters" led the growth of the area around Lake Mineral Wells State Park.
Lake Mineral Wells State Park sits along Rock Creek, a large tributary of the Brazos River. This area was an early home to several Native American tribes, including the Comanche.
Settlers began arriving in the early 1850s, and intermittent warfare occurred until the late 1870s. Rugged terrain and lush native grasses attracted many early-day ranchers to this area, including Charles Goodnight, Oliver Loving and C. C. Slaughter, who ran large herds of Longhorn cattle. Ranching continues to be an economic mainstay of this area.
Taking the cure
In 1877, James Alvis Lynch settled in what is now Mineral Wells. In 1880, he drilled a well on his land. Mrs. Lynch suffered from rheumatism, but after drinking the water from the well, her rheumatism disappeared. The well water seemed to have curative powers.
Thus began Mineral Wells' tumultuous affair with water. The city quickly became a world-renowned health resort. The supposed healing effects of the local well water brought people from all walks of life to bathe and "take the cure."
Growing pains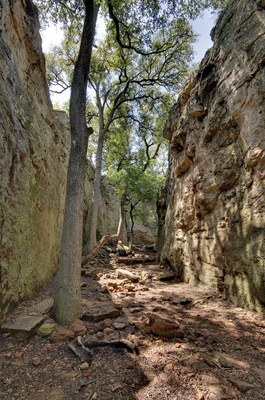 The young city of Mineral Wells soon outgrew its water supply, Lake Pinto. The city finished Lake Mineral Wells, located east of town, in 1922.
With the onset of World War II, activity increased at Fort Wolters, a military base located adjacent to the lake. This, coupled with the growth of the city of Mineral Wells, required the city to increase the lake's water supply by raising the height of the dam.
In 1963, the city of Mineral Wells found a better water supply and stopped using Lake Mineral Wells as its main source of water.
A park is born
In 1975, after the closure of Fort Wolters, the city of Mineral Wells and Fort Wolters donated the lake and surrounding acreage to Texas Parks and Wildlife. The 3,282.5-acre park opened on July 1, 1981.
For more information on the history of this area: