Fall 2012 A publication of the Wildlife Division—Getting Texans Involved
Fire!
In 2011 the call was heard all too often in the state of Texas. Many of our counties remain a tinder box with the potential for wildfire an alarming reality. The fall 2012 Eye on Nature presents historic, practical looks at fire as a tool in managing habitat across the state.
---
Fire, a Change in Prescription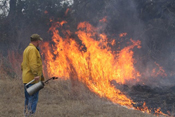 By Ryan Reitz
"Out of sight, out of mind", I think we have all heard that one. I wish remembering was as easy as forgetting! Digestion of food, the battery in your phone or light bulb in the house are all chemical processes or reactions that when working properly, do not draw attention. The battery dies, bulb burns out or the stomach aches, then we are suddenly imposed with actions that may be sidled with a groan.

---
Historical Role of Fire
It's Effects in Shaping our Plant Communities
By Ricky Linex
Fires have raced over the earth since the beginning of time when lightning ignited fine leafed plants growing some 400 million years ago. A recent statement by one of the premier practitioners of prescribed burning, John R. Weir of Oklahoma State University, sums up fire's influence on the land very well, "Throughout time fire has repeatedly burned every acre of land on every day of the year and it is all still here".


---
After the Fire
Lessons learned as a result of the 2011 Season of Fire
By Kelly Bender
It almost doesn't seem possible that one year ago I was finding out that I would never be able to return to my home, and that the beautiful forest around it that I loved was simply… gone. My children and I had gone to the movies the afternoon that the fires began and so we were safely out of the house, but my parents bravely retrieved our two little dogs and about an armload of clothes for each of us before they were forced to evacuate our neighborhood.


---
The Oasis Pipeline Fire: Recovery Through Partnerships

Scott Richardson - South Llano Watershed Alliance
Around 2:00 pm on April 26, 2011 about 12 miles southwest of Junction, TX, a fire ignited in the South Llano River watershed. It is believed a lightning strike from a few days prior sparked the fire. Severe drought conditions, a heavy fuel load of Ashe juniper, and a 20+ mph southwest wind soon turned it into a fast moving wildfire moving northeast, threatening the town of Junction. Several local volunteer fire departments, the Texas Forest Service, and fire fighting aircraft battled the fire into the night and next morning.


---
Prescribed Fire in the Texas Panhandle

By Jeff Bonner
From a hilltop in Donley County, you can clearly see all the way down a shallow, grass swept valley, up the opposite side to the ridge-top over a quarter mile away, and on to the next ridge, until your eye finally comes to rest on the third distant ridge, just shy of a full mile. The early morning sunlight cuts shadows across the opposite slopes that accentuate every tiny change in topography, every finger and every draw, and casts a green and golden glow across the covering of thick, diverse native grasses. The deep draws are the sole surviving refuge for redberry juniper and mesquite. On this piece of "The Rolling Plains" of Texas, it is, once again, true rolling prairie.


---
The Edwards Plateau - A Fire Shaped Land

By Bill Armstrong
For the first 300 million years of its history, fire was not much of a factor in the development of the flora and fauna of the Edwards Plateau. It seems that the region of Texas we call the Edwards Plateau resided beneath a shallow sea.


---
From the Back Porch

By Mark Klym
It was about 2:00 in the afternoon when I left the house. As I tried to turn onto the highway, traffic was extremely heavy out of town – very unusual for a Sunday afternoon. When I looked in the rear view mirror, I remember thinking "wow, that is a lot of smoke," but I continued into town. All along the road, cars were parked and people stood nearby, staring at the sky. When I finally asked what was going on I was told "there is a wildfire at 1441 and 21" – two miles from my home.


---
Did You Know?
Did you know that grasslands were once widespread in west Texas?
Did you know that Texas is home to three species of horned lizards?
Did you know that beetles are now being used to help control salt cedar in Texas?
Did you know that the Desert Bighorn Sheep population in Texas may be as high as 1100 individuals?
Did you know that Texas is home to two diverse mountain lion populations?
Did you know that historically fire was the prime element in controlling brush encroachment in Texas?
Wild Stuff!
Help protect native non-game species like the Horned Lizard with the purchase of the Horned Lizard license plate. The cost is just $30*, with $22 going directly to benefit the conservation of wildlife diversity in Texas.
Order online today and get your plate in just two weeks!
www.conservation-plate.org/nature
*In addition to regular vehicle registration fees.

Hummingbird Wheel
This 10" full-color identification wheel is a helpful reference to keep nearby when you watch the hummingbirds. Sixteen hummingbird species are featured, all of which have been documented in Texas! For each bird, the wheel tells you its range in North America, Habitat Type, and distingishing features of both males and females.
Send $11.95 (shipping and handling included) to Texas Hummingbird Roundup, 4200 Smith School Road, Austin, Texas 78744.