Fall/Winter 2008 A publication of the Boater Education Program—Staying Afloat
Ship's Log

It has been a whirlwind two years, since I came on board as the State Boater Education Coordinator in July 2006! In that time, I have traveled statewide to meet many of our dedicated volunteer instructors, Area Chiefs, and boating safety partners. I look forward to meeting more of you this year, and continuing to work together while we promote boating safety. Your ideas on how to make a very successful program even better are invaluable!
I want to thank all of you for your help in acclimating me to the TPWD Boater Education Program. With your support, I've been able to increase my level of boating knowledge by completing the coursework for the USCG OUPV captain's certification, and have been certified as a National Safe Boating Council Close Quarters Boat Handling Instructor and Boater Education Program Instructor Trainer. You'll see my other related experience in our new Ship's Crew section of this newsletter.
I've also been fortunate to represent Texas on the National Boater Education Advisory Panel, and National Association of State Boating Law Administrators (NASBLA) Education Committee, where I've worked with national partners on issues important to the TPWD program. Some issues we have worked on with these national partners include on-water education programs, best practices for online and in person classes, marketing and outreach opportunities to increase boating safety awareness, and updated NASBLA standards, among others.
Together, we've adapted and created a few new tools to help our instructors and increase boater education awareness. Some of those tools include the new Personal Watercraft Simulator; Boater Ed Jeopardy game PowerPoint; online instructor resources; and a new high school program curriculum with angler and archery education, among others. We will continue to search out new ideas to help reach both teens and family audiences who are our core group of students. Look for the updated manual, handbook, and new classroom DVD this spring!
One of our most broad-reaching efforts to increase public awareness of boating safety and boater education is the now statewide "Nobody's Waterproof – Play it Safe" campaign. Our partners, statewide and nationwide, have made this program a huge success with the public. We look forward to seeing the Nobody's Waterproof campaign influence increase statewide through partnerships and sublicensing agreements which are currently available.
I value the incredible expertise and experience that all of the TPWD instructors and staff have to share. Please feel free to contact me any time, to share ideas and plans for the future of the TPWD Boater Education Program. I look forward to hearing from you!
- Brandi Bradford
---
Boater Education Instructor Resources Now Available ONLINE
The TPWD Boater Education Program now offers training aids, frequently used publications, incentive award program information, PowerPoint presentations, and other helpful instructor resources ONLINE.
To access these resources, simply go online to www.tpwd.state.tx.us/boat , click on Boater Education and look under the left hand menu bar for INSTRUCTOR RESOURCES. Click on this item, and the User ID/Password box will pop up.
This is a password protected area, exclusively for the use of TPWD instructors. In order to obtain the password, simply call 1-800-792-1112, and we will be happy to give you the User ID and Password to use this new service. You may also email education.tpwd@tpwd.state.tx.us to request the password and user id. We will request that you update your address, phone number, and email address (if any) for our instructor database when you request the ID/password for this new online resource.
---
2009 Boat Texas Manual and New Exam Available Now!
For those of you who are itching to teach your first class of the new year, please be sure to order new manuals and exams that have been updated for the 2009 season! Please be aware that the exam has changed, and you will need a new grading answer sheet to grade them properly. A new grading sheet will be included in all new supply orders beginning in January, 2009.
You should be expecting a new video in dvd format to be in stock by early spring, 2009. This new dvd will go out to all new instructors, and any instructor who requests one.
Please contact Mac Almond, at supply@tpwd.state.tx.us to request new materials and the new grading answer sheet today!
---
New Boater Education Association of Texas – An Organization by Instructors, for Instructors!
TPWD Boater Education Instructors are in the process of forming the BEAT, a non-profit organization dedicated to instructors, by instructors, for instructors.
The mission of this organization is to assist and empower instructors to teach and promote Texas Boater Education and Safe Boating. This organization is in the initial stages of formation and can use your ideas and energy to help get it off the ground and ready to help you and your fellow instructors. BEAT will support training workshops and seek funding to assist with incentives for instructors, to send instructors to attend workshops and trainings to improve their skills and help set up website for instructor info.
We'd like to encourage all instructors to participate in this new organization, to help all instructors statewide.
Contact sellis@eloonline.com for more information or to get involved!
---
Statewide Boat Shows a Success – Join Us in 2009!
Boating safety professionals statewide participated in partnership booths at boat shows around the state in 2008, providing fun family activities, boating safety information, and boater education class information to boaters of all ages. We THANK YOU ALL for a very successful season!
Partners at the Houston, Austin, San Antonio, Dallas, Fort Worth, and Corpus Christi boat shows came together under the Nobody's Waterproof campaign banner to promote boating safety and provide activities and prizes that drew thousands of visitors to our booths. "Nobody's Waterproof – Play it Safe!" is the award-winning boating and water safety campaign introduced by the Lower Colorado River Authority in 2006, and taken statewide by TPWD in 2007 to include statewide partners.
Partners in the boat show booths varied by region and included Texas Parks and Wildlife game wardens and boater education staff; U.S. Army Corps of Engineers; U.S. Sail and Power Squadron; U.S. Coast Guard Auxiliary; San Antonio Parrotheads; Lake Travis Task Force; Dangers Without Intentions; Bay Area Personal Watercraft Association; North Texas Water Safety Coalition; South Texas Water Safety Coalition; Central Texas Water Safety Coalition; and Austin Safe Kids, among others.
Activities in the booth included the Personal Watercraft Simulator; Drunk Driving Goggle Walk; Water Safety Jeopardy; Water Safety Wheel of Fortune (for prizes); Boating Safety Dice Game; Navigation Buoy Game; Knot Tying Station; and tables with boater education class information. At the Austin and San Antonio shows, we also provided an incentive for families to complete all the activities and gain even more safety information from our representatives, by holding a drawing for free life jackets for all who completed all the activities. This regular drawing and announcements drew in even more visitors to those booths.
The Nobody's Waterproof partnership booth was one of the most visited and successful activities at the shows. Together, we reached over 13,545 contacts at these boat shows alone!
You all put in incredible hours and so much effort to make this a success, and we hope you'll share that success with partner organizations around the state. All are welcome to join us to work together to reach as many boaters around the state as possible, either through the boat shows or other outreach events!
Look for photos of partners in our Volunteers in Action section of this newsletter.
---
View From the North - Selverio Pacleb
Texas winter boat shows in the North Texas area typically happen early, and we're always thankful to the marine dealerships that most of the shows occur during January and February. So, mark your calendar! Show locations will include the following:
Fort Worth Convention Center, January 8 – 11
Bell County Exposition Center in Belton, January 9 – 11
Amarillo Civic Center, January 23 – 25
Maude Cobb Exhibition Hall in Longview, January 23 – 25
Dallas Market Hall, January 30 – February 8

These are mentioned because we usually have representation at the shows and the shows are listed with the Boating Trades Association or the National Marine Manufactures Association. We're aware of other boating and fishing shows occurring throughout the state. If you hear of one and you're interested in representing our program, call Selverio Pacleb and he will provide you with our boating safety materials.
Kudos goes out to …
Robert Capt and his fellow shipmates of Division 10 for teaching an unprecedented number of 28 boater education classes at locations in Plano, Lake Ray Roberts, Sherman, and Tyler and certifying 110 good folks … full story in following issue.
The North Texas Water Safety Coalition for their successful "Water Safety Day" at Lynn Creek Marina on Joe Pool Lake and for having given away 350 life jackets during their life jacket exchange. Look for the full story of this great partnership event in the spring/summer 2009 issue.
Instructor area chiefs
This issue, our first electronic edition, we would like reintroduce the following area chiefs in the North Texas region whom all of you can call for information, assistance, and thoughtful reflection.
Charles Accurso
Ferris Bavousett
Robert Capt
Jack Dyess
Bruce Dyleski
Robert Jordan

---
View From the South - Phil Steffen
In the third-most-destructive hurricane ever to hit the United States (historically lesser than Katrina (2005) and Andrew (1992)), entire marinas along the Texas coast vanished within a couple of early-morning hours on September 13, 2008. Tens of thousands of coastal boaters lost some, if not all, of their recreational boating property due to this storm. Parts of the barrier lands of Galveston Island and Bolivar Peninsula are now open from the mainland to the Gulf of Mexico, effectively creating new land cuts where none existed previously. In some locales, the Intracoastal Waterway is at risk of being washed out by the surge of Gulf tides because of the hurricane damage.
Hopes are that the market and recreational boating industry will "turn the corner" with a change of fair winds for the upcoming boat show season. With the first day of January 2009 coming late in the week, the beginning of the boat show season will start unusually early this year. Make plans early this year to participate, because initial set-up will have to actually begin in December after Christmas.
Houston International Boat Show at Reliant Center, January 2 – 11 Coastal Bend Boat Show, at Corpus Christi American Bank Convention Center, January 22 – 25 San Antonio Boat Show at Alamodome, 29 January – 1 February
Kudos go out to….
Randi Wayland, boater education area chief and party boat operator examiner, certified nine new boater education instructors this year. She is also an active angler involved in numerous organizations supporting safe boating practices.
Boater Education Area Chief Bonnie Harrill has been promoted to the head of the Risk Management Institute with the College of the Mainland in Texas City. She and her husband, Housan, are both also actively involved in the TPWD Angler Education Program.
Area Chief Shayne Ellis has been elected to the President's Office of the Houston Safe Boating Council. He follows the great many years of service of past President and BED Area Chief Russell Grimes. Shayne is also spearheading formation of the new Boater Education Association of Texas (BEAT), so be sure to give him a shout if you'd like to participate in gaining new resources for boater ed instructors around the state.
Texas – southern area chiefs
In addition of those listed above, the following boater ed instructors also actively serve as area chiefs from the southern region:
Suzan Rector
Brandon Rizzo
Angie Rizzo
Charlie Schons

---
TPWD Is Saving Dollars to Do More for Boating Education

Sign Up to Receive the NEW Boater Education E-Newsletter!
The TPWD Boater Education Program staff are doing everything we can to help cut costs and spend more of our limited operational funds on items that will help instructors teach courses more effectively and that will provide the most effective safety information to the boating public.
Toward that end, we have a new resource for instructors that will help us save on print and mailing costs, and allow us to provide even better quality and more timely information to instructors and enthusiasts statewide. Please help us save on these costs by signing up online for Staying Afloat, the NEW boater education e-newsletter! This online newsletter will have a format that can be downloaded and printed from your home computer, or you can view it online and check out new sections with more photos, kudos, and information available by clicking on the tabs from the newsletter page link that will be e-mailed to you regularly (quarterly or biannual editions, depending on activity in the program).
Signing up is easy and will ensure that you get your newsletter just as soon as it's available. Simply go to www.tpwd.state.tx.us/email, enter your email address, and then check the box to receive the Staying Afloat newsletter – Texas Boater Education Program, under the Fishing and Boating Newsletters section. We'll do the rest!
** We will no longer be doing a hard copy mailing of the Staying Afloat/Boater Education newsletter, except by request. Please call 1-800-792-1112 or email education.tpwd@tpwd.state.tx.us to request a print copy of the newsletter. **
---
How Can I Become a Boater Education Instructor?

New Policies and MOUs in Place for Volunteers, U.S. Power Squadron, U.S. Coast Guard Auxiliary, Teachers, and Law Enforcement Officers
TPWD has had a very successful relationship with fellow boater education providers across the state, including the U.S. Sail and Power Squadron and U.S. Coast Guard Auxiliary, among others. The first Memorandum of Understanding (MOU) between these organizations and TPWD to provide the Texas state certification, as part of their existing courses, was created in 2003. We have now updated those procedures to make the process more streamlined. The MOU, which will be updated every three years, will incorporate new procedures and technology as they become available.
Per the updated Memorandum of Understanding, signed in 2008, the procedures listed below will be available to U.S. Power Squadron (USPS) and U.S. Coast Guard Auxiliary (USCGA) members throughout Texas to become co-certified as Texas Parks and Wildlife (TPWD) instructors. Co-certification allows instructors to teach and certify students who need or request the Texas State Boater Education Certificate, to meet their mandatory certification requirements (including teens aged 13 – 18, and those required by legal judgment to obtain that certification).
These updated procedures are intended to improve the certification process, reduce process steps, and provide thorough updates to all certified instructors on changes in legislative mandates or TPWD procedures. It also now defines the process by which members who do not have a current instructor certification may become certified by TPWD as instructors.
For currently certified boater education instructors with USPS or USCGA:
To be co-certified as TPWD instructors, candidates already holding current certification as USPS/USCGA instructors will complete and submit the following (all provided by TPWD staff or instructor trainers at no cost to members):
TPWD instructor application
Instructor background check form
Documentation of current USPS or USCGA instructor certification (photocopy of card showing current certification will be sufficient)
Attend a TPWD instructor orientation workshop. (Estimated time is two to four hours; includes instruction on required forms, materials information and updates, and discussion of specific Texas laws and regulations.)
Game warden interviews are optional and may be completed upon request of USPS/USCGA instructor candidate. These interviews are intended to allow new TPWD boater education instructors to meet local wardens who may be able to assist them in future courses.
TPWD/USPS/USCGA co-certified instructors who do not teach a TPWD boater education course during any 24-consecutive-month period must retake the TPWD instructor orientation workshop and/or gain approval from TPWD staff.
For new USPS/USCGA members or ANY volunteer not currently certified as a boater education instructor:
USPS/USCGA members who are not currently certified USPS/USCGA boater education instructors may be certified as TPWD boater education instructors upon completion of the following:
Documentation of completion of Texas Boater Education course (available on TPWD Web site at www.tpwd.state.tx.us/boat)
Attend a full six- to eight-hour TPWD instructor course
Successful completion of forms noted above
Successful completion of a game warden interview (required for all new instructors who do not hold current certification with USPS or USCGA as boater education instructors, or who are currently certified public school teachers or law enforcement officers)
For teachers and certified law enforcement officers:
Teachers and law enforcement officers who arrange boater education instructor certification workshops for at least five of their colleagues with your local regional boater education training specialists (see Staff Directory on TPWD Web site for contact information) may complete and follow these procedures:
TPWD instructor application
Instructor background check form
Documentation of current law enforcement or teacher certification (photocopy of card showing current certification will be sufficient)
Attend a TPWD instructor orientation workshop. (Estimated time is four to six hours; includes instruction on required forms, materials information and updates, and discussion of specific Texas laws and regulations). For teachers, this workshop may be incorporated in a multi-activity workshop or weekend, to include archery and angler education instruction from TPWD as well. See Teacher Resources page on the TPWD Web site for more information.
Game warden interviews are optional and may be completed upon request of instructor candidate. These interviews are intended to allow new TPWD boater education instructors to meet local wardens who may be able to assist them in future courses.
Instructors who do not teach a TPWD boater education course during any 24-consecutive-month period must retake the TPWD instructor orientation workshop and/or gain approval from TPWD staff.
Materials that may be provided to all TPWD-certified instructors include (these materials, or their equivalent will be provided to all instructors upon request and as they are available):
Texas Water Safety Act Digest (updated every two years)
Handbook of Texas Boating Laws and Responsibilities (updated periodically)
Ten questions on Texas-specific laws for use in certification courses (or full exams for those teaching full TPWD course)
Student and instructor forms to be turned in to TPWD upon completion of course
Materials may be ordered by calling 512-389-4795 or e-mailing supply@tpwd.state.tx.us
Instructors teaching only the TPWD course, and providing all students in a class with the Texas Boater Education Certificate, may request student manuals and video, at no cost to the instructor.
Texas boater education certification student fees:
All TPWD instructors or TPWD/USPS/USCGA co-certified instructors may charge no more than $13 (by state statute) for completion of the Texas course alone or the 10-question exam and subsequent certification issued by TPWD. All co-certified instructors should:
TPWD/USPS/USCGA co-certified instructors collect the required TPWD certification fee from those persons successfully completing the boater education course or course equivalency examination including the 10 state-specific questions, and submit it to TPWD along with the TPWD examination documentation (student registration forms and instructor final report form) no later than the 30th day after the date the examination or course is administered.
Ensure that certification fees associated with state/TPWD mandated fees are advertised and kept separate from USPS or USCGA fees charged for additional textbooks, materials and other course supplies and services provided by USPS/USCGA that are in addition to a basic course fee.
Class advertisement on TPWD Web site:
TPWD/USPS/USCGA co-certified instructors may post upcoming classes on the TPWD website. Please send all course information in advance, including the following, to Tami.moore@tpwd.state.tx.us, or call 512-389-4938:
Date, time, location of boater education courses
Instructor name(s), telephone number(s), address(es) and
TPWD instructor ID(s) number(s) of the applicable USPS/USCGA contact person(s) for such course(s).
---
New Party Boat Operator License and Inspections Now in Effect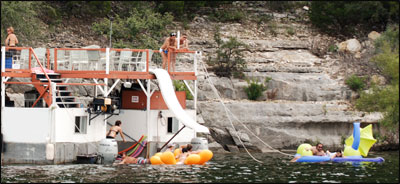 In 2007, the Texas Legislature passed House Bill 12, otherwise known as the Party Boat Law. This legislation is now part of Texas Administrative Code, Chapter 55, Subchapter H, and went into effect on June 1, 2008. Prospective Party Boat Operators are now being checked for both operator licenses and boat inspections, and will be required to have these no later than June 1, 2009.
A Party Boat Operator License is required of operators of charter vessels carrying more than six passengers and with a length exceeding 30 feet, operating on inland waters. The only exemption from this requirement is if the operator holds a USCG Operator of Uninspected Passenger Vessel (OUPV) License, often referred to as a "six-pack license," or higher level of Captain's license issued by the USCG. Additional requirements include:
Minimum age: 21
Complete Boater Education Course (Part A - applies to all applicants) and separate Party Boat Operator License Exam (Part B).

Applicant must contact TPWD Boater Education staff to arrange for a proctored exam for Part B (Advanced Materials): 512-389-4938 or e-mail TPWD Boater Education.

Provide copy of completed Party Boat Operator License Application.
Applicant must meet minimum requirements below to qualify for a party boat Operator License:

Four hours of observation and four hours of operation of a party boat
No current license suspension/revocation
Submit the required fee

OR have and document 25 hours of experience operating a party boat and no record of boating violations
Specific boating violations may disqualify applicant from submitting 25 hours of experience operating a party boat, and require qualification based instead on four hours of observation and four hours of documented operation (see application form). Please see Texas Administrative Code, Chapter 55, Subchapter H for more details on disqualifying boating violations. See relevant boating violations, with violations disqualifying applicant from receiving party boat operator license regardless of documented hours highlighted in red.
Applicant must be currently employed by owner of party boat or party boat's agent, and accompanied by currently licensed party boat operator or USCG Captain, while operating party boat during training for "Experience" section of application. If qualifying based on at least 25 documented hours of experience operating a party boat, then applicant does not need to be a current employee of a party boat owner or owner's agent.
The Department will not issue a party boat operator license to any person who has, within the five-year period preceding an application for a party boat operator license, been convicted of:

A violation of Penal Code, Chapter 49 involving the operation of a motorboat; or
A violation of Parks and Wildlife Code, Chapter 31, involving reckless or negligent behavior, or behavior that placed passengers in peril.
For more information, please see the TPWD Web site at www.tpwd.state.tx.us/partyboat.
---
The TPWD Personal Watercraft Simulator

A Fun Way to Reach New Boaters!
"Wait a minute … Hunter Education has this cool laser shot hunting safety game for visitors to play at special events … and we need something like that for boater ed!"
- Brandi Bradford, state boater education coordinator, 2006
What a great draw for visitors to come up and start the discussion with the experts about hunting ethics and safety, and to encourage them to take the hunter ed class!
Boater education needed something to draw visitors in, and give them an excuse to talk with us about boating safety, boater education courses, and good boating behaviors on all kinds of boats sharing our waters today. We also needed something to capture the attention of the audience that we weren't appealing to with static displays and brochures. With these goals in mind, in the fall of 2006, TPWD staff began canvassing our partners for ideas on what was working in fun, interactive boating displays around the nation.
We were intrigued by a new activity developed by Betsy Woods and the Tennessee Department of Fish and Game that included a large enclosed trailer housing a personal watercraft (PWC) "simulator." Their simulator used a PWC hull with a mounted game controller inside, a projection system for the game that projected on the back wall of the trailer, and hydraulic lifts, all enclosed in a large trailer pulled to outdoor events statewide. Game wardens took the trailer to fairs and safety events, letting kids get on the simulator and ride while they talked with families about boating safety and getting educated by taking boating safety classes. What a great tool!
The only challenge we had in making that happen for TPWD was the cost involved with such a large trailer, and limitations that the size and vehicle requirements might put on our use of such a simulator for our more frequent indoors events with more limited space (sometimes no more than a 20' x 10' booth in an exhibit hall). So, we put our heads together and built the first small mobile PWC simulator for educational use.
With three donated watercraft and single ski trailers, shopping for the "right" game hardware and software, and a lot of ingenuity from our motor pool, Game Warden Academy, boater ed, and purchasing staff, and a few very dedicated volunteers, we built three simulators for use in our major metropolitan areas in time for the winter boat shows in 2007. We owe a great debt of gratitude, in particular, to the Dangers Without Intentions team of Guy Benson and Deb Parsons, for gutting the PWCs down to just the throttle cables, cleaning them up, and spending long nights figuring out how to get them mounted on the trailers and how to build new seat covers!
Since they were created and tested at the 2007 Texas winter boat shows statewide, they have become very popular with audiences of all ages. They are particularly popular with teens and the wakeboard and personal watercraft enthusiasts we were targeting. The set up is lightweight, highly mobile, and very interactive. The true "education" is still coming from our enthusiastic safety volunteers operating the simulator, but the game gives people a moment to remember, and time to spend talking with us while kids are trying their skills. During the approximately two to three minutes of play, we discuss following the "50-foot rule," why boater education is important in learning the rules of the road, wearing life jackets (no one is allowed on the simulator without a life jacket), using the ignition safety switch on all boats, and other safety topics.
Our original design has been adapted for use by boater education programs nationwide, after partners viewed this simulator at national conferences. If you would like more information or would like some instruction on how to build a simulator for your own use, please contact the TPWD Boater Education Program.
---
Boater Ed Program Reaching Out to Texas Boaters
Boater education instructors and volunteers, working in partnership with TPWD, reached over 28,000 potential boaters with water safety messages and hands-on activities in the 2007 – 2008 season! Outreach efforts included boat shows, outdoor expos, fishing tournaments, school fairs, safety fairs, concerts, and many other venues where we reached out to potential boaters around the state.
How many lives were saved as a direct result of your efforts? How many decided that they would really wear that life jacket? That they would designate a driver THIS time? That they would go and take that boater education course and learn the rules of the road? That they would ask Mom and Dad to wear their own life jackets? How many accidents were avoided?
We may never know the number, but every single accident avoided or fatality prevented is due to your efforts in getting the word out. WAY TO GO!
Boating and water safety outreach efforts will continue for years to come. Feel free to join us, have some fun in the sun, and promote boating safety in your community!
---
Paperwork

A Necessary Task
"Paperwork," that ugly, dreaded word — but a necessary task before an instructor can consider a class complete.
Every instructor teaching and certifying students must complete a Course Final Report Form and properly record the class information on the form. He or she must make sure to fill in all the necessary spaces, including zeros in dates or addresses.
There seems to be some confusion about how to complete the form if an instructor is team-teaching. Each instructor must complete a final report form. The total number of students on the form will only be the number of students that he or she is certifying and for whom a temporary certificate is signed. In other words, in a team-taught class, each instructor certifies a subclass of the larger class.
Each instructor then attaches their student forms and a total payment of $10 per student to the Course Final Report and mails it to Texas Parks and Wildlife in Austin. Instructors should combine all reports and fees into one mailing to reduce shipping charges.
Student forms need to be carefully checked for accuracy, especially birth dates and addresses.
Please remember that class materials should be ordered at least 30 days in advance so the TPWD warehouse distribution staff will have ample time to fill and ship the order.
---
Summary of the 2003 National Lifejacket/PFD Wear Rate Observational Study Findings
Field research by JSI Research & Training Institute, Inc., was conducted in several cities nationwide, to capture the naturally occurring behavior of life-jacket wear rates among recreational boaters. Six years of data was collected from 1998 to 2002, to form the National Personal Flotation Device (PFD) Wear Rate Observational Study. An analysis of the observational data collected during the study was conducted by Mangione, Rangel, and Watson to understand the circumstances and patterns in which life jackets or PFDs are used, in order to tailor messages and safety education programs. A summary of their key findings includes the following:
Adult wear rates are generally relatively low with a few exceptions—personal watercraft, kayaks, and day-sailors
Adult wear rates remained stable over six year study period, at an average of 4 to 5 percent of adult boaters wearing life jackets.
Wear rates on personal watercraft for both adults and children are almost universal, which is clearly a reflection of legal mandates and boater common sense.
Children's wear rates are relatively high, particularly for younger children under the age of six years of age.
Children's wear rates increased by about 10 percent over this six-year period.
Adults increase their use of life jackets (PFDs) under conditions that seemingly increase their risk (e.g. boating in small boats, rough water, strong current, cold water, and cold air temperatures)
The authors made several general recommendations. First, there is a need for more publicity about the federal interim life-jacket rule for children (children under 12 must wear life jackets while underway). They add that the data provide some evidence that children in the 13-to-17-year-old category also increase their use of life jackets, particularly in states that mandate use for all children through age 12. Additional publicity and education about the federal rule could lead to further increases in life jacket/PFD wear rates among children 12 years old and younger and possibility among adolescents 13 – 17 years old.
Second, they suggest the use of creative, new, aggressive educational campaigns focusing on increasing adult use of lifejackets. The authors indicate that evidence in the data shows that adults do alter their use of life jackets when they perceive themselves at risk. For example, wear rates are higher for small boats, when water conditions are rough, and when water temperatures are cold. Future campaigns could heighten boaters' awareness of risks in these situations.
Finally, the authors indicate one of the apparent barriers to life-jacket use is the perceived bulky nature of a life jacket and its being uncomfortable in warm weather. The authors recommend that the newer inflatable life jackets be promoted more as a way of increasing safety in a comfortable and stylish manner.
The authors believe that future campaigns should also include making boaters aware of risks of which they are not as conscious. For example, adults in boats with children who are wearing life jackets would be better equipped to save a child who falls overboard if the adult were wearing a life jacket, too. They sense that targeting parents with a campaign explaining how wearing a life jacket themselves will increase their ability to help their children in an emergency would likely be well received. Another example would be to stress the relatively high number of drownings among boaters using speedboats/runabouts in an attempt to increase perceptions of risk and, thus, increase life-jacket wear rates beyond the present low average rates of 4 to 5 percent.
For more information and details about this study, please reference Mangione, T. W., Rangel, M., Watson, K. (2003). National personal flotation device wear rate observational study; with comparison data from 1998 to 2002. Boston, MA: JSI Research & Training Institute, Inc.
---
Clean Texas Boater Program Is Good for Boating
Texans like boating and marine recreation on our coastal and inland waterways, and they want clean water for recreational use. Protecting and preserving clean Texas waterways and maintaining water quality is up to each of us. By adopting and teaching pollution prevention measures, Clean Texas Boaters can take satisfaction in knowing they are doing their part to preserve clean Texas waterways.
The Clean Texas Boater Program (CTBP) recognizes boaters participating with the Clean Texas Marina Program (CTMP) for doing their part in keeping Texas waterways clean. The Clean Texas Boater Program is an important part of the CTMP, a joint project of the Texas Sea Grant College Program, Marina Association of Texas (MAT), Texas Parks and Wildlife Department (TPWD) and the Texas Commission on Environmental Quality (TCEQ). Both programs are voluntary and provide participants with the resources needed to minimize pollution in Texas waterways.
Boaters receive a free gift and Clean Texas Boater Sticker for taking the pledge to abide by the guidelines outlined on the Clean Boating Tips card and ensuring that all passengers on their vessel do also. Clean Texas Boater pledges received a sticker to display on their vessel and the marina will receive credit toward an annual award for signing up the most pledges.
The basic goal of both programs is to prevent pollution by making marinas, boatyards and boaters more aware of environmental laws, rules and jurisdictions, and encouraging marinas following best management practices to be designated as "Clean Texas Marinas."
For more information on the Clean Texas Boater Program, contact the Texas Sea Grant Program office at 979-845-3857 or check the Clean Texas Marina Web site at www.cleanmarinas.org
---
Ideas to Get More BANG for Your Fuel Bucks
We have all been hit hard by much higher fuel costs, both as boater education instructors and in our personal lives. We'd like to share ideas to help save on costs, to give each other a hand. If you have any additional ideas, please e-mail them to education.tpwd@tpwd.state.tx.us, and we'll include them in our next newsletter!
A few tips:
Talk to local sporting goods stores, boat dealers, or other venues that may have a meeting room, and see if they'd be willing to donate space/time to hold boater education courses, as a community service. Try to find one closer to your home than your regular classroom, to save on gas mileage.
Encourage members of those stores, boat dealers, marinas, boat rental companies, and other, related industry members to become boater education instructors. They may be able to teach classes on staff time as a community service, thereby reducing costs to them personally to get to/from classes, particularly if those classes are in their own places of business.
Talk to local businesses about donating fuel gift cards, gift cards for teaching aids, food gift cards (grocery stores or restaurants), or other items that will help reduce your personal costs for teaching boater ed courses.
Join the Boater Education Association of Texas (BEAT) to help fundraise for money to provide the above items for instructors around the state. Contact BED Area Chief Shayne Ellis at sellis@eloonline.com for more details or to join this new organization dedicated to supporting Texas Boater Education Instructors and the Texas Boater Education Program.
---
Save the Date!
A New Annual Statewide Boating Safety and Education Partners Meeting & Workshop!
All Water Safety Coalition Members, Boating and Water Partner Organizations, and Texas Boater Education Instructors Welcome!
ACTIVITY AND TRAINING SESSION IDEAS WELCOME!
Please email your ideas for team building, boating, and instructional activities, and meeting agenda topics you'd like to see included in this year's event to brandi.bradford@tpwd.state.tx.us no later than August 1, 2009.
Workshop Date: Friday, September 25, 2009
Location: Omni Hotel, Corpus Christi, TX
Please sign up to receive updates via the Staying Afloat newsletter at www.tpwd.state.tx.us/email. Updates also available on our new Instructor Resources web page at www.tpwd.state.tx.us/boat, Contact Tami Moore at tami.moore@tpwd.state.tx.us or 512-389-4938 to receive user id and password to access this instructor only page.
National Association of State Boating Law Administrators and National Association for Boating Access Meetings Going on in Corpus Christi, Omni Hotel, Sept. 26-30. See www.nasbla.org for more information!
Hotel, travel, and other meals will be instructor's responsibility.