Fall 2008 A publication of the Boater Education Program—Staying Afloat
Tami Moore

Tami Moore came to work for Texas Parks and Wildlife Department as secretary for the magazine office in June of 1999. In 2000 she applied and was chosen for the Boater Education Administrative Assistant position. Prior to coming to TPWD she worked in the automotive field as a service advisor and a title clerk for six years. Before that she worked with a cab company as the safety officer for a fleet of 135 cabs and the lead cashier.
Tami has coordinated booths at boat shows, safety fairs and special school events. She has been in charge of the Wet Zone at the annual TPWD Wildlife Expo since September 2001. Tami has also served as liaison for several employee/youth hunts where she was able to share her love of the outdoors and hunting with new hunters.
Tami lives between Austin and San Marcos in the small community of Uhland with her husband Frank and their three dogs. They enjoy sitting on the front deck and watching the moon, bird watching, hunting and other outdoor activities.
Tami is an invaluable source for boating education information for both instructors and students. In addition to coordinating the BED program purchasing and carrying out administrative duties for the entire branch, she is your primary contact for scheduling BED classes, obtaining new information about BED course offerings, questions about forms or procedures, finalizing instructor applicant materials, and will forward calls to our supply clerk to order materials for your classes. She can be contacted in her Austin office at 512-389-4938 or education.tpwd@tpwd.state.tx.us.
---
Brandi Bradford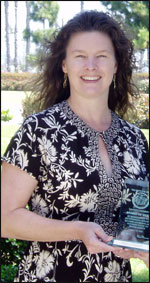 Brandi Bradford was recruited as the Texas Parks and Wildlife State Boater Education Coordinator in 2006. She came to TPWD with 12 years of experience in the national arena as an outdoor/environmental education specialist and park ranger. She is a graduate of Texas A&M University with a B.S. in Recreation, Park and Tourism Science.
Her prior experience includes acting for 3 years as Lead Ranger at Lake Berryessa, a high profile recreational lake near Napa, California; 5 years as an Environmental Education Specialist, and Park Ranger for the National Park Service and US Fish and Wildlife Service in Hawaii, California, Kentucky, Florida, and Tennessee; and 4 years as a Recreation Planner with the Federal Energy Regulatory Commission and National Park Service promoting recreation in hydropower licensing cases. Ms. Bradford has been a licensed Department of Interior Motor Boat Operator and CPR/First Aid Instructor. She was recently certified as a National Safe Boating Council Close Quarters Boat Handling Instructor and National Boater Education Program Instructor Trainer. She also recently completed her training as a USCG Operator of Unispected Passenger Vessels (OUPV) captain.
Ms. Bradford specializes in bringing creative solutions to challenging education audiences, from kindergarten groups, to teens, to adult learners. In the last two years she spearheaded bringing the "Nobody's Waterproof – Play it Safe" boating and water safety awareness and education campaign to a statewide and nationwide audience. She also works to promote partnerships where groups work effectively together to promote boating safety and educational opportunities with local, state, and national partners. These partners include the US Coast Guard Auxiliary, US Sail and Power Squadron, National Association of State Boating Law Administrators, US Army Corps of Engineers, Water Safety Coalitions, Safe Kids, the National Safe Boating Council, Water Safety Congress, and many others.
Ms. Bradford is responsible for managing and directing the statewide Boater Education Program and Nobody's Waterproof campaign, and supporting the Regional Education Specialists in assisting, training, and mentoring instructors across Texas.
She can be reached in her Austin office at 512-389-4993, or at brandi.bradford@tpwd.state.tx.us
---
Steve Hall

Steve Hall graduated in 1981 with a B. S. degree in Wildlife Biology from Colorado State University. He worked on summer timber, wildlife (2) and recreation crews for the United States Forest Service while at college. He worked as Services Manager (1981-84) for the Colorado Region of the American Sportsman's Club, a national hunting and fishing organization. He served as a volunteer hunter education instructor (1981-85), volunteer front-desk worker (1983) and employee (1984-85) for the Colorado Division of Wildlife.
In 1985, he was hired by Texas Parks and Wildlife as Assistant Hunter Education Coordinator. He assisted the legislature and the department's commission in developing and implementing the mandatory hunter education program (1987) and mandatory boater education program (1997). With the passage of the mandatory hunter education law, he became the Hunter Education Coordinator. During his 24-year tenure, he also served as education coordinator over water safety, Project WILD and hunter education(1989), education and outreach director (1992), and as hunter and boater education branch chief (2004).
As Education and Outreach Director in the 1990's, he developed and managed the state's Aquatic Education program and assisted in the development and coordination of the Texas Parks & Wildlife Expo (1992). He also created and coordinated the Texas Outdoors Woman program (1993). He supervised staff and assisted in the coordination of Boater Education, Conservation Education, Outdoor Kids and Urban Outreach Programs. He worked with all resource and program divisions and personnel in spearheading the department's Outreach, Education and Interpretation Sunset and Strategic Planning Efforts (2002). In 2004, he kicked off the state's Archery in Schools Program and hired its first statewide coordinator in 2006.
He has served nationally as president, vice president and national standards chair for the International Hunter Education Association, and as vice president for the National Bowhunter Education Foundation. He was inducted into the IHEA Hall of Fame in 2004 and has received numerous national awards for his education efforts in Texas.
He and wife, Karen, have two kids, Ryan (17) and Sarah (12). His love of bow hunting, bird watching and fly-fishing dominate his personal outdoor connections, but kids' sports and activities also take up much of his free time.
---
Selverio Pacleb

Selverio Pacleb currently serves as the Northern Regional Boater Education Specialist with Texas Parks & Wildlife. He has been with TPWD since 2002 and is primarily involved in the volunteer management program of training volunteer instructors in the North Texas area. Mr. Pacleb currently holds a Master Mariners License with the United States Coast Guard (USCG) and has taught the USCG "captains" course in the Dallas/Fort Worth and Galveston area. He also holds certifications as a National Safe Boating Council (NSBC) Close Quarters Boat Handling and Boating Safety instructor. Mr. Pacleb is also a certified NASBLA/NSBC Boating Safety Instructor Trainer.
Prior to joining TPWD, Mr. Pacleb served in the US Army for twenty-one years in the aviation field. He earned a Bachelor of Business Administration degree from University of Texas and a Master's of Science degree from the University of North Texas. Mr. Pacleb operated an ASA certified training facility offering boating courses to the general public.
Mr. Pacleb's professional boating interests extend into his recreational pursuit as a sailing instructor teaching on the inland waters and coastline of Galveston, Texas. A sailing enthusiast he maintains a sailboat on nearby Joe Pool Lake for weekend getaways. And, depending on the seasons, he also enjoys the shooting sport of traditional muzzleloaders.
Mr. Pacleb is responsible for recruiting, training, and mentoring Boater Education instructors in the Northern half of Texas, as well as facilitating outreach events related to boating and water safety in this half of the state. His region includes all of the northern counties from a line that extend, beginning at, Midland/Odessa, to San Angleo, to Llano, to Austin, to Palestine, Rusk, and, to Marshall.
He can be reached at 972-263-6989 in his Grand Prairie office, or at selverio.pacleb@tpwd.state.tx.us
---
Warren P. "Phil" Steffen

Warren P. "Phil" Steffen, assumed the duties of the Southern Region Boater Education Training Specialist in 2001. Mr. Steffen's volunteer experience for the last 30 years includes teaching Boater Education and serving as an Area Chief for ten years before joining TPWD as a full-time employee. He applies his skills in boating and water safety on a national basis as a certified U.S. Sailing Instructor, American Sailing Association Instructor, and member of the National Safe Boating Council. He is a graduate of both the U.S.C.G.A. Sailing and Seamanship and the U.S. Power Squadron Safe Boating courses. He has also completed his U.S. Coast Master's License for 100 tons and successfully completed the National Safe Boating Council's "Train the Trainer" certification.
His involvement as a youth himself on Coast Guard cutters, U.S. Navy surface vessels and submarines led him to become an active leader with numerous youth programs including the Sea Scouts, the Boy Scouts of America and the Girl Scouts of America. His leadership and involvement has been recognized by numerous service Awards of Merit and as a group recipient of the prestigious 1999 Texas Outdoor Education Award. He also continues his membership in a flotilla of the U.S. Coast Guard Auxiliary.
Mr. Steffen joined TPWD with twenty years experience in the oil and gas industry involved in exploration and pipeline engineering including ten years service as an Army Engineer officer and a paratrooper. During his tenure he honed his specialty in map surveying and offshore and inland navigation skills. As a long time resident of Fort Bend County, he served his community as an elected precinct chairman and presiding judge. He is now a resident of San Leon on Galveston Bay in Galveston County.
Mr. Steffen is responsible for recruiting, training, and mentoring Boater Education instructors in the Southern half of Texas, as well as facilitating outreach events related to boating and water safety in this half of the state. His region includes all of the southern counties from El Paso, along the border through San Antonio, Brownsville, to Nacogdoches and Tyler, to Houston and the gulf coast communities.
He can be reached at 281-534-0125 in his Dickenson office, or at warren.steffen@tpwd.state.tx.us
Contact Us

TPWD Headquarters – to contact State Boater Education Coordinator, to comment on newsletter or Boater Education website, or to request general Boater Education Program information, email education@tpwd.state.tx.us or call 1-800-792-1112
Boater Education Supply Clerk – to request Boater Education classroom materials including posters, instructor and student forms, manuals, Water Safety Digests, and handbooks: email supply.request@tpwd.state.tx.us or call 1-800-792-1112
North Texas Regional Boater Education Specialist – contact with instructor questions, to attend an instructor class, or for events in the Dallas/Ft Worth/North Texas area: call 1-972-263-6989
South Texas Regional Boater Education Specialist – contact with instructor questions, to attend an instructor class, or for events in the Houston Bay Area/South Texas area: call 1-281-534-0125