Aquatic WILD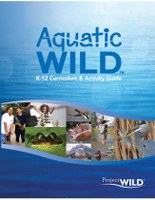 The Aquatic WILD K-12 Curriculum and Activity Guide emphasizes aquatic wildlife and aquatic ecosystems. The guide is full of 48 activities that emphasize hands-on, inquiry-based, and cooperative learning strategies with demonstrated classroom effectiveness. It is organized in topic units and is based on the Project WILD conceptual framework. Because these activities are designed for integration into existing courses of study, instructors may use one or many Aquatic WILD activities or the entire set of activities may serve quite effectively as the basis for a course of study.
Each Aquatic WILD activity contains all the information needed to conduct that activity including objectives, method, background information, a list of materials needed, procedures, evaluation suggestions, recommended grade levels, subject areas, duration, group size, setting, and key terms. A glossary is provided, as well as a cross-referenced by topics and skills. (See this sample activity.)
Aquatic WILD is distributed through the Texas Parks and Wildlife's Project WILD office. Educators, youth group leaders, and others can receive the Aquatic WILD K-12 Curriculum and Activity Guide by attending a Project WILD workshop. It is a six-hour workshop and teachers are given SBEC (State Board of Educator Certification) and TEEAC (Texas Environmental Education Advisory Committee) credit. Workshops are typically free of charge.
See the list of current workshops or contact us at education@tpwd.state.tx.us for information on how to schedule a workshop for your group.