Wanderlist: Scenic Drives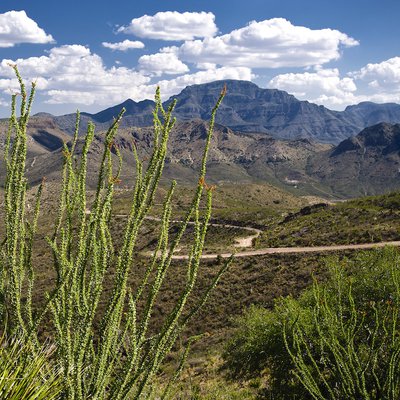 Season 2 Episode 21
Aug 19, 2020
14 Mins
There are a lot of beautiful highways to travel in the Lone Star State. From the Texas Panhandle to the Pineywoods, and all places in between, you are sure to see a diversity of landscapes. On this Under The Texas Sky's Wanderlist, we will share some of the most scenic drives you can travel in Texas. Listen to our latest podcast. Link in bio.
Wanderlist: Scenic Drives
Season 2 Episode 21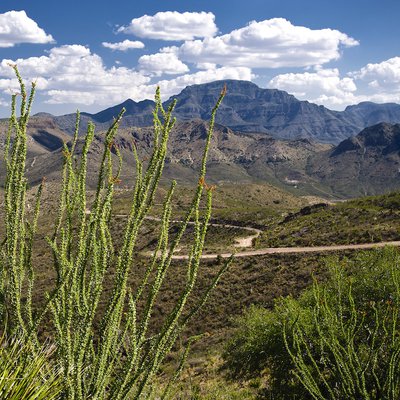 Under the Texas Sky: S2:E21: WANDERLIST – SCENIC DRIVES
[SPONSOR] Under the Texas Sky is Brought to you in part by Toyota, a proud supporter of Texas Parks and Wildlife Programs. Toyota, Let's Go Places.
[SFX —CAR DOOR SLAM/ENGINE STARTING]
[MUS—SUNSHINE]
[SFX —CAR DRIVE BY]
[NARRATION] There are a lot of roads in Texas. Many with more than one name or number. And if you venture far enough, you may find yourself traveling on historic ranch roads through some of the most beautiful geography in the state.
On the Wanderlist, Texas Parks & Wildlife Magazine Editor Louie Bond and I will discuss some of the most scenic drives in Texas. We'll also take a ride down memory lane with a friend of Parks and Wildlife who travels Texas back roads on two and four wheels.
Stay with us.
[MUS—FLEA THE CIRCUS]
[NARRATION] From Texas Parks and Wildlife, this is Under the Texas Sky's Wanderlist. I'm Randall Maxwell and with me is Texas Parks and Wildlife Magazine Editor, Louie Bond.
[RANDALL & LOUIE]
[RANDALL] Well how's it goin' Louie?
[LOUIE] It's goin' great Randall. How are you?
[RANDALL] Well I'm just fine. And Louie, with having spent the last few months kind of cooped-up inside, I've been thinking about taking a nice long scenic drive through the countryside.
[LOUIE] Well you know Randall, there are so many miles of roads crisscrossing Texas, so I guess that's why they wrote that song Miles and Miles of Texas, right? Most of my favorite roads involve lots of curves and incredible scenery. Incredible landscapes, so I knew just who to ask when I needed to put this Wanderlist together. I got our two in-house experts, our Texas Parks and Wildlife photographers Earl Nottingham and Chase Fountain. These guys log more miles in Texas scenery than I bet just about anybody else in the state. So I asked them about their favorites. They gave us great ones, I mean, in every corner of the state. So right now I think is the perfect time to get in the car for a Sunday drive or any other day of the week and just enjoy the view. Texas supplies so many exquisite ones.
[RANDALL] So what are some of your favorites Louie?
[LOUIE] Well you know Randall, I'm lucky to live in the Hill Country, one of the prettiest places in the world I'm proud to say. And I'm close to bluebonnet trails like the Willow City Loop near Fredericksburg. It's a gorgeous way to go see the bluebonnets every year. And I also like the kind of far Western part of the Hill Country, like the winding, dipping road from Vanderpool to Leakey. It's amazing how quickly your mood just lifts when you're out on one of these scenic drives. You're singing along to the radio, you roll down the window to catch the breeze and take in breathtaking views.
[RANDALL] Well correct me if I'm wrong Louie. I think that the direction toward that part of Texas, there's a road you go on that kind of crests the hilltop, and if you roll down the windows, which you are suggesting we do, I think we're going to smell the color purple. That's just my idea, like maybe like grape Kool-Aid.
[LOUIE] I love the way you put that Randall, smell the color purple. Those are Texas's wonderful Mountain Laurels, but they're little clusters of, even the flowers look like little clusters of grapes. And they have that really remarkable scent of grape Kool-Aid. And I've heard also you can smell it the minute you roll down the windows. Of course you'll have to be there at the perfect time, early Spring.
[RANDALL] Now what about East Texas. What did Earl and Chase suggest for the Piney woods?
[LOUIE] There are so many places in East Texas that are beautiful, those huge pine trees along those two-lane roads. Oh, they're just gorgeous. In the Springtime there you can see the Dogwood trails, there's quite a few little driving trails out there each Spring. And there's also Azalea trails. One trail that we feature in the Wanderlist takes you around Lake Tyler, and another is much longer, the East backwoods drive. It's a hundred and forty miles from Uncertain, one of my favorite Texas town names, to Jasper. And of course, this trail includes the incredible state park that features Caddo Lake. Caddo Lake is well known for its beautiful mossed drapery and tall Cypress trees and these sloughs you can go kayaking in, the trail goes on from Caddo Lake to through East Texas through pine curtains, through pastoral scenes. There's some really beautiful roads where, you know, the trees grow over the road and make that total shade, I always love when that happens. One portion of the trail from that Caddo Lake State Park to Daingerfield State Park. It's a really great place to come look at some fantastic fall foliage.
[RANDALL] And fall foliage out there in the East Texas region is just absolutely beautiful. What about down on the coast near the beaches of Texas.
[LOUIE] For me, anywhere on the beach is great. I'd like to be there right now. But the more isolated the beach the better it is, so the absolute best place for isolated beaches in Texas is Padre Island National Seashore, better known as PINS. And it's the longest stretch of undeveloped barrier island in the whole world. Sixty miles of beach road, but after mile five, it gets really kind of wild and wholly, and you're going to need a high clearance four-wheel drive vehicle. But it's worth it. You can see sea turtles during nesting season, that's April to August, and also neat things like the resting place of three Spanish ships that sank here during the 16th century.
[RANDALL] Now I know Earl and Chase have been to the Texas Panhandle, and that whole area, the Llano Estacado up there, it is just a wonder to see because the color and the landscape changes, you know you drive on a flat area and then all of a sudden you can dip off into canyonlands.
[LOUIE] You know Randall, I love driving in the Panhandle. Some people think the scenery is boring up there, I don't get that at all. To me, it's really classic Texas, the Texas of all the old Westerns and everything. The roads are so straight you barely have to touch the wheel. You can just ride along and admire that big sky that just goes on forever. And you can go about an hour outside of Amarillo in the flat expanse, as you said, is suddenly broken by the most amazing canyon, and that's Palo Duro Canyon. It is the second biggest in the country behind only the Grand Canyon, and we happen to think it's just as beautiful. Palo Duro State Park is steeped in history, so I highly recommend reading up on that before you go to enrich your experience. But even if you don't study, you're going to love Palo Duro. It's got candy ribbon striped walls that'll just take your breath away. They're incredibly beautiful. This particular scenic drive, you start at the top of the canyon, you'll see some cabins up there that you know you're going to want to come back and stay in, and then you wind your way down, it's sixteen miles, and it takes you all through the bottom of the canyon so that you can see the wildlife that lives there. There's a lot of wild turkeys, there's low water crossings, you never know what you're going to see. If you want more of this Panhandle splendor, there's another route called the canyon sweep route. And that takes you from Palo Duro to Caprock Canyons State Park. There you'll find thousand foot red rock cliffs. A little different but also beautiful, and the last of the free-range Southern Plains Bison.
[RANDALL] Well, these sound like great drives Louie.
[LOUIE] I'm so happy to share them with you Randall, and with our listeners.
[RANDALL] Thanks Louie.
[LOUIE] No problem Randall.
[MUS—DISTILLERY]
[NARRATION] One of most picturesque parts of our state is the Big Bend region of West Texas. I recently sat down with someone who originally traveled the rugged Trans-Pecos by motorcycle, and later by Tundra. Toyota Tundra that is. Toyota supports our podcast and allows us to bring you stories from all places under the Texas sky.
[RANDALL & LAIRD]
[RANDALL] Joining me on the podcast is Laird Doran. He's the Vice President of Government Relations and Senior Counsel for the Friedkin Group, who represents Gulf States Toyota. Laird, how are you doing?
[LAIRD] Randall I'm doing great. It's great to be with you today.
[RANDALL] Hey, thanks for joining me on the podcast. Now, I understand that Parks and Wildlife has had a relationship with Toyota for almost two decades. How is that so?
[LAIRD] Well, that's right, it has been a long-term relationship. We've been a proud supporter and sponsor of Texas Parks and Wildlife going all the way back to 2002. And when we as a company think about Toyota vehicles, when think about our customers using them for recreation. And that's a lot of what we feature in our commercials and our marketing. And when you think about Texas, who promotes getting outside, getting outdoors? Well, the Texas Parks and Wildlife Department does. And so, it seemed like a natural fit in supporting what they do as an agency, which is encouraging all Texans to get out there and enjoy this incredible state and everything it has to offer outside.
[RANDALL] Well that leads me to my next question Laird. Since our podcast is on scenic drives in Texas, what's one of your favorite scenic drives in Texas that you would recommend?
[LAIRD] I've had the privilege of driving all over the state. It's really given me an incredible flavor for just how diverse our state is, it's incredible. Talking to you today from Austin, Texas, brings back a lot of memories because this is where I went to school. And when I was a young guy in college, my best friend and I bought motorcycles and instead of going to South Padre Island with every other college kid, we wanted to explore West Texas. Let's go to these mountains we've been reading about and the pictures we've seen. Let's experience that. And so, we hatched a plan one night at the kitchen table so to speak, and got our maps out and began tracing what we thought would be our route, and what a spectacular trip that was. Little did I know, we stumbled upon these roads called the three sisters, or the twisted sisters, Ranch Road 337, 336. We had a map scotched taped to the gas tank of our motorcycles.
[SFX —MOTOCYCLE REVVING AND TRAVELING OFF IN DISTANCE]
[LAIRD] All of a sudden, I was just blown away by the curves and the hills, and the elevation changes and just what I was seeing, we were stopping periodically to take pictures
[RANDALL] Oh man, West Texas is so vast and the Chihuahuan Dessert, and just everything out there is just so scenic. I imagine that's several years ago, have you been back?
[LAIRD] Well actually, I have been back, and it was fairly recently. This time, not on my motorcycle, but driving my Toyota Tundra with my motorcycle in the bed of the pickup truck.
[RANDALL] (laughs) That's awesome.
[LAIRD] And I had this opportunity to return to Big Bend. It was actually for an event where I had the privilege and honor of introducing Texas Parks and Wildlife Executive Director Carter Smith, who was speaking to a group that night, under the stars, about the different things that Texas Parks and Wildlife does in that region of the state. And he was also talking about his time as a young man, and one of the first places that he was sent in his career, was to work at a park very close to Big Bend, so he had spent a lot of time in that area as a young man. And so we both kind of had this little bit of a twinkle in our eye like, this place is special both when you're young and when you're a little bit older. I don't want to call us old, but it's just a very very special place.
[RANDALL] Wow, that area is so special. Big Bend Ranch State Park is out there and, did you go anywhere else while you were out there?
[LAIRD] I rode Texas Highway 170, and I rode it from Lajitas to Presidio. I've ridden a lot of roads on a motorcycle, but this one, hands down, it's spectacular. I've ridden a motorcycle on the Pacific Coast Highway, and I would rather ride on the River Road. I mean, to have the Rio Grande, I mean it's incredible. I rode that thing all the way to the Mexico border. (laughter) It was incredible, you know?
[RANDALL] That's awesome, lots of roads in Texas, right?
[LOUIE] Yeah, lots of roads. (laughs)
[RANDALL] Hey Laird.
[LOUIE] Hey Randall.
[RANDALL] Let's go places.
[LOUIE] Let's do it.
[MUS—UPLIGHT]
[NARRATION] We're done wandering for this podcast…but Louie Bond and I—or our executive producer, Cecilia Nasti—will be back with more fascinating things to see and places to explore in the Lone Star State.
Our thanks to Laird Doran of the Friedkin Group, representing Gulf States Toyota. They are the exclusive private distributor for Toyota in Texas. Toyota, let's go places.
But before heading to any state park, historic site or natural area, call ahead.
Also, keep an eye on the Texas Parks and Wildlife Instagram account, which is @TexasParksWildlife. We'll use it to notify you of some of the Wanderlist subjects we plan to cover in the weeks ahead and give you a chance to ask questions, some of which we'll answer on the podcast.
Under the Texas Sky is a production of Texas Parks and Wildlife. We produce our Wanderlist series in partnership with Texas Parks and Wildlife Magazine in the Media Production Studios in Austin, Texas. Yours truly did our sound design. Whitney Bishop does our social media. And we get distribution and web help from Susan Griswold and Benjamin Kailing.
Stream or download Under the Texas Sky and Under the Texas Sky's Wanderlist wherever you get your podcasts. And please leave a review while you're there and let us know how we're doing and what you'd like to hear.
Until next time…keep on wandering Under the Texas Sky. I'm Randall Maxwell.