State Park Reservations
Day Passes & Overnight Sites
Make reservations online.
Reserve Online
Reserve online 24 hours a day, 7 days a week
Make phone reservations.
Reserve by Phone
Reserve by phone Monday - Friday during business hours
Group facilities, most ADA sites, and some park sites must be reserved by phone.
Reservas en Español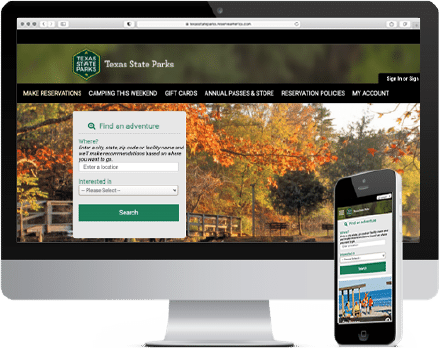 Park capacity is based on visitor safety and resource protection. Our most popular parks fill months in advance. To guarantee entry, we highly recommend visitors reserve:
day passes, especially on weekends and holidays
day and overnight sites
some tours and activities
Get more early reservation information from our Reservations FAQ
Make sure
you're ready

to reserve.
Payment is required of all charges, including entrance fees, to confirm and guarantee your reservation. We accept Discover, MasterCard and Visa. Same-day reservations are nonrefundable.
To make a reservation, you will need:
email address
home and work phone numbers
trailer or mobile home lengths (if applicable)
credit card for payment
Save time at check-in! Provide license plates for all vehicles entering the park when making your reservation.
All Texas Parks and Wildlife regulations, rules and policies apply to reservations.
Still have questions?
Send your questions or comments to our customer service by email or by calling (512) 389-8900.
Customer service hours are Monday through Friday, 8am to 5pm and are not available on major holidays.
We cannot check site availability or make reservations via email.