All Available Public Licenses, Fees and Drawings
Where to Buy Your License
---
License Publication Links
Hunting & Fishing Licenses – Take a Look!
The 2018-2019 licenses will sport "tan"Texas Parks & Wildlife Department logos.
White-tailed deer hunters will be required to fill in the harvest log on the back of the 2018-2019 license.

New Lifetime License holders will receive a Lifetime card which can be used three different ways to obtain their tags; it has a magnetic strip for swiping, a bar code for scanning and their TLC# for typing in.
Lifetime Resident Combination Hunting and Fishing License
Lifetime Resident Hunting License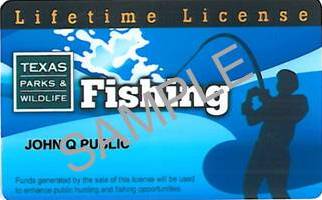 Lifetime Resident Fishing License
Lifetime Resident License - Back