Lockhart State Park Showcase
9:00a

to

2:00p




Sat, June 03, 2023
🎉 Come see all Lockhart State Park has to offer and more for FREE at the Lockhart State Park Showcase!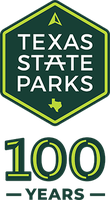 To celebrate 100 years of Texas State Parks, Lockhart State Park is opening its doors for an event full of FREE family-friendly fun!  We will have swimming, fishing, golfing, guided hikes, critters, archery, air rifle, living history, food trucks, and more!  Details below.
FREE ADMISSON All DAY (6AM – 10PM)!  Lockhart State Park is waiving entrance fees (normally $3/adult, free for kids) all day long.  If you want, you can reserve your day pass online in advance here.  Please don't forget to check-in at Park HQ when you arrive (even if you have a pass)!
Main Event Activities (9AM – 2PM, unless otherwise noted):
Guided hikes – join us for a walk in the park!  We'll host a hike at 9AM, 10AM, 11AM, 1PM, and 7PM.  See schedule below for more details.
Golf – take a swing at golf and try driving, chipping, and putting on our historic golf course - you may even win a prize!  (Please note: the golf course is still under construction, so we will not have tee times or regular play.)
Swimming – take a dip in our park pool!  We will have 3 swim sessions: 12-2pm, 2:20-4:20pm, and 4:40-6:40pm.  We're giving away 120 (free) tickets per swim session.  Tickets will only be available on the day of the event, and we will be "selling" them on a first come, first served basis.
Archery - learn how to shoot like Robin Hood or Katniss Everdeen! (Participants must be at least 10 years old and have a signed liability waiver.)
Air rifle - try the Student Air Rifle Program, courtesy of TPWD's Hunter Education Department! (Participants must be at least 10 years old and have a signed liability waiver.)
Fishing – learn how to fish and/or cast a line in Clear Fork Creek!  No fishing license required.  Tackle will be available to borrow on a first come, first served basis.  We'll even supply the bait!
Fishes – meet some creek critters up close, courtesy of our friends at Inland Fisheries, and watch a fish stocking demonstration at 10am!
Operation Game Thief – meet our Game Warden and check out the operation game thief trailer!
Buffalo Soldiers & The Living History Foundation – join Lieutenant Dolifka and Private Mack to play games, share tools, and talk history!
Rec Hall – check out our historic Recreation Hall, and learn about the CCC!  (This building is normally closed to the public and available by rental only.)
Yoga - join Nicole Marie from Vyana Vayu Yoga for some beginner-friendly yoga on the back terrace of our Recreation Hall at 9:30am! Don't forget to bring your yoga mat!
Tipi - yup, we built one. Take a selfie and step inside!
S'mores - j

oin us for a fire-building demonstration and s'mores at 12:30pm! The ingredients for s'mores will be provided, while supplies last. 

Animals of the Park Discovery Table - stop by Park HQ to test your nature knowledge!
Showcase Scavenger Hunt - visit park HQ to receive your free Showcase Scavenger Hunt card, which will highlight some of the things you should do/see during the event. After you complete your card, return to Park HQ for a prize!
Community partners will be bringing games, activities, information, and more! See list of community partners below.
Food trucks will be bringing a variety of goodies for all to enjoy (this part of our special event is not free; food items and prices vary by vendor). See list of food vendors below.
Guided Hike Schedule:
All guided hikes have a limit of 40 participants, and participation is on a first come, first served basis. All guided hikes will start at the Creekview Trailhead, last for 1-1.5 hours, and cover about ¾-mile on moderate terrain. Participants wishing to hike should wear sturdy shoes and bring water.
9AM – Beasts of the Blackland Prairie
10AM – CCC Your History Hike
11AM – Zombie Apocalypse Hike
1PM – Bug & Butterfly Hike
7PM – Owl Prowl
Community Partners:
Community partners will be bringing games, activities, information, and more!  Here are some examples of who will be helping us celebrate:
Food Vendors:
Larry's BBQ (8am-2pm)
Kona Ice (9am-3pm)
Amy's Ice Creams (12-4pm)
Weather: This event is rain or shine. In the event of inclement weather, some aspects of this event may no longer be possible (for example: archery, s'mores, or community partner activities may no longer be available), but we plan on continuing with as much as we can.
This is one of many 100-year celebration events happening in Texas state parks this year. Entry to a park is free on the day it hosts an official 100-Year celebration event (applies to day passes only). Guarantee entry by reserving your free day pass up to one month before this special event.