River Legacy Parks Paddling Trail
All photos: River Legacy Parks

This trail on the West Fork of the Trinity River winds through the heart of the 1,300-acre River Legacy Parks, with ample opportunities to spot herons, egrets, turtles, kingfishers, chickadees, and bobcats, just to name a few. This portion of the Trinity River provides a quiet and scenic float through the middle of the Metroplex with the occasional fun riffle to navigate.
---
Access Point:
River Legacy Park Access Site
32° 47' 17.54" N, 97° 06' 01.20" W
The put-in and take-out launch is located in River Legacy Parks on Collins Street just north of Green Oak Blvd, Arlington, TX 76006

From 360: Exit Green Oaks Blvd and drive west to Collins Street. At Collins Street, make a right and drive approximately one mile. The entrance to the park is located on your left. Drive in to the park and find a convenient parking spot. The launch is located adjacent the pedestrian bridge that spans over the Trinity River.

From Interstate 30: Exit Interstate 30 at the Collins Street exit and drive north on Collins Street. You will cross Green Oaks Blvd. and just north of that intersection you will make a left into River Legacy Parks.

From Route 183: Exit Route 183 at Industrial Blvd / Route 157 and head south. Proceed approximately 3 miles. The road name changes to Collins Street / 157 as you enter Arlington. The entrance to River Legacy Parks is on the west side of the road just north of Green Oaks Blvd.
Distance from nearest major cities:
Dallas - 21 miles
Fort Worth - 14 miles
Austin - 210 miles
Waco - 93 miles
Houston - 260 miles
San Antonio - 279 miles
Corpus Christi - 391 miles
Trail Length: ~2 - 8 miles total
Float Time: ~1 - 6 hours (depending on water level, flow rate and wind speed)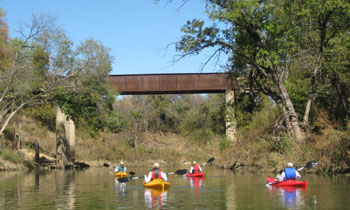 Please note: Paddlers will start at the River Legacy Park access site and paddle as far up this trail as they wish (dependent on flow rate of the river) before heading back. The first set of riffles they will encounter that require a portage going upstream are about 1 mile from the access site. Paddlers can turn back at this point for a nice one-hour paddle or portage upstream for a longer paddle and to enjoy some of the riffles on this stretch when they head back to the canoe launch.

Flow and water quality are influenced by water releases from upstream reservoirs, storm water runoff, and wastewater treatment plants. The water quality is suitable for canoeing, kayaking, and incidental contact, but not for swimming. Trips should not be attempted in high and turbulent water conditions.

The paddling trip can be customized for a lengthy day adventure or a quick out and back. Paddlers can put in at the River Legacy Parks launch and go upstream for as long as they want before paddling downstream to return to the launch. Future access sites are being planned to enhance the paddling experience.

Sunfish, largemouth bass, and catfish are abundant along this stretch of the Trinity River. During the spring, white bass may also be targeted near tributaries. Anglers should use small jigs and soft plastics to target the sunfish and largemouth bass around logs, fallen trees, and debris piles using light to medium action fishing equipment. Catfish can be targeted using natural baits such as cut fish, worms, or shrimp using medium action fishing equipment. Anglers are reminded that this section of the Trinity River has a fish consumption advisory for all fish species, so consult the Texas Department of State Health Services at http://www.dshs.state.tx.us/seafood/ or call 512-834-6757 before consuming fish caught on the river. The advisory advises anglers not to eat any fish from this section of the Trinity River.
While drifting down the Trinity River you will encounter a diverse community of flora and fauna. Birds spotted here include Great Blue Herons, Northern Cardinals, Mallards, Snowy Egrets, and the Yellow Crowned Night Heron. While on the river, one will notice the variety of trees and plants along the banks including the flowering Red Bud, American Elm, Red Oak, and American Beauty Berry. Common wildlife encountered while navigating the river includes Bobcats, Raccoons, Opossums and Eastern Fox Squirrels.

The upper layers of the river banks consist mostly of silt and other fine materials known as alluvium that have eroded from areas upstream and been deposited alongside the river by floods over many thousands of years. Beneath the alluvium in the bed and banks in this reach of the river are red colored sandstones and sand with some clay lenses that are formally known as the Woodbine Formation. These materials were deposited at the edge of an ancient sea during the Late Cretaceous period over 60 million years ago. This was near the end of the era of dinosaurs. Fossils are in some of the rocks and an important deposit of bones of dinosaurs known as Archosaurs, "ruling dinosaurs," was found at the edge of the floodplain just north of the river in 2003.

Respect private property by not trespassing or littering and keeping noise levels down. This river is classified as navigable, which permits public use of the streambed and, if necessary, the banks to portage any hazard. Any other use of private river banks without permission of the landowner can be considered trespassing. Under Texas Penal Code (§30.05), criminal trespass occurs when one enters property after receiving notice not to enter. Notice includes verbal notice, a fence, sign(s), purple paint on posts or trees, or the visible presence of crops grown for human consumption.

For more information please see the Paddling Events calendar or the Arlington Parks and Recreation Department website at www.naturallyfun.org.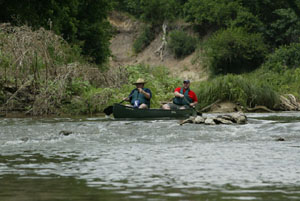 River Legacy Living Science Center:
River Legacy Living Science Center serves as the gateway to River Legacy Parks. Nestled into a clearing of existing land contours and oak groves, the 12,000-square-foot nature center has a sustainable design that has a minimal impact on the environment. The Center houses the Foundation's environmental education programs; including Nature School; and offers a full calendar of public programs and events.

Amenities include:
interactive environmental exhibits
aquariums and terrariums with native wildlife
Acorns Gift Shop
nature trails
pond
Hours of operation:
Open: Tuesdays-Saturdays, 9 am – 5 pm
Closed: Sundays and Mondays

Events: River Legacy Parks hosts a number of community events throughout the year, including but not limited to, After Dark in the Park, Kite Festival and Family Campout. For more information on events visit naturallyfun.org or riverlegacy.org.

This trail was made possible through a partnership between Texas Parks and Wildlife Department, Arlington Parks and Recreation, River Legacy Foundation and the River Legacy Living Science Center.
Flatwater Kayak
Daren and Kristi Payne, 817-451-9230
www.flatwaterkayak.com
Services offered: Rental of Victory Blast Kayaks, Life Vests, and Paddles

Paddle Bound River Outfitters
Jimmy and Edie Gray, 817-282-3135
Colleyville, TX 76034
www.paddlebound.com
Services offered: Canoe/Kayak Sales, Rentals (canoes/kayaks, trailers, life jackets, paddles), Guided Trips & Instruction

Trinity River Expeditions
214-941-1757
www.canoedallas.com
Services offered: Guided trips, rental of canoes & kayaks, shuttle service, trailer rental
KayakPower
214-669-1663
www.kayakpower.com
Offers kayak and canoe rentals, also guided trips and paddling instruction. Only available for groups of 12 or more with advance reservations.
Cutter Aquatics
Phone 817-354-6853
www.CutterAquatics.com
Provider of Quality Instruction in Kayaking and Canoeing
ACA & USCA Certified Instruction
American Red Cross Authorized Provider
Mountain Sports
2025 W. Pioneer Pkwy
Arlington, TX 76013-6005
1-800-805-9139 or 817-461-4503
http://www.mountainsports.com
Services offered: canoe and kayak sales