Visit the Bastrop - Wilbarger Paddling Trail in Bastrop, Texas!
---
Put-in:
Utley (FM 969) Bridge

30° 10' 05.8" N — 97° 24' 08.2" W
Take-out:
Fisherman's Park (Put-in for Bastrop - El Camino Real Paddling Trail)

30° 06' 43.0" N — 97° 19' 29.9" W
The put-in for this paddling trail is located at the FM 969 Bridge northwest of Bastrop. Take FM 969 north of Highway 71 just past the intersection with FM 1209.
The take-out for this paddling trail is located at Fisherman's Park at the corner of Farm Street and Willow Street in downtown Bastrop.
From Highway 71/21 traveling eastbound into Bastrop exit at Texas Hwy 71/21 at "Hassler Blvd, Chandler Street, Loop 150 Exit" and head east (turn left) onto Loop 150 East (Look for "Historic Downtown" sign) and cross the Colorado River Bridge.
From Highway 71 traveling westbound into Bastrop, turn right onto Loop 150 and follow it into downtown.
From westbound Highway 71 or Highways 21 or 95, head west on Loop 150 West (Chestnut Street) into downtown.
Turn north at stop light onto Main Street, and then take a left onto Farm Street. Bear left down to Fisherman's Park at the fork in the road and the park and boat landing are straight ahead.
Distance from nearest major cities:
Austin – 30 miles
San Antonio – 94 miles
Houston – 131 miles
Dallas – 200 miles
Ft. Worth – 194 miles
San Marcos – 47 miles
Waco – 106 miles
Corpus Christi – 181 miles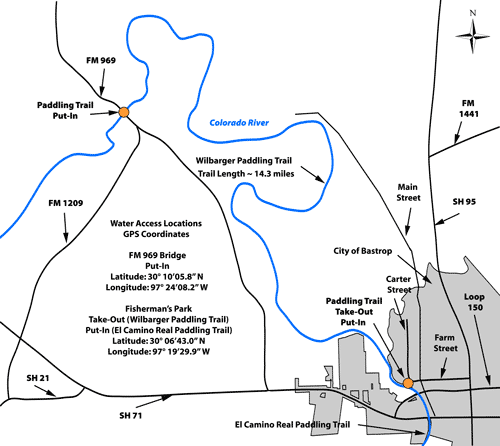 Trail Length: ~14.3 miles
Float Time: ~4 - 8 hours (depending on water levels and flow rates)
The upper- and mid-reaches of the river are impounded by six reservoirs, whereas the lower 300 miles of the river is un-impounded and free-flowing below Longhorn Dam. It flows through the cities of Bastrop, La Grange, Columbus, Wharton, and Bay City before entering Matagorda Bay. Though "free-flowing" below Longhorn Dam, flow through this portion of the river is affected by the Highland Lakes, and specifically regulated by Buchanan and Mansfield Dams. As such, the river is readily influenced by rainfall runoff that may create temporary high flows and less desirable water quality conditions. Flow and water quality information is available to paddlers on the web at the LCRA Water Quality Index and waterdata.usgs.gov/tx/nwis/uv?08159200.
The Wilbarger Paddling Trail is wide and slow-moving with a few minor rapids but no man-made obstructions, although snags and debris should be avoided. This trail is where the river intersects the Carrizo-Wilcox major aquifer outcrop resulting in unique geological formations and groundwater-surface water exchanges. The flood plain is flat with limestone outcroppings and several exposed cut-banks. Frequent sand bars and islands provide suitable areas for resting.
Sport fishing is very good in this section of the river. Popular game fish are Guadalupe bass, blue, channel, and flathead (opelousas) catfish, and freshwater drum (gaspergou). Largemouth bass and sunfish are common in the backwater pools. Light-line and small lures such as jigs, plastic worms, and spinner baits are recommended for spin casting. Heavier tackle is needed for bottom fishing and larger game fish attracted to live bait. Kayak fishing is gaining in popularity. Local fishing guides are available through outfitters.
The riparian corridor of the Wilbarger Paddling Trail supports a great diversity of plant and animal life along the river and beyond its banks. Trees to look for include pecan, cottonwood, American sycamore, black willow, bald cypress, hickory, ash, American and cedar elm, roughleaf dogwood, flame-leaf sumac, and red-mulberry. A variety of grasses and vines can be found growing among the trees, while maidenhair fern can be seen clinging to the river banks.
Birders can hope to see Crested Caracaras, Ospreys, Red-tailed and Red-shouldered Hawks, kingfishers, vultures, woodpeckers, Great Blue Herons, Wood Ducks, and Killdeer. In the summer, swallows and Purple Martins are abundant.
The Wilbarger Paddling Trail also provides unique habitat for the blue sucker, a fish species that is depleted throughout its natural range and is listed as threatened in the state of Texas. The blue sucker is one of the most common fishes in the river between Webberville and Smithville.
Respect private property by not trespassing or littering and keeping noise levels down. This river is classified as navigable, which permits public use of the streambed and, if necessary, the banks to portage any hazard. Any other use of private river banks without permission of the landowner can be considered trespassing. Under Texas Penal Code (§30.05), criminal trespass occurs when one enters property after receiving notice not to enter. Notice includes verbal notice, a fence, sign(s), purple paint on posts or trees, or the visible presence of crops grown for human consumption.
For more information please see the TPWD Paddling Events calendar.
Colorado River Refuge – Pines & Prairies Land Trust
The Colorado River Refuge is made up primarily of majestic old-growth riparian forest along 1.5 miles of the Colorado River in Bastrop, Texas. Unspoiled views and unusual geological outcrops adorn this peaceful stretch of the Colorado River. http://www.pinesandprairieslandtrust.org/
Lost Pines Nature Trails
The Lost Pines Nature Trails site is located on the Colorado River adjacent to the Pines & Prairies Land Trust's River Refuge and serves as an access point for Bastrop Paddling Trails. The paddling trails partners are working with the Water District to improve the site in order to make it more accessible by the public and to provide hike, bike and ADA trails on the 30 acre site.
Bastrop & Buescher State Parks
These parks provide opportunities for backpacking, biking (enjoy a 12 mile scenic ride through the Lost Pines of East Central Texas between the two parks), camping, picnicking, canoeing (Bastrop State Park rents canoes), swimming (pool), golfing, wildlife viewing, hiking, and interpretive programs.
Bastrop State Park
Buescher State Park
Bastrop Lake
www.tpwd.state.tx.us/fishboat/fish/recreational/lakes/bastrop/
Bob Bryant Park
The Bob Bryant Park is open from 6 am to 10 pm seven days a week. It is located at 600 Charles Boulevard (behind the Riverside Grove Addition).
Historic Downtown Bastrop (A Texas Main Street City)
Bastrop is now a growing community with a rich heritage, pines, prairies and a beautiful river valley. There are three 18-hole golf courses within just a few miles of downtown Bastrop, a beautiful State Park and one of the oldest Opera Houses in Texas. Gift and antique stores adorn Main Street. Historical homes add charm and character in and around downtown. For more information about Historic Bastrop visit www.visitbastrop.org.
Fisherman's Park & Riverwalk
Fisherman's Park in downtown Bastrop is a nice, new park built in 1994. Located on the banks of the Colorado River, this small park has picnic facilities and access to the river for boats and canoes. You can wade into the river via this paved access, but the water can be swift. Fisherman's Park has a nature trail and modern playground. Shade is provided by pecans and oaks. Two major Bastrop festivals are held annually at Fisherman's Park—NatureFest held for the first time in November 2007 and the Annual Patriotic Festival which is normally held in July.
This trail was made possible through a partnership between Texas Parks and Wildlife Department, City of Bastrop, Bastrop Economic Development Corporation, Bastrop Visitor Center, Rising Phoenix Adventures, Environmental Stewardship, Pines & Prairies Land Trust and LCRA.
Bastrop River Company
601 Chestnut St, Bastrop
(Conveniently located on the river just 1 block from downtown Bastrop)
512-988-1154
http://www.bastropriverco.com
Cook's Canoes
1004 Water Street
Webberville, TX 78653
512-726-7767, 512-461-7139
www.cookscanoes.com
Rising Phoenix Adventures
306 Industrial Blvd.
(Off Loop 150 Across from Bastrop State Park)
512-677-2305
http://www.risingphoenixadventures.com
Paddle With Style
Martindale, Texas
Phone: (512)749-2350; Operate by reservation only. Able to accommodate large groups.
www.paddlewithstyle.com