Fort Worth Nature Center & Refuge Paddling Trail
Located minutes from downtown Fort Worth, this peaceful 6-7 mile loop paddling trail gives paddlers a chance to enjoy some quiet time on the West Fork of the Trinity River.
---
Access sites:
Water Access Locations:
Big River Paddle Launch: (DD) 32.84835, -97.47429
Greer Island Paddle Launch: (DD) 32.82494, -97.45988
To reach the Fort Worth Nature Center & Refuge: From Loop 820, exit to TX-199 (Jacksboro Highway) West bound. Take TX-199 west for 3.5 miles. Exit FM 1886/Confederate Park Road and follow frontage road to stop sign. Turn Right (north) onto Buffalo Rd. and follow to gatehouse. After paying park entrance fee you will be given a map which indicates the paddling trail launch locations.
Distance from nearest major cities:
Dallas – 45 miles
Fort Worth – 12 miles
Austin – 206 miles
Waco – 105 miles
Trail Length: 6-7 mile loop (depending on water levels and with opportunities to extend or shorten as needed)

Float Times:~2-3 hours (as mapped; dependent on water levels, flow rate, and wind)
Note: Information regarding accessibility of the Greer Island Paddle Launch may be obtained by calling the FWNC&R Visitor Center at (817) 392-7410 as well as at the entrance gate.
This section of the West Fork of the Trinity River is located between Eagle Mountain Lake dam and Lake Worth. Due to water releases between these two reservoirs river conditions along this stretch are generally conducive to paddling year round. The Big River Canoe Launch is a floating dock that is always accessible and has ample parking spaces as well as a composting toilet. The section of the trail that leads to/from the Greer Island Paddle Launch is much more reliant on rainfall/runoff, and therefore may be inaccessible during low water/drought conditions.
Paddlers may start at either launch point as they are both within the Fort Worth Nature Center. This allows for an out and back trip to your chosen start point as well as exploring on your own throughout the Trinity River marshes and upper Lake Worth reservoir. The trail follows the West Fork of the Trinity River downstream to and into Greer Island Bay. This is one of the most scenic and natural sections of the Trinity River in the Dallas/Fort Worth Metroplex. Paddlers have an opportunity to view a great amount of diverse wildlife in a tranquil setting. Civilian Conservation Corps structures may be seen along the trail in the Greer Island Bay area. Keep your eyes open and be on the lookout for our most popular residents, the American alligator. Although often spotted these animals are not aggressive and do not cause problems. Be aware that is unlawful to feed/harass alligators. Simply enjoy them from a safe distance. Remember, you are a visitor in their home.
Paddlers may extend their trip upstream all the way to the Eagle Mountain Lake dam and downstream into Lake Worth. Remember to be back at the launch/takeout site in time to exit the park prior to closing time or you will be locked in! Park hours are seasonal so check the website or with on-site staff.
Sunfish, largemouth bass, white bass, crappie, and catfish are abundant along the West Fork of the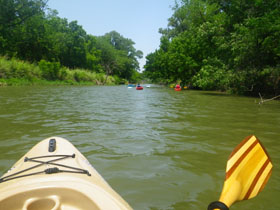 Trinity River. Paddlers may paddle further downstream into Lake Worth for additional fishing opportunities. Anglers should use small jigs, plastics, and top water lures to target largemouth bass around logs, stumps, vegetation, and fallen and overhanging trees. Light to medium action fishing equipment as well as fly fishing equipment can be utilized. Catfish can be caught with natural baits such as worms, shrimp, grasshoppers, cut fish bait, and prepared catfish baits.
Anglers are reminded that this section of the Trinity River has a fish possession advisory for all fish species. The advisory, implemented by the Department of State Health Services, advises anglers not to consume any fish taken from this section of the Trinity. Consult the Texas Department of State Health Services at http://www.dshs.state.tx.us/seafood/ or call 512-834-6757 before consuming fish caught on the river. Be advised that fishing is NOT permitted from the banks of the Fort Worth Nature Center & Refuge.
The riparian corridor of the Trinity River supports a great diversity of plant and animal life along the river and beyond the banks. Birds spotted here include Great Blue Herons, Great Egrets, S
nowy Egrets, Belted Kingfishers, Ospreys, Wood Ducks, various hawks, and owls. Many migratory birds utilize the Nature Center and can be spotted at various times of the year. Cottonwood, elm, sycamore, pecan, ash, black willow, and many species of oak trees grow along the river. Abundant wetland plants such as cattails, bulrushes, water willow, arrowhead, and pond weed can be seen along the trail. Common wildlife encountered includes deer, beavers, turtles, snakes, raccoons, and even alligators. It is unlawful to feed/harass alligators. Simply enjoy them from a safe distance. Remember, you are a visitor in their home.
Respect private property by not trespassing or littering and keeping noise levels down. This river is classified as navigable, which permits public use of the streambed and, if necessary, the banks to portage any hazard. Any other use of private river banks without permission of the landowner can be considered trespassing. Under Texas Penal Code (§30.05), criminal trespass occurs when one enters property after receiving notice not to enter. Notice includes verbal notice, a fence, sign(s), purple paint on posts or trees, or the visible presence of crops grown for human consumption.
For more information please see the Paddling Events calendar.
Fort Worth Nature Center & Refuge
There's something for everyone at the Fort Worth Nature Center & Refuge! Come out to explore the Paddle Trail, have a picnic, enroll in a class, take a naturalist-led hike, or enjoy the park on your own as you explore over 3600 acres of natural North Central Texas! www.fwnaturecenter.org; entry fees apply; refuge hours are seasonal. Please call (817)392-7410 prior to your visit for current schedule.
Hardwicke Interpretive Center Hours: Daily 9:00am-4:30pm
Fort Worth Attractions: Fort Worth Stockyards, Museum/Cultural District, Fort Worth Botanic Gardens, Botanical Research Institute of Texas, Fort Worth Zoo, and many City Parks
Fort Richardson State Park: located in Jacksboro, TX, 50 miles northwest of the Nature Center & Refuge on TX-199
Mineral Wells State Park: located 40 miles west of the Nature Center and Refuge on US-180
This trail was made possible through a partnership between Texas Parks and Wildlife Department, Fort Worth Nature Center & Refuge, City of Fort Worth Park and Recreation Department, Friends of the Fort Worth Nature Center & Refuge, Inc.
Fort Worth Nature Center & Refuge
Services offered: Guided canoe/kayak trips with a Certified Interpretive Guide. Guided Full Moon Paddles. Visit www.fwnaturecenter.org for calendar of events.
817-392-7410; 9601 Fossil Ridge Rd., Fort Worth, TX 76135
Paddle Bound River Outfitters
Services provided: Canoe/kayak sales, Rentals (canoes, kayaks, trailers, life jackets, paddles) Guided trips and instruction.
817-282-3135; Jim & Edie Gray, Colleyville, TX 76034
www.paddlebound.com
Flatwater Kayak
Services offered: Rentals of Victory Blast Kayaks, life vests, and paddles.
817-451-9230; Darren & Kristi Payne
www.flatwaterkayak.com