Joe Pool Lake & Walnut Creek Paddling Trail
All photos: City of Grand Prairie Parks and Recreation Department

This 4.9-mile trail offers a spectacular outdoor experience for nature lovers, outdoor recreation enthusiasts, families, and paddlers of all skill levels
---
Access Point:
Loyd Park Canoe Launch
32° 36' 24.64" N, 97° 03' 47.29" W
Loyd Park

3401 Ragland Rd.
Grand Prairie, TX 75052
Loyd Park Entrance Fee:
$10 per vehicle/day (up to 6 people)
$100 annual pass
From DFW Metroplex: From Interstate 20 take Exit 453B to TX-360 South. Continue South to Ragland Rd. Turn Left on Ragland Rd., park entrance is on your Right approximately ¼ mile. Park staff at Gatehouse will direct you to launch site.
From South of DFW Metroplex: From US 287 take TX-360 North for 6 miles to Ragland Rd. Turn Right, park entrance is on your Right approximately ¼ mile. Park staff at Gatehouse will direct you to launch site.
Distance from nearest major cities:
Austin - 190 miles
Corpus Christi - 405 miles
Dallas - 30 miles
Fort Worth - 25 miles
Houston - 247 miles
San Antonio - 268 miles
Waco - 89 miles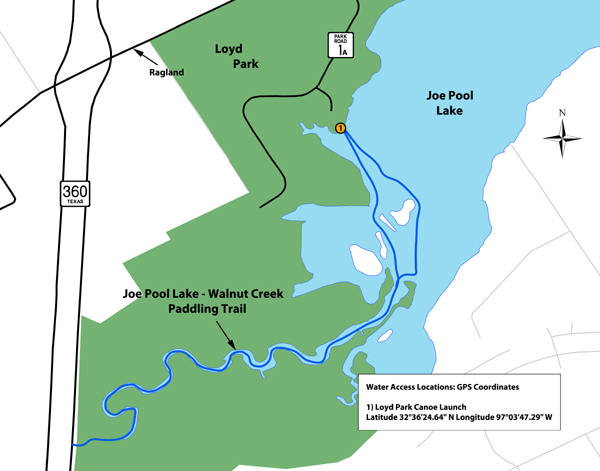 Trail Length: ~5 miles (roundtrip from launch to 360 bridge)
Float Time: ~2 - 4 hours (depending on water level, flow rate and wind speed)
Please note: It is approximately 2.5 miles from Loyd Park down Walnut Creek to Highway 360, but paddlers can choose to return at any point for a shorter trip.
This 4.9-mile trail offers a spectacular outdoor experience for nature lovers, outdoor recreation enthusiasts, families, and paddlers of all skill levels (children should be accompanied by an adult). Once you reach the HWY 360 overpass, turn around and enjoy the lazy current and prevailing southerly wind on your paddle back!
Joe Pool Lake has fair populations of white bass, crappie, and largemouth bass. White bass and crappie can be caught using jigs and spoons attached to medium and light action fishing equipment fished in open water and close to bridges. Largemouth bass can be caught using medium to heavy action fishing equipment using soft plastics fished around aquatic vegetation and standing timber.
Starting from the shores of the lake in Loyd Park, this 4.9 mile trail crosses a bit of open water, takes you past two islands, and up the winding, shaded waters of Walnut Creek. Along the way you will experience flora and fauna that you might not readily associate with life in DFW. This area is located at a crossroads (ecotone, or edge) between the Blackland Prairie and the Eastern Crosstimbers ecoregions. As a result, there is a diverse mix of plants from both ecoregions found here. This trail offers excellent opportunities for bird watchers, including water fowl, herons, osprey, hawks, songbirds, and more. Bobcat, beaver, foxes, coyotes, raccoons, possum, rabbits, and many other mammals are spotted on a regular basis. Turtles, frogs and other aquatic life abounds. Fishing along the trail is some of the finest that Joe Pool Lake has to offer.
Respect private property by not trespassing or littering and keeping noise levels down. This river is classified as navigable, which permits public use of the streambed and, if necessary, the banks to portage any hazard. Any other use of private river banks without permission of the landowner can be considered trespassing. Under Texas Penal Code (§30.05), criminal trespass occurs when one enters property after receiving notice not to enter. Notice includes verbal notice, a fence, sign(s), purple paint on posts or trees, or the visible presence of crops grown for human consumption.
For more information please see the Paddling Events calendar or visit the Grand Prairie Parks & Recreation Department website at www.GrandFunGP.com.
Loyd Park
On the west shore of Joe Pool Lake, Loyd Park covers about 791 acres of native Texas landscape. Centrally located, camping at Loyd Park is conveniently close to the major DFW attractions - in a peaceful tree filled setting right on the lake. Individual campsite sizes are large (average of 1000 sq. ft.) and each one has a picnic table and pavilion, grill, fire ring, and more Texas tranquility than you can handle! Other amenities include cabins for rent, a meeting cabin, large group pavilions, hiking & equestrian trails, boat ramps, restrooms & showers.
Lynn Creek Park
On the northwest shore of Joe Pool Lake, Lynn Creek Park covers about 784 acres. Park amenities include a white sand swimming beach, playground, restrooms, two boat ramps with eight lanes, a concession stand, almost 100 picnic sites, group picnic pavilions, and a sand volleyball court.

This trail was made possible through a partnership between Texas Parks and Wildlife Department and the City of Grand Prairie Parks & Recreation Department- Lake Parks Division.
Flatwater Kayak
Daren and Kristi Payne, 817-451-9230
www.flatwaterkayak.com
Services offered: Rental of Victory Blast Kayaks, Life Vests, and Paddles
Kayak Instruction, Inc.
Dave Holl, 972-412-7691
www.kayakinstruct.com
Services offered:
whitewater kayak sales and rentals for the Dallas Wave
KayakPower
214-669-1663
www.kayakpower.com
Offers kayak and canoe rentals, also guided trips and paddling instruction. Only available for groups of 12 or more with advance reservations.
Paddle Bound River Outfitters
Jimmy and Edie Gray, 817-282-3135
Colleyville, TX 76034
www.paddlebound.com
Services offered: Canoe/Kayak Sales, Rentals (canoes/kayaks, trailers, life jackets, paddles), Guided Trips & Instruction
Trinity River Expeditions
214-941-1757
www.canoedallas.com
Services offered for groups of 10 paddlers or more: Guided trips, rental of canoes & kayaks, shuttle service, trailer rental
Cutter Aquatics
Phone 817-354-6853
www.CutterAquatics.com
Provider of Quality Instruction in Kayaking and Canoeing
ACA & USCA Certified Instruction
American Red Cross Authorized Provider
Mountain Sports
2025 W. Pioneer Pkwy
Arlington, TX 76013-6005
1-800-805-9139 or 817-461-4503
http://www.mountainsports.com
Services offered: canoe and kayak sales