Guadalupe Valley Paddling Trail
Paddle along this 13.8-mile trail for a half day trip or pick one of the smaller sections for a few hours on the water. Whichever you choose, you'll be rewarded with a wonderful Guadalupe River experience.
---
Three access sites:
FM 766 (Hell's Gate)
29° 80' 49.63" N, 97° 19' 40.42" W
SH 72
29° 50' 26.00" N, 97° 19' 47.27" W
FM 236
29° 30' 70.20" N, 97° 15' 54.00"
Driving Directions to Access Sites:
FM 766
In Cuero at intersection of Reuss Blvd. and Hwy. 183 (Esplanade) turn West toward FM766. Turn Right on FM 766 (Terrell St), travel on FM 766 approximately 4 miles to the Guadalupe River. Cross Bridge and take first right to the Access Point.
SH 72
From Cuero at intersection of Hwy 183 (Explanade) and Hwy 72 (Heaton St) turn West onto Hwy. 72 and travel 2.2 miles to Guadalupe River. Cross Bridge and take first right to Access Point.
Alternate Access Site at Hwy 183: From Cuero, travel south on Highway 183 (Esplanade). Before crossing the trestle bridge and the Guadalupe River take a left to access point under the bridge. This alternative site is located after the SH 72 access site and before the take-out site at FM 236.
FM 236
In Cuero at intersection of Hwy 183 (Esplanade) and Morgan Ave. turn east on Morgan Ave. and travel several blocks to FM 236. Turn Right on FM 236, travel 2.5 miles to Guadalupe River and exit right before crossing bridge to reach the Access Point down under the bridge.
Distance from nearest major cities:
Austin - 93.4
Corpus Christi - 98.6
Dallas - 282.0
Houston - 133.7
Lubbock - 462.6
San Antonio - 85.2
Waco - 187.4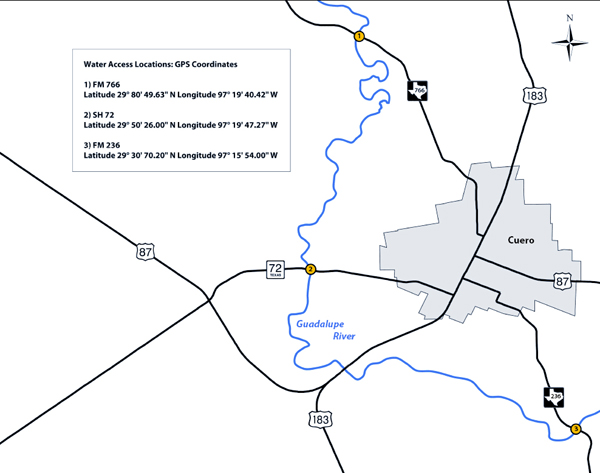 Trail Length: ~13.8 miles
Float Times: ~3 - 8 hours (depending on water level, flow rate and wind speed)
Note: Paddlers can choose to do part or all of this trail. Length and float time for each segment are:
FM 766 to SH 72 = 6.6 miles (2-4 hours)
SH 72 to FM 236 = 7.2 mi (2-4 hours)
An emergency take-out at Hwy 183 can be found about 2.6 miles downriver from SH 72
This stretch of the Guadalupe River is dominated by runs, with a few faster running riffles that are fun to paddle through. Paddlers are advised to use caution at the remnants of a dam located approximately 2.5 miles from the put-in at FM 766, which will need to be paddled around. Additionally, there may be snags to avoid, especially when water levels are low.
The Guadalupe River in the Cuero vicinity is subject to influence by rainfall runoff that may create temporary high flows and undesirable water quality conditions. Heavy rains and high water can create dangerous conditions. Flow information is available to paddlers on the web at www.gbra.org/Public/FlowData.aspx.
This section of the Guadalupe River supports several species of catfish, quality sized redbreast and redear sunfish, numerous largemouth and spotted bass, as well as the occasional smallmouth and Guadalupe bass. Small lures such as jigs, plastic worms, spinner baits and light-line are recommended.
The riparian corridor of the Guadalupe River supports a great diversity of plant and animal life along the river and beyond the banks. Birds spotted here include egrets, herons, kingfishers, and occasionally lucky paddlers can see bald eagles. Boxelder, green ash, sycamore, elms, and other riparian trees grow along the river creating habitat for birds and other wildlife, including deer, feral hogs, raccoons, squirrels, and other species. It is not unusual to see livestock watering in the river.
Respect private property by not trespassing or littering and keeping noise levels down. This creek is classified as navigable, which permits public use of the streambed and, if necessary, the banks to portage any hazard. Any other use of private river banks without permission of the landowner can be considered trespassing. Under Texas Penal Code (§30.05), criminal trespass occurs when one enters property after receiving notice not to enter. Notice includes verbal notice, a fence, sign(s), purple paint on posts or trees, or the visible presence of crops grown for human consumption.
For more information please see the Paddling Events calendar.
DeWitt County Wildflower Season

March through April
Bicycle race, 5K walk/run, wildflower tours, live wildflower specimen exhibit, photography contest, and more!
DeWitt County's Historic Towns
For shopping, dining, museums, and accommodations visit Cuero, Yorktown, and Yoakum as well as many other smaller communities. We have a variety of events throughout the year.
Turkeyfest
The Cuero Turkeyfest is held annually the second weekend of October and features food, dances, a parade, entertainment for the whole family, and of course the final heat in the "Great Gobbler Gallop" turkey race to see who gets the title of "Turkey Capital of the World".
Museums
Cuero is filled with history and fun stories to learn about and share with your family and friends. There are four museums to explore here (Reuss Pharmacy on Facebook, Cuero Chamber of Commerce/Cuero Heritage Museum, Chisholm Trail Heritage Museum, and DeWitt County Museum), so look around, enjoy, and see what you would like to know more about.
Christmas in the Park
Held each Christmas Season, Christmas in the Park has over 100 displays of Victorian, Western, 12-car train, Gingerbread House and other scenes. Highlights are the 17-piece Nativity on the Lake Island, the 85-foot Paddlewheel Boat, a Sea Serpent, the Peace on Earth Globe, and the 30-foot U.S. flag. The drive through the Municipal Park is a self-guided tour with nutcrackers showing the way.
This trail was made possible through a partnership between Texas Parks and Wildlife Department, Cuero Development Corporation, Cuero Chamber of Commerce and Agriculture, and DeWitt County.
Paddle With Style
Martindale, Texas
Phone: (512)749-2350; Operate by reservation only. Able to accommodate large groups.
www.paddlewithstyle.com