Seguin Paddling Trail (Lake Seguin)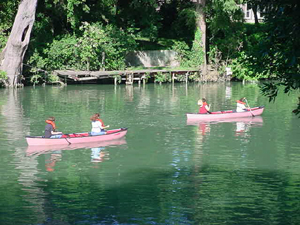 Visit Seguin and enjoy this scenic 4-mile paddling trail loop on the Guadalupe River. This trail is perfect for beginners since no shuttle is needed.
---
One access site:
Max Starcke Park Concrete Dock
29° 33' 40.44" N, 97° 58' 18.47" W
Driving Directions to Access Site:
From IH-10, exit Austin St./123 Business. Go South through downtown until you get to Max Starcke Park. Turn right into the park going towards golf course and site is to the left next to Saffold Dam.
Distance from nearest major cities:
Austin - 52
Corpus Christi - 145
Dallas - 250
Houston - 244
Lubbock - 430
San Antonio - 36
Waco - 154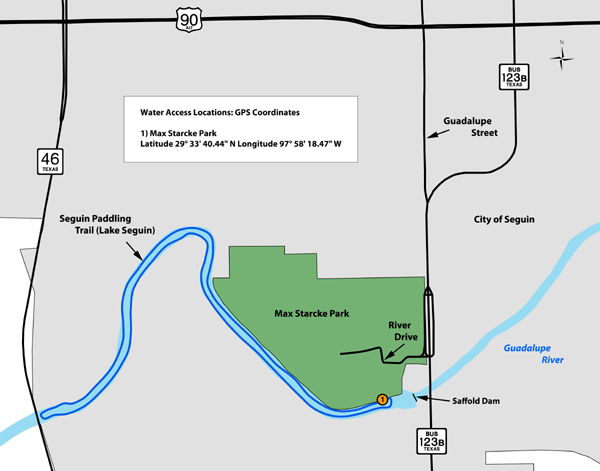 Trail Length: ~4 miles
Float Times: ~1 - 3 hours (depending on water level, flow rate and wind speed)
This paddling trail was designed for beginning or novice paddlers, with no shuttle or portage necessary. NOTE: Court order requires life jackets along this trail.
Because the river is dammed at Starcke Park, the river has a slow current and can be easily paddled upstream to the bridge at S.H. 46 and back for the 4-mile trail. Heavy rains upstream or in the vicinity can create dangerous flooding, and paddlers are advised to not use the trail during these times, as well as to stay away from the dam. Flow information is available to paddlers on the web at: www.gbra.org/Public/FlowData.aspx
The Guadalupe River along Starcke Park provides excellent fishing opportunities, and supports several species of catfish, sunfish, and largemouth and Guadalupe bass. Small lures such as jigs, plastic worms, and light line are recommended.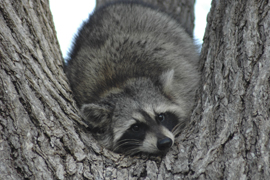 The Guadalupe River in the vicinity of Starcke Park up to State Highway 46 is a slow moving river with scenic vegetation and great birdwatching and angling opportunities. Paddlers can enjoy the shade of cypress, pecans, green ash, sycamores, and other large riparian trees that support a variety of songbirds, hawks, squirrels, raccoons, and other wildlife.
Respect private property by not trespassing or littering and keeping noise levels down. This river is classified as navigable, which permits public use of the streambed and, if necessary, the banks to portage any hazard. Any other use of private river banks without permission of the landowner can be considered trespassing. Under Texas Penal Code (§30.05), criminal trespass occurs when one enters property after receiving notice not to enter. Notice includes verbal notice, a fence, sign(s), purple paint on posts or trees, or the visible presence of crops grown for human consumption.
For more information please see the Paddling Events calendar.
Max Starcke Park: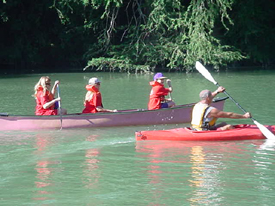 A 227 acre park located along the scenic Guadalupe River. The park property was a pecan orchard prior to the park's dedication in 1938. The park offers a variety of recreational activities that include a regulation 18-hole golf course, natural fishing area, walking trail, tennis, basketball and volleyball courts. For children, there is a Kids Kingdom Playscape, Little League baseball-softball complex. Pavilion and picnic areas are available throughout the park. For more information please call (830)401-2480.
Saffold Dam:
Named for William Saffold, who owned land here in the mid 1800's, Saffold Dam is typical of many mill dams built during the late 19th and early 20th centuries. Originally a natural rock outcropping, the dam was first improved by Henry Troell in the late 1800's when he added rock to the dam to raise the water level to power a cotton gin. The City of Seguin bought Troell's property in 1907 to further develop the river's hydroelectricity, and subsequent improvements have led to the establishment of a hydroelectric plant on the dam's south side.
Seguin Electric Plant (Hydro Plant):
This is a tribute to those far seeing loyal citizens of our community and their leader F.C. Weinert, Chairman of the first citizens committee and first Board of Trustees in acquiring and developing these utilities by subscribing their names here to make sure that our appreciation of their unselfish efforts shall never fade from our memories because such work and devotion seldom have been or will be bestowed upon any community as was done by those unselfish men.
Electric Plant Advisory Committee – August 20, 1906
Electric Plant Trustees – March 5, 1907
Juan Seguin Burial Site:
Juan Nepomuceno Seguin was born on October 27, 1806. He was a Texas Patriot Statesman for whom the City of Seguin was named. Walnut Springs citizens voted to rename this community Seguin in his honor on February 25, 1838. He died on August 27, 1890 in Nuevo Laredo, Mexico. His remains were returned to Seguin in September 1974. He was reinterred with special honors on July 4, 1976 by the City of Seguin and Seguin Bicentennial Commission.
Seguin Wave Pool:
The Seguin Aquatic Center is located in Max Starcke East and is open seasonal June through August. The center features a 15,000 square foot wave pool with a zero-depth beach type entry and a splash pool with raindrop mushroom
This trail was made possible through a partnership between Texas Parks and Wildlife Department, the City of Seguin and the Guadalupe-Blanco River Authority.
TG Canoes & Kayaks

402 Pecan Park Drive
San Marcos, Texas 78666
(512)353-3946
Canoe and kayak rental available (your vehicle would transport to trail). No shuttles for small groups or individuals. Large groups can call ahead to make reservations for canoe/kayak delivery to trail.
Paddle With Style
Martindale, Texas
Phone: (512)749-2350; Operate by reservation only. Able to accommodate large groups.
www.paddlewithstyle.com
*Potential New Canoe/Kayak Business in Seguin: Check back for details*