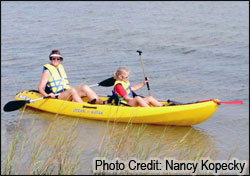 The Chisholm Trail, Riverside Park, Mission Espiritu Santo, and Fort Saint Louis Sections are the four trails that make up the 25-mile Victoria Paddling Trail. Meandering along the Guadalupe River in the Coastal Region this trail is slower moving and bordered by scenic soft banks rather than the limestone bluffs of the Hill Country. This quiet reach can be paddled in multiple sections varying in lengths and time on the water.
---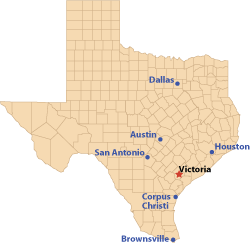 Access Sites:
FM 447/Nursery – (DD) 28.897, -97.139
SH 77 Bridge (Emergency Access) – (DD) 28.831, -97.061
Riverside Park Boat Ramp – (DD) 28.825, -97.015
&Riverside Park (Pump House) – (DD) 28.806, -97.016
South Street Access – (DD) 28.790, -97.011
SH59: (DD) 28.752, -97.007
There are five different access sites for the different sections of this paddling trail. The directions are as follows for each access site location:
Nursery access: Travel 8-9 miles north of Victoria on Hwy 87, then turn left on FM447 and travel 3.2 miles to the access site.
Riverside Park Boat Ramp: Return to Hwy 87 and turn right traveling 8.7 miles south to Magnolia (McCright Drive). Turn right and travel 0.3 miles on Magnolia (McCright) to river access site/boat ramp.
Pump House: Continue to the right 2.0 through park on McCright Drive, and then continue 0.3 miles on Memorial to access site.
South Street: Continue 0.5 miles on Stayton St. (Memorial), turn right onto Moody St. (Business 59), and then turn left on South St. to the South Street river access.
Highway 59: Return to Moody St. (BUS 59) and turn right, traveling 2.4 miles on Moody & Rio Grande Streets (Business 59). Turn right on Laurent St. and continue 2.8 miles to Hwy 59 South. Turn left on access road and continue west until you reach the Hwy 59 South access point.

Distance from nearest major cities:
Corpus Christi - 84 miles
San Antonio - 112 miles
San Marcos - 102 miles
Austin - 121 miles
Houston - 122 miles
Laredo - 187 miles
Killeen - 144 miles
College Station - 149 miles
Waco - 199 miles
Dallas - 293 miles
Chisholm Trail Section (Nursery to Boat Ramp): 13.1 miles, 4-6 hours
Riverside Park Section (Boat Ramp to PumpHouse): 4.25 miles, 1-3 hours
Mission Espiritu Santo Section (PumpHouse to South St): 1.5 miles, 1/2-1 hour
Fort Saint Louis Section (South St. to HWY 59): 6.2 miles, 2-4 hours
Float times depend on water levels and flow rates.
The Guadalupe River in the Coastal Region is a slower moving river that is bordered by scenic soft banks rather than the limestone bluffs of the Hill Country. This trail is a quiet reach, with several small riffles (fast flowing, shallow water). The presence of occasional sandbars may provide resting or birdwatching sites.
This section of the river supports numerous catfish, Guadalupe bass, and sunfish. Small lures such as jigs, plastic worms, spinner baits and light-line are recommended.

The Guadalupe River corridor supports a diversity of plants and animals. It is a premier birding destination with a variety of migratory species visiting the area. Sightings include bald eagles, osprey, egrets, herons, kingfishers, hawks, sandpipers, phoebes, and turkeys. You will see native cypress, oak, and pecan trees, as well as many non-native tree and plant species. Common wildlife encountered are deer, armadillos, and squirrels.
Respect private property by not trespassing or littering and keeping noise levels down. This river is classified as navigable, which permits public use of the streambed and, if necessary, the banks to portage any hazard. Any other use of private river banks without permission of the landowner can be considered trespassing. Under Texas Penal Code (§30.05), criminal trespass occurs when one enters property after receiving notice not to enter. Notice includes verbal notice, a fence, sign(s), purple paint on posts or trees, or the visible presence of crops grown for human consumption.
For more information please see the TPWD Paddling Events calendar.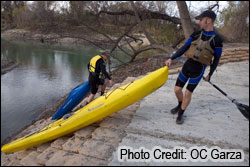 Local Activities
Riverside Park - Over 500 acres of parkland including group picnic sites, over 100 picnic tables, walking trails, river access and much more.

Within Riverside Park:
Riverside Golf Course – 27 hole golf course that is split into three 18 hole combinations.
Riverside Disc Golf Course – 21 baskets and one of the most challenging courses in Texas.
Texas Zoo – Visit the wild side of Victoria
Riverside Park Memorial Rose Garden – There are over 1,300 blooming roses and the aroma is breath taking.
Riverside Stadium-The current home of the University of Houston-Victoria baseball team and the Victoria Generals of the Texas Collegiate League.
The PumpHouse Riverside Restaurant and Bar - Offers casual outdoor dining on the decks overlooking the scenic Guadalupe River, or indoor dining and full bar service.
Visit Historic Downtown Victoria where Texas history began.
This trail was made possible through a partnership between Texas Parks and Wildlife Department, Guadalupe-Blanco River Authority, Coastal Bend Paddlers, and the City of Victoria.
Rentals
Flow Paddle Co.
Kayaks and shuttle service
(361) 935-2618