Bosque Bluffs and Brazos Bridges Paddling Trails
These two paddling trails are right in the heart of downtown Waco and offer easy access to paddling trips for beginners and experienced paddlers alike. Enjoy a trip along the Bosque or the Brazos Rivers, each offering a unique view of the outdoors.
---
Access sites:
McLennan Community College Boat Ramp – (DD) 31.59290°, -97.16929°
Brazos Park East Kayak/Canoe Ramp – (DD) 31.58789°, -97.15342°
Bledsoe Miller Community Center Dock – (DD) 31.56275°, -97.12926°
Driving Directions to Access Site:
McLennan Community College Boat Ramp: From I-35 head west on Martin Luther King Jr. Blvd. Turn left onto Lake Shore Dr. Turn left onto College Dr. Turn left onto Cameron Dr. Boat ramp and dock are located on your left about .2 miles.
Brazos Park East Kayak/Canoe Ramp: From I-35 head west on Martin Luther king Jr. Blvd. Drive 3 miles, the park will be on your left. Directions from the McLennan Community College boat ramp/dock: Head west on Cameron Dr. toward College Dr. Turn right onto College Dr. Take a right onto Lake Shore Dr. Turn right onto Martin Luther King Jr. Blvd. The park will be about 0.8 miles down on your right.
Bledsoe-Miller Community Center Dock: Turn right onto Martin Luther King Jr. Blvd from Brazos Park East parking lot. Bledsoe-Miller Community Center is located 2.2 miles ahead on Martin Luther King Jr. Blvd.
Distance from nearest major cities:
Austin - 102
Bryan/College Station - 88
Corpus Christi - 320
Dallas - 98
Fort Worth - 86
Houston - 185
San Antonio - 183
Trail Length: 2.2-4.8 miles (depending on route taken)
Float Times: ~1-3 hours per trail (depending on route taken, time spent on river, water level, flow rate, and wind speed)
The two Waco Paddling Trails (Bosque Bluffs and Brazos Bridges) can be paddled to enjoy as many miles as you wish.
Bosque Bluffs Paddling Trail – 2.2-mile loop from McLennan Community College Boat Ramp to Brazos Park East Kayak/Canoe Ramp and back to MCC
Brazos Bridges Paddling Trail – 4.8-mile loop from Brazos Park East Kayak/Canoe Ramp to Bledsoe-Miller Community Center Dock and back to Brazos Park East

These paddling trails were designed for beginning or novice paddlers, with no shuttle or portage necessary.
This trail offers a wonderful opportunity to enjoy the quiet serenity of nature while paddling through the parks and riparian corridors of Waco. Although there are no man-made obstructions on either of these trails, there may be snags to avoid, especially when water levels are low. Heavy rains and high water can create dangerous conditions.
The Brazos and Bosque Rivers are readily influenced by rainfall runoff that may create temporary high flows and undesirable water quality conditions. Flow and water quality information is available to paddlers on the web at www.brazos.org.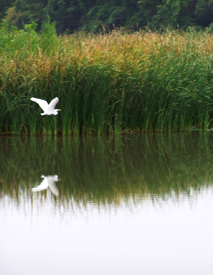 Channel, blue, and flathead catfish; smallmouth buffalo; common carp; largemouth bass; white bass; and crappie are all possible on these trails. Catfish, buffalo, and carp require stout tackle and natural baits. Bass and crappie are caught on jigs, plastic worms, spinner baits, or minnows. Contact the local TPWD office (254-666-5190) for current fish attractor locations; most are currently placed in the vicinity of fishing piers.
The riparian corridor of the Brazos and Bosque Rivers supports a great diversity of plant and animal life. Birds spotted here include scissor-tailed flycatcher, muscovy duck, great egret, red-tailed hawks, and blue cranes. Cottonwood, red oak, pecan, cedar/American elm, ashe juniper, and sugar hackberry trees grow along the river. Common wildlife encountered includes raccoons, red-eared slider turtles, red fox, and armadillos.
Respect private property by not trespassing or littering and keeping noise levels down. This river is classified as navigable, which permits public use of the streambed and, if necessary, the banks to portage any hazard. Any other use of private river banks without permission of the landowner can be considered trespassing. Under Texas Penal Code (§30.05), criminal trespass occurs when one enters property after receiving notice not to enter. Notice includes verbal notice, a fence, sign(s), purple paint on posts or trees, or the visible presence of crops grown for human consumption.
For more information please see the Paddling Events calendar.
Cameron Park
One of the largest municipal parks in Texas, Cameron Park is a Waco treasure. More than 20 miles of hike and bike trails weave through natural vegetation and limestone cliffs to provide stunning views of the Waco area. The trail system was designated by the National Park Service as a National Recreation Trail. Splash pads, playgrounds, disc golf courses, and picnic areas are perfect for families. www.cameronparkwaco.com, 254-750-5980.
Cameron Park Zoo
Escape into the wild and explore the new Asian Forest exhibit. The zoo is adjacent to the Brazos River and encompasses 52 acres of lush native vegetation. Over 1,700 animals are housed in their natural habitats and the zoo is open daily to visitors. www.cameronparkzoo.com, 254-750-8400.
Waco Mammoth Site
The Waco Mammoth Site sits in more than 100 acres of wooded parkland. The site features a climate-controlled dig shelter and a suspended walkway that provides visitors with an overhead view of several specimens, including a large bull mammoth and a camel that lived nearly 68,000 years ago. www.wacomammoth.org, 254-750-7946.
Waco Suspension Bridge
The historic Suspension Bridge was built in 1870 and remains a legendary icon of downtown Waco. For years, the bridge served as a Chisholm Trial crossing, and it was once the longest suspension bridge west of the Mississippi. Life-size Chisholm Trail statues surround the bridge and its shaded landscaping offers great picnic areas near downtown. www.waco-texas.com, 254-750-5980.
Downtown Waco and Riverwalk
The Waco Riverwalk is a lighted, concrete path that travels along both sides of the Brazos. This path connects Cameron Park with downtown Waco, the historic Suspension Bridge, and Baylor University. Shopping, dining, and nightlife are alive in downtown Waco. www.wacocvb.com, (254) 750-8696.
Lake Waco
Lake Waco is operated by the U.S. Army Corps of Engineers. It has 79,000 acre-feet of water and offers fishing, camping, day-use recreation areas, boating, swimming, hike and bike trails, horseback riding trails, and hunting. www.wacocvb.com, (254) 756-5359.
Lake Waco Wetlands
The Lake Waco Wetlands was created to mitigate the habitat loss when Lake Waco was raised by seven feet in 2001. Many native species of plants and wildlife can be seen at the Wetlands. The Research and Education Center is open to the public, and tours are available. www.lakewacowetlands.com, (254) 848-9654.
This trail was made possible through a partnership between City of Waco, Waco Paddle Club, McLennan Community College, and Texas Parks and Wildlife Department.
Geared Canoe and Kayak Rentals
Sit on tops, sit insides, anglers, tandem kayaks, canoes, stand-up paddle boards, life jackets and dog life jackets available. Fall/winter hours are by appointment only. http://geared.shutterfly.com/, (254) 537-3697
City of Waco Parks and Recreation Department
Please contact the City of Waco Parks and Recreation Department for current canoe/kayak rental services available in Waco and for information on Intro to Kayaking Classes held April - October. www.waco-texas.com, (254) 750-5980
Waco Paddle Company
Waco Paddle Company rents stand-up paddle boards, kayaks, and canoes for you to enjoy in the heart of downtown Waco. Our friendly staff will help you pick out the right watercraft for your adventure. We offer walk-up, group rental, and shuttle service. Call or reserve online today. wacopaddlecompany.com, 254-424-3253
The Bear Mountain
Retail with kayak rentals available. https://www.thebearmountain.com/
Pura Vida Paddle
Watercraft rental, classes, and group tours. https://www.puravidapaddle.com/