Directions to State Freshwater Hatcheries
From I-35 in San Marcos, exit south on State Highway 123. Turn left on Staples Road (first traffic light after the I-35/123 interchange). Stay on Staples until you see the hatchery entrance on the left.
---
From Wichita Falls, take US 277 west to Texas Highway 258. Stay on 258 until it ends at an intersection with Texas Highway 25. Turn left on highway 25 (south) for one quarter mile to FM 1180. Turn right onto 1180 and travel about eight miles. The hatchery entrance will be on the right side of FM 1180 just below the Lake Diversion dam.
---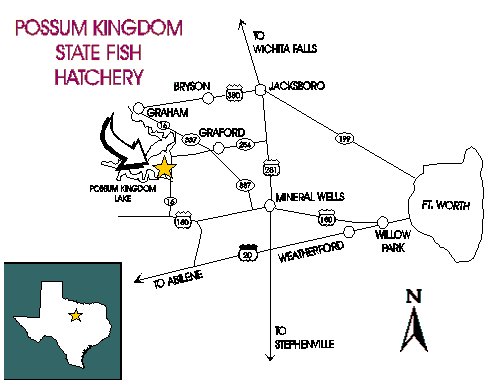 From Fort Worth area, take I-20 west to Weatherford; take the US 180 exit. Go through Weatherford and Mineral Wells. Approximately 20 miles west of Mineral Wells, take Highway 16 north about 8 miles. Cross the Brazos River and look for the hatchery 1/2 mile from the Highway 16 bridge, just below Possum Kingdom Reservior dam.
Return to Possum Kingdom overview