Hidden Shores
Leased Fishing Access
Colorado River upstream from Smithville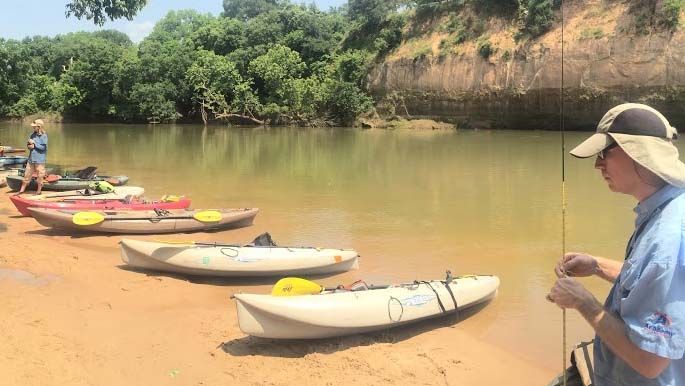 Located on the south bank of the Colorado near Smithville, in Bastrop County. See map.
Lease period: November 1, 2015 to August 31, 2024
Contact: Karrie McKeown (512) 921-3800 in advance for gate code
Latitude: 30.051859
Longitude: -97.202032
Check the USGS stream gage at Smithville for current and historical flow conditions.
Area Description
Located at 203 Hidden Shores Loop in Smithville, this site has 100 feet of river frontage along a gently sloping sand beach, opposite a high river bluff. The designated parking area is on higher ground about 300 feet from the river. A portable toilet is available. The site is approximately 4 miles upstream of the Highway 95 TPWD boat ramp and 5 miles from the access area at Vernon L. Richards Riverbend Park in Smithville. Access is also available under the double State Highway 71 Bridge in Smithville before you get to the park.
Special Conditions on Public Use
Advance reservation required; contact landowner for gate code. Access is open from 30 minutes before sunrise to 30 minutes after sunset for bank angling and launching non-motorized boats, canoes, kayaks, or other floatable devices for the purpose of fishing. No dogs, firearms, or alcoholic beverages allowed on the property. Vehicle and trailer parking by anglers shall be in designated areas only.
Directions
From Dallas/Fort Worth/Austin
Take I-35 South to Texas 71 East. Go about 7 miles and turn Right onto Texas 304 South. Take a left towards the town of Upton via FM 2571. Turn left on Hidden Shores Road which turns slightly left and becomes Hidden Shores Loop.
From Smithville
Head southwest out of town towards FM 2571. Travel for approximately 2.5 miles and take a right on Hidden Shores Road which turns slightly left and becomes Hidden Shores Loop.
Angling Opportunities
Angling opportunities abound in this segment of the Colorado River for black bass and catfish. The Lower Colorado is known for its large Guadalupe Bass: the world record (3.71 pounds) was caught in 2014 from this river. Channel Catfish are abundant. Flathead Catfish are present, but not abundant. Fishing for Largemouth and Guadalupe Bass is best when turbidity in the river is low, as these species feed primarily by sight. Turbidity is highest when releases from the Highland Lakes are being made, or after significant rain events.
Anglers are urged to practice moderation in harvesting sportfish in this segment of the Colorado River, especially for Largemouth and Guadalupe Bass.
Fishing Regulations
All species are currently managed under statewide regulations.