Texas River School
Leased Fishing Access
Colorado River downstream from Lady Bird Lake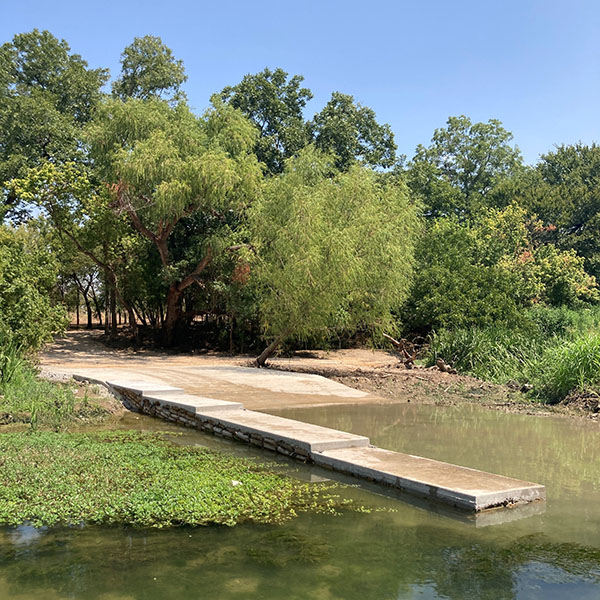 Located in east Austin on the north bank of the Colorado River, approximately 3.5 miles downstream of the Montopolis Street Bridge.
See map.
Lease period: September 1, 2018 to August 31, 2024
Phone: (512) 289-0750
Website
Latitude: 30.256179
Longitude: -97.634178
Check the USGS stream gage for current and historical flow conditions.
Area Description
The Texas River School River Camp is a 1-acre leased-access fishing, boating, and camping area. It offers 225 feet of bank access and serves as a boat launch, day-use facility and overnight campground. Amenities include environmental toilets, picnic tables, a campfire ring, and eight primitive campsites. The camp is 5 miles downriver from Longhorn Dam, 3.5 miles downriver from the Montopolis Bridge, 5 miles upriver from the Hwy 973 takeout, 17.5 miles upriver from Little Webberville Park and 22.5 miles upriver from Big Webberville Park. It is 50 miles upriver from Bastrop and 284 miles from the Gulf of Mexico.
Special Conditions on Public Use
Reservations must be secured through the Texas River School by calling (512) 289-0750 in advance. A gate code is required to gain access. Hiking and camping are restricted to designated areas.
Fees
There is a daily per-person access fee of $5 to enter the River Camp; $2.50 for persons 12 and under. Day use hours are 8 am through sunset. Campsites are $15 per night in addition to entrance fees. Each campsite can have up to six people and two tents and is reserved from noon on the day of arrival through noon on the day of departure. Fires are permitted only in the central campfire ring. Use of gas cook stoves is allowed. Rates may vary during special events such as the Austin City Limits Festival, SXSW, and the Formula 1 race. Please call for special event rates.
Pack It In, Pack It Out
Texas River School strives to leave our environment cleaner and more natural than when we found it. We encourage and expect all visitors to do the same by taking any trash and recycling out of the campground and properly disposing of the materials.
Parking
The designated parking area is outside the campground gate, marked with a sign. Guests may drive into the camp to unload boat and camping equipment; in these cases, vehicles may remain no more than 30 minutes and should not be left unattended.
Pets
Pets must be kept under control at all times. Owners are expected to clean up after their pets.
Angling Opportunities
Largemouth and Guadalupe Bass are abundant in this section of the river. Sunfish and catfish species are also present.
Fishing Regulations
All species are currently managed under statewide regulations.
Boat Rentals
Texas River School has a fleet of 20 canoes with life jackets and paddles. Rental options include shuttle (for a fee), group boat rentals, guided tours, and outfitting for overnight camping trips. For more information, please call (512) 289-0750 or visit our Programs page.