Airing Now and Coming Soon
---
April 19–25, 2015
Program 2301-R — Originally Aired October 19–25, 2014
Preview on YouTube — Stations and Airtimes

Featured Segments
On the Right Track
Follow along as biologists track Whooping Cranes at the Aransas National Wildlife Refuge. Using satellite GPS technology the team hopes to help protect this endangered species.
Swimming to Survive
For Texas Game Wardens patrolling the water, drowning is a very real danger. We go underwater with some game wardens as they learn how they respond to aggressors on the water, rescue people from drowning and stay afloat wearing over 20 pounds of gear.
Lone Star Land Steward: Winston 8 Ranch
The Leopold Conservation Award winner for the Texas Parks and Wildlife 2014 Lone Star Land Steward awards is the Winston 8 Ranch in Nacogdoches County, Texas, managed by Simon Winston. The Winston's have worked hard to show that you can manage east Texas piney woods for the lumber business and for wildlife.
A Day at Pedernales
Pedernales State Park is no different than any other park – too much stuff to do and not enough people to do it. But thanks to a group of volunteers, the work gets done and park visitors are the ones who benefit. You'll meet some of these "park helpers", and find out why they are so incredibly enthusiastic about doing work that can at times be a little mundane.
Postcard From Texas
Relax on a rainy day at Caddo Lake.
---
April 26–May 2, 2015
Program 2302-R — Originally Aired October 26–November 1, 2014
Preview on YouTube — Stations and Airtimes

Featured Segments
The Paddlefish Project
A freshwater fish older than the dinosaur is being returned to Caddo Lake in a grand experiment. Can restored water flows bring back a breeding population of paddlefish? A broad coalition of partners, from non-profits to landowners and government agencies, is working to answer this question.
Lone Star Land Steward: Sky Lewey
Meet Sky Lewey, a Nueces River rancher who takes care of her land and protects the wider watershed by reaching out to her neighbors. In her job with the Nueces River Authority, and on the Open V Ranch near Uvalde, this land steward helps keep a precious resource healthy.
Battlefield of Answers
Thanks to modern technology (and some old fashioned muscle), an important piece of Texas history is being preserved. At the San Jacinto Battleground State Historic Site, archeologists have discovered artifacts from the 1836 Battle for Texas Independence. From bayonets to belt buckles, these new-found treasures will help detail the events of the day, all in an effort to better tell the story of how Texas came to be.
Postcard From Texas
Take a ride on the bike trails at Austin's McKinney Falls State Park.
---
May 3–9, 2015
Program 2303-R — Originally Aired November 2–8, 2014
Preview on YouTube — Stations and Airtimes

Featured Segments
The Rise of the Forgotten Flounder
One of the top three sport fish in Texas, more and more fishermen now set their sights on the southern flounder. In fact, it's become so popular that fish hatcheries have started stocking flounder in Texas bays. We take a closer look at what it takes to catch these fish and how the species is holding up.
Lone Star Land Steward: Tanksley Land Company
Way out in West Texas, it's all about water. Ben and Betty Tanksley have pioneered some innovative water capturing techniques to create an oasis in the desert on their ranch in Brewster County, Texas. Bringing water to their ranch has benefited both the cattle and the local wildlife.
Outdoor Clubbing
State parks aren't just for retirees in RV's. Outdoor adventure clubs are gaining popularity around the state. See how these clubs are bringing together all kinds of folks with an active interest in the outdoors.
Postcard From Texas
Early morning at Gus Engeling Wildlife Management Area near Palestine, Texas.
---
May 10–16, 2015
Program 2304-R — Originally Aired November 9–15, 2014
Preview on YouTube — Stations and Airtimes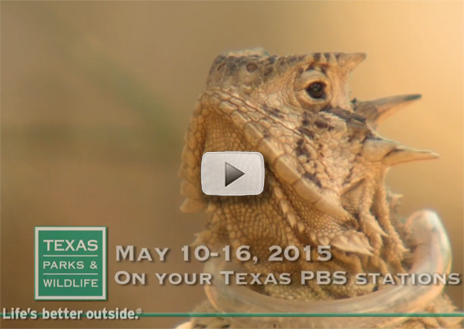 Featured Segments
Lizards on the Move
For generations, Texans grew up seeing Texas Horned Lizards throughout much of the state. Today the threatened lizards are common only in certain spots, but research at the Muse Wildlife Management Area is investigating how lizards fare and where they go when they are relocated to restored habitat.
Young Guns
There's a crisp bite in the air on a cool December morning. The mist covers the pond, as pintails fly overhead. It's duck hunting season. Join us as we follow two boys as part of a special hunt just for youngsters.
Lone Star Land Steward: Hillingdon, Laurels & Leslie Ranches
Named after a small town in England, the Hillingdon Ranch is a family heritage spanning six generations. Four families primarily represent most of the 13,000 acres but many cousins own a slice. Whether on the ranch or off, the Giles, Langfords, Leslies and Pasztors continue to serve and protect the land from which they came.
Stephen F. Austin State Park
Nestled on the banks of the Brazos River, Stephen F. Austin State Park provides the opportunity to get up close to nature. Located just 30 minutes from the outskirts of Houston, this quiet and peaceful park is a nice escape from the busy city life with activities including picnicking, camping, fishing, hiking and nature and historical tours.
Postcard From Texas
Watch the moonset where bison roam, at Caprock Canyon State Park.
Stations and Air Times
Times and dates are subject to change, especially during PBS membership drives.
Cable
Texas Parks & Wildlife can also be seen on a variety of government, educational and access cable channels in the following communities: Abilene; Alamo Colleges-San Antonio; Alice; Allen; Atlanta-KAQC; Baytown; Big Spring; Boerne; Brownsville; Cedar Park; Colleyville; Coppell; Corpus Christi; Crockett-KIVY; Dallas; Deer Park; Del Mar College-Corpus Christi; Denton; El Paso; Euless; Flower Mound; Fort Stockton; Fort Worth ISD-EdTV; Fort Worth; Frisco; Garland; Haltom City; Highland Village; Houston Community College; Houston; Irving; Keller; Killeen; Lubbock; Lufkin; McKinney; Mesquite; Midland; Nassau Bay; North Richland Hills; Ocean TV 20, Toms River, NJ; Pasadena; Rogers State University; Round Rock; San Antonio College; Seabrook; Stephen F. Austin U.; Sugar Land; Temple; Texarkana College; The Colony; Trophy Club; Tyler; Victoria; Waco. Check your local listings for days and times.
Internet