Texas Coastal Paddling Trails Offer Great Angling Alternatives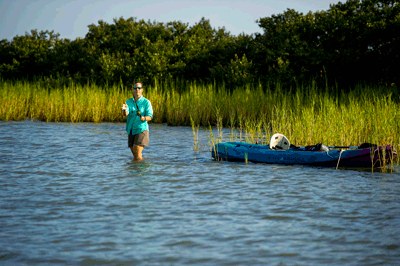 If you're reading this while standing on the pier waiting for the fish to bite, there are alternatives. You can get to where the fish are biting without hiring a fishing guide or investing in a motor boat. Some of the best fishing, and sightseeing adventures, on the Texas coast can be had from a paddlecraft. Best of all, you don't have to be a world class explorer. The Texas Parks and Wildlife Department has already blazed the trails for you, thanks to a 20-year effort to partner with landowners and communities to open up access to waterways for paddling.
Paddling through the shallow coastal trails, red drum are often seen tailing, which makes these locations popular with kayak anglers. Spotted seatrout, flounder, and black drum are also commonly sought after by anglers using the coastal trails. Try wade fishing at the Lighthouse Lakes, Galveston Island State Park, or Christmas Bay paddling trails. These areas provide a hard bay bottom to stand on and relatively shallow water.
Kayak anglers and other paddlers aren't the only ones benefitting from these trails. Communities with a local paddling trail learn to take pride in their waterways and recognize the importance of the natural resources they have in their backyard. Texas Paddling Trails also help to raise awareness about the importance of conservation.
Be sure to check the tide and local weather conditions before heading out for a day of fishing on one of our coastal paddling trails. State and Federal regulations also require you to have a personal flotation device, a whistle or horn, and if you plan to be on the water at night, a white light source. Visit the Texas Paddling Trails website for more information.