Visiting TFFC
Visit our Facebook page
Built as a joint venture between TPWD, the Texas Parks and Wildlife Foundation and the community of Athens, TFFC combines a Visitor Center, educational programming and a production freshwater hatchery. Developed on a 107-acre site, the facility includes a over 300,000 gallons of indoor and outdoor aquariums displaying dozens of species of native fish, waterfowl, alligators and amphibians in recreated habitats. A 14,000-sq.ft conservation center completed in 2007 provides space for meetings and special events.
Please note that pets are not allowed at the center.
Public Hours:
March-August: Tuesday-Saturday, 9 a.m.–4 p.m.; Sunday, 1 p.m.–4 p.m.
September-February: Wednesday-Saturday, 9 a.m.–4 p.m.; Sunday, 1 p.m.–4 p.m.
Get directions, rates, contact information and holiday schedule.
Take the Virtual Tour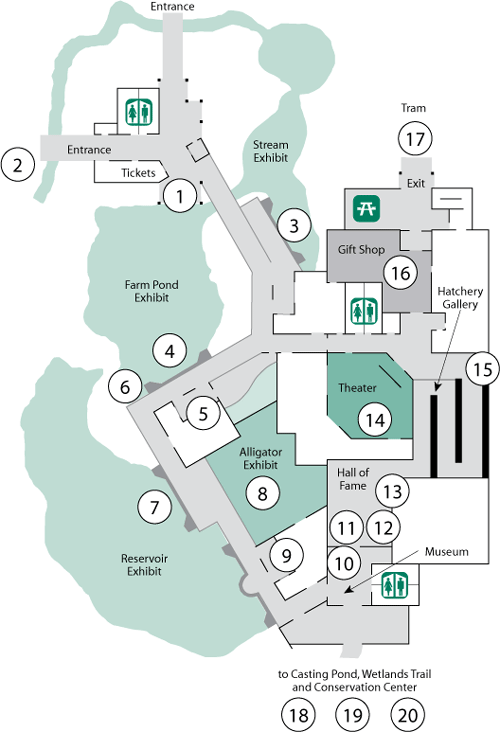 Download TFFC facility map
(PDF 125.3 KB)
TFFC offers something of interest to everyone who has ever been fascinated by water and the plants and animals that make up the aquatic world. Use our interactive map and list of exhibits to explore online.