Visiting TFFC
Facility Rental
TFFC has facilities available for public rental during hours the center is open. Events held at the center have ranged from baby showers to business seminars to company picnics. The Wetlands Pavilion, Gift Shop Patio, and Hart-Morris Conference Center (see below) are available for rental. Your rental includes tables, chairs, and discounted admission. Outdoor tents are available for an additional fee. Outside catering is allowed and alcohol is not permitted. Contact the center for information on seating capacity, rates and reservations.
Hart-Morris Conference Center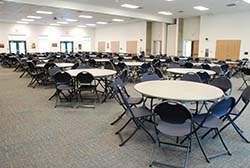 Located in the Hart-Morris Conservation Center, the conference center includes approximately 5,000 square feet of meeting space that can be used as one large room or divided in half. Both sides have complete state-of-the-art audiovisual facilities. A catering kitchen adjoins the meeting space. The conference center may be rented for public use during the hours TFFC is open. After-hours rentals are available to mission-related organizations. For information, pricing and availability, call (903) 676-2277.
Access to the conference center and parking is through a separate entrance at 5601 CR 4812 (also signed Peninsula Point Road). Get directions.