Visiting TFFC
Take a Virtual Tour
Please select a specific exhibit from the list below or click on the numbered areas of the map of TFFC.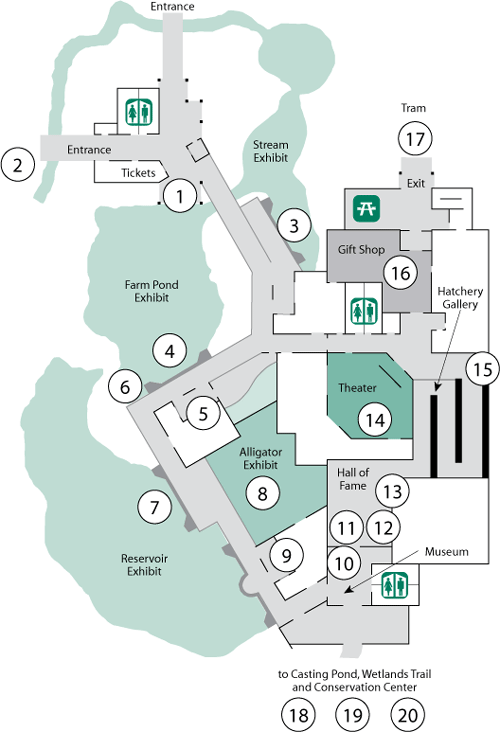 Admissions.
Leaders of school and tour groups should send ONE person to the admissions booth with payment for the entire group. This will help avoid crowding around the booth.
Game Warden Memorial
Reflect for a moment on the lives given in the line of duty.
Stream Exhibit
Explore the natural habitat of the state fish of Texas, the Guadalupe bass.
Farm Pond Exhibit
Fish feeding every Wednesday and Friday at 3 p.m.
Pond Management
Learn about Texas farm pond production and aquatic vegetation control.
Bluegill Spawning Area
Observe spawning behavior and hatching fry.
Reservoir Exhibit
Discover prehistoric paddlefish and other species.
Alligator Exhibit
Get eye to eye with some of North America's largest reptiles.
Texas Giants Exhibit
Texas is known for doing things on a grand scale. That holds true for the size of its sport fish, too.
Museum
See antique lures and other fascinating things from the past.
Texas Record Fish Exhibit
Examine replicas and stories of the state record fish in all the popular freshwater species.
Fisheries Management Gallery
Learn about the tools TPWD fisheries management crews use on a daily basis.