Celebrate the Holidays at Texas State Parks
Fall is one of the most popular times of the year to visit Texas State Parks. Cooler days mean more opportunities to explore. Longer nights equal extra time by the campfire. The summer crowds have disappeared and Mother Nature prepares for the quiet of winter with a celebration of autumn colors. When it comes to special events, state parks have you covered:  from Halloween to Harvest, you'll find a great activity for you and your family at a park nearby.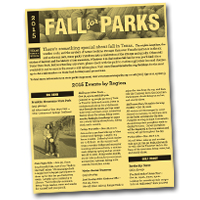 Download a copy of our "Fall for Parks" brochure to help plan your next visit. Pumpkin Painting, haunted hikes, cooking demonstrations, trick-or-treating – these are just a few of the fun events happening close to you. You can also pick up a copy of the brochure in most Texas State Parks and all Travel Information Centers.
Check out our online calendar of events for an up-to-date schedule of special events happening across the state.


Halloween
Plenty of things are going "bump in the night" at Texas State Parks. Whether you prefer your Halloween to be cute or creepy, or somewhere in between, there's a special event waiting for you. Many parks offer a safe place for kids to go trick or treating, some with decorated campsites or special arts and crafts activities. If you're looking for something to get your heart racing, try one of our creepier events such as a zombie hike, cave exploration, or even attending the funeral wake of a historic figure.
Fall Colors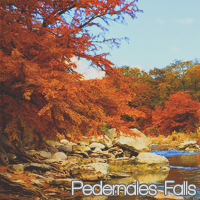 No doubt about it, the changing colors of leaves in the fall is one of the best parts of the season. The good news is you don't have to head to New England to see some amazing color. Lost Maples State Natural Area is the go-to place for leaf peeping in Texas. Check the foliage report for up-to-date leaf change status. Beyond Lost Maples, you can see fall color all over the state, especially in the rugged Hill Country and in East Texas, where orange and red contrasts beautifully with the evergreens of the pineywoods.


Heritage and Harvest
As soon as the moon sets on Halloween night, thoughts quickly turn to Thanksgiving and all of the associated smells and tastes. Parks are a great place to burn a few calories after that Thanksgiving feast (or to build up an appetite). Some even have guided hikes for exactly that purpose. If you're just getting started planning your celebratory dining, look for ideas at a harvest-themed Dutch oven cooking demonstration.