What do your hunting & fishing license fees fund?
100% of your hunting and fishing license fees go to the Texas Parks and Wildlife Department for on-the-ground conservation efforts that help make Texas one of the best places in the country to hunt and fish. Fish stocking, wildlife management, habitat restoration, land conservation, and Texas Game Wardens are just some of the initiatives funded in part by your license fees. Thank you for your support of outdoor recreation and conservation.
View your licenses and purchase history in the Outdoor Annual mobile app.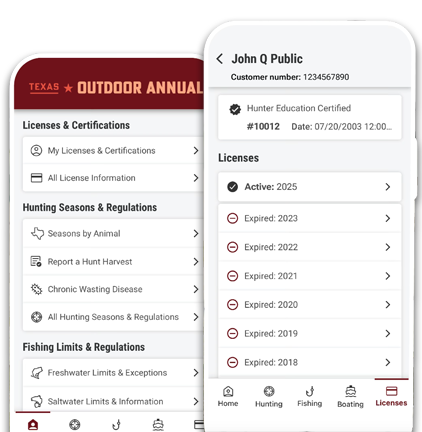 You can now use a mobile device to show proof of hunting and fishing licenses for activities that do not require tagging or physical stamps. Just enter your license information in the Outdoor Annual mobile app "Licenses" section of the app.
Physical license and tags are required for hunting and fishing activities that require tags, such as deer and turkey.

Available Free on iOS and Android
See answers to commonly asked license questions , including how you can make a voluntary donation to Hunters for the Hungry or the Fund for Veterans Assistance. For general license questions, please call TPWD Headquarters in Austin at (800) 792-1112 or (512) 389-4800. Staff is available to help answer questions Monday through Friday, 8 a.m. to 5 p.m., Central Standard Time.