Dallas Trinity Paddling Trail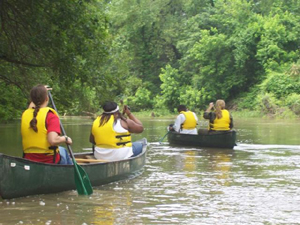 This 10.2 mile trail combines a 3.7-mile stretch from the put-in to the Dallas Wave along a channelized portion of the river with a great view of downtown Dallas with a 6.5-mile stretch along the natural wood-lined meandering river from the Dallas Wave to Loop 12.
---
Access Points:
Trammel Crow Public Boat Ramp
32° 47' 22.72" N, 96° 50' 50.76" W
Access Site Above Future Dallas Wave
32° 45' 10.45" N, 96° 47' 29.21" W
To Trammel Crow Public Boat Ramp: 1001 Sylvan Ave. – From IH-35E, take the Wycliff Ave. Exit. Travel south on Wycliff Ave. approximately ½ mile. At Irving Blvd. intersection, Wycliff Ave. becomes Sylvan Ave. Continue south on Sylvan Ave., over the levee. Entrance to the boat launch will be on your left. NOTE May 2014: The Trammel Crow/Sylvan Avenue Boat Launch is currently out of service and will hopefully re-open in mid to late June of this year
To the temporary take-out site above the Dallas Wave whitewater feature – From IH-35E, take 8th St. exit. Go east on 8th St., approximately 0.8 miles. After crossing DART line railroad tracks, pass the median and make a U-turn (beside DART parking lot). Turn right onto Santa Fe Ave., the paved road between DART parking lot and buildings. Road leads to boat launch and paddlers can portage around the Dallas Wave or ride the Wave.
Distance from nearest major cities:
Austin - 198 miles
Corpus Christi - 414 miles
Denton - 40 miles
Ft. Worth - 35 miles
Houston - 245 miles
San Antonio - 277 miles
Waco - 98 miles
Trail open from site 2 to site 3. Projected re-opening of site 1 is June or July of 2014.
Trail Length: ~10.2 (3.7 miles from Trammell Crow Boat Ramp to the Dallas Wave, 6.5 miles from Dallas Wave to Loop 12 Boat Ramp)
Float Time: ~4-8 hours for the entire trail or 2-4 hours per section (depending on water level, flow rate and wind speed)
Historically the river channel was much closer to downtown. However, following the 1940's floods, the channel was straightened, resulting in much of this stretch being heavily modified for flood control purposes. This straightening eliminated the meander pattern and riffle/pool formations common to the Trinity in other stretches.
Along this trail, you will pass under several interesting bridges, both new and old. The 400 foot tall Margaret Hunt Hill Bridge was designed by world renowned architect Santiago Calatrava, and is scheduled to be complete in 2011. The concrete arches of the Houston Street Viaduct were built in 1912. At the time, it was touted as the world's longest concrete structure, and is now listed on the National Register of Historic Places. There are three more bridges – Continental, Commerce and Corinth – that were built in the 1930s and share similar architectural features.
Once both sections of this trail are complete, this trail will offer a contrast for paddlers to note the differences between an altered, channelized channel segment in the first half of the trail in which trees and other riparian vegetation have been removed, and contrast that to the channel after the Standing Wave, which still contains a tree-lined riparian corridor. Paddlers will experience first-hand the temperature differences and wildlife viewing potential between the two segments of the trail, although both have interesting items/scenery to note for trail visitors.
Sunfish, largemouth bass, and catfish are abundant along this stretch of the Trinity River. During the spring, white bass may also be targeted near tributaries. Anglers should use small jigs and soft plastics to target the sunfish and largemouth bass around logs, fallen trees, and debris piles using light to medium action fishing equipment. Catfish can be targeted using natural baits such as cut fish, worms, or shrimp using medium action fishing equipment. Anglers are reminded that this section of the Trinity River has a fish possession advisory for all fish species. The advisory, implemented by the Department of State Health Services, advises anglers not to eat any fish from this section of the Trinity River.
Wildlife sighted includes herons, egrets, raccoons, skunks, red-tailed hawks, deer, beaver and even a bald eagle. Additional bird species have been seen and recorded at the Trinity River Audubon Center. Tree species include Ash, Elm, Willow, Pecan, Live Oak and a nice stand of Texas Buckeyes.
Respect private property by not trespassing or littering and keeping noise levels down. This river is classified as navigable, which permits public use of the streambed and, if necessary, the banks to portage any hazard. Any other use of private river banks without permission of the landowner can be considered trespassing. Under Texas Penal Code (§30.05), criminal trespass occurs when one enters property after receiving notice not to enter. Notice includes verbal notice, a fence, sign(s), purple paint on posts or trees, or the visible presence of crops grown for human consumption.
For more information please see the Paddling Events calendar.
Trinity River Audubon Center
6500 S. Loop 12
Spend the day fishing or kayaking. Put on your hiking boots, grab a pair of our Binoculars, and go on a bird hike. Want to go for a nice walk? We have that too with more than 4 miles of trials exploring the Great Trinity Forest, the Trinity River, and our local wetlands and prairies. www.trinityriveraudubon.or
Dallas Wave Whitewater Feature
1837 8th St
Levee Top Trail
1001 Sylvan Ave. (trailhead with trail map)
This trail was made possible through a partnership between Texas Parks and Wildlife Department and the City of Dallas.
Flatwater Kayak
Daren and Kristi Payne, 817-451-9230
www.flatwaterkayak.com
Services offered: Rental of Victory Blast Kayaks, Life Vests, and Paddles
Kayak Instruction, Inc.
Dave Holl, 972-412-7691
www.kayakinstruct.com
Services offered:
whitewater kayak sales and rentals for the Dallas Wave
KayakPower
214-669-1663
www.kayakpower.com
Offers kayak and canoe rentals, also guided trips and paddling instruction.
Paddle Bound River Outfitters
Jimmy and Edie Gray, 817-282-3135
Colleyville, TX 76034
www.paddlebound.com
Services offered: Canoe/Kayak Sales, Rentals (canoes/kayaks, trailers, life jackets, paddles), Guided Trips & Instruction
Trinity River Expeditions
214-941-1757
www.canoedallas.com
Services offered: Guided trips, rental of canoes & kayaks, shuttle service, trailer rental
Cutter Aquatics
Phone 817-354-6853
www.CutterAquatics.com
Provider of Quality Instruction in Kayaking and Canoeing
ACA & USCA Certified Instruction
American Red Cross Authorized Provider
Mountain Sports
2025 W. Pioneer Pkwy
Arlington, TX 76013-6005
1-800-805-9139 or 817-461-4503
http://www.mountainsports.com
Services offered: canoe and kayak sales