Experimental Mule Deer Antler Restriction
Prior to the experiment, TPWD received many requests from landowners, managers, and hunters to improve the buck age structure within the southeast Panhandle. TPWD data for 14 years preceding the experiment indicated annual, intensive mule deer buck harvest that created a skewed sex ratio and an age structure inordinately weighted towards young deer in the buck segment of the population. Certain types of antler restrictions can be used to successfully reduce the impact of intensive harvest on buck age structure and sex ratios within a population. Therefore, TPWD initiated an experimental antler restriction that prohibited the harvest of any mule deer buck with an outside spread of the main beams that was less than 20 inches. The experimental regulation was designed to reduce excessive hunting pressure on young bucks and shift the age structure of the buck herd toward older age class bucks. By doing so the regulation helped to improve overall hunter and manager satisfaction. Other benefits of managing for a balanced buck age structure include improved sex ratios and shortened breeding periods, which could help to improve fawn recruitment and reduce overall stress on bucks. The experimental antler restriction began during the 2018 hunting season and continued through the 2021 hunting season in Briscoe, Childress, Cottle, Floyd, Hall, and Motley counties. Lynn County was added for the 2019 hunting season. Data was assessed throughout the experiment and compiled at the end of 4 hunting seasons.
TPWD used voluntary deer harvest check stations at five different locations (Turkey, Estelline, Matador, Matador WMA, and Lynn County) to collect age and antler measurements annually. To gather the most harvest data possible, TPWD and their partners offered incentives to hunters who brought their mule deer buck to the check stations. Hunters were entered in drawings for items such as rifles, lifetime hunting licenses, and gift cards. The harvest data collected were essential to effectively evaluate the success of the experimental antler restriction. TPWD will be continuing this experiment within Terrell County starting the 2022 hunting season through the 2025 mule deer season.
To gather the most harvest data possible for the Terrell County experiment, TPWD is offering incentives to hunters who check their harvest. Hunters who bring their mule deer buck to the check station in Dryden will be entered in drawings for items such as gift cards and other great prizes. Harvest data is essential to effectively evaluate the success of the experimental antler restriction. For more information on reporting Mule Deer harvest and hunter incentives, see the Mule Deer Harvest Check Stations for more information.
.
Special Antler Restriction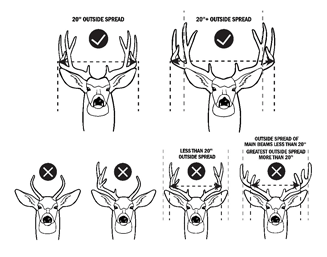 Data collected from mule deer and white-tailed deer indicate that the average antler spread increases as bucks mature. In addition, the current white-tailed deer antler restriction that exists within 117 counties has proven to be highly successful in creating a more balanced age structure and shifting harvest to older aged bucks. Unlike the white-tailed deer antler restriction, which has an inside spread measurement criterion, the experimental mule deer antler restriction will use an outside spread measurement based on many years of TPWD mule deer harvest data. The logic behind using the outside spread criteria (20") is that this measurement in mature bucks is very close to the distance between ear tips when a buck is standing in the alert position and is the easiest guide to allow accurate field judging by hunters. In contrast, the average inside spread is several inches less than the distance between ear tips, which would make it more difficult to judge in the field. More importantly, data collected by TPWD shows that using the main beam outside spread should achieve the goal of protecting younger mule deer bucks.
To protect young bucks, TPWD has set the minimum legal outside spread of the main beams at 20 inches based upon many years of harvest data as well as data collected during the experiment in the Panhandle. In other words, any buck having main beams with an outside spread smaller than 20 inches is NOT legal to harvest. Additionally, any buck with at least one unbranched antler (e.g., spike) is NOT legal to harvest, unless the outside spread of the main beams is 20 inches or more in width. The ear-tip to ear-tip measurement can be a useful guide to mule deer hunters attempting to field-judge mule deer bucks with at least a 20-inch main beam outside spread. Based upon these data TPWD will be testing the antler restriction in Terrell County.