Wheelchair Accessible Wildlife Viewing Sites in Texas
---
Watching Wildlife is for EVERYONE!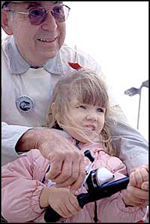 The following is a list of wildlife viewing sites in Texas that are wheelchair-accessible. For details, please contact the site directly. This list is offered as a public service to our constituents as the data is being compiled. We want to make this list as complete as possible. If you know of other sites that should be added to the list, please email NatureTourism@tpwd.texas.gov.
Many state parks offer accessible features, including trails, campsites, restrooms or exhibits. Learn more about wheelchair accessibility at parks.
Alazan Bayou - Wildlife observation platform

Aquilla - Courtesy dock at boat ramp
Black Gap - Interpretive trail and scenic overlook
Candy Abshier - Wildlife viewing platform
Chaparral - Arena Roja nature trail and the wildlife observation tower overlooking the waterhole at stop 30
Elephant Mountain - Wildlife viewing station
Guadalupe Delta - Wildlife viewing platform on Hwy. 35 adjacent to the WMA (see Sites on the Great Texas Coastal Birding Trail, CTC 036)
Gus Engeling - Wildlife observation blind
J.D. Murphree - Wildlife viewing platform in Compartment 1 of the Big Hill Unit
Las Palomas - Wildlife observation deck overlooking the resaca at the Ebony Unit and a 1,100 foot interpretive trail at the Longoria Unit. The latter has pullouts/benches for wildlife viewing and a shaded gazebo with benches, great for bird and butterfly viewing.
Lower Neches - Wildlife viewing platform in the Old River Unit
Pat Mayse - Trail through the marsh, waterfowl viewing area and observation blind
Justin Hurst - Live Oak Loop nature trail
Playa Lakes - Wildlife viewing blind on the Taylor Lakes Unit
Redhead Pond - Wildlife viewing platform
Richland Creek - Wildlife observation blind
Tony Houseman - Interpretive displays and boardwalk through the swamp located at the TxDOT Travel Information Center adjacent to the WMA
Nature/Education Centers and Community Parks
Hornsby Bend Biosolids Management Facility - The best and most frequently birded site in the Austin area. More than 350 species have been recorded here. The lagoons and riverside trails (mostly accessible, with some assistance) are open from 6 a.m. to 8:30 p.m. year round. Restrooms and water fountains are available inside the CER Monday through Friday, from 7 a.m. to 4 p.m. Web site: Birding Guide to Hornsby Bend.
Nelson Farms Preserve Wildlife Viewing Platform, Katy Prairie Conservancy - Open from dawn to dusk, 7 days a week. Excellent location for viewing wildlife of the Katy Prairie. Call 713-523-6135 for more information and a map, or visit their web site at Nelson Farms Preserve Wildlife Viewing Platform, Katy Prairie Conservancy.
Padre Island Convention Center Laguna Madre Nature Trail and Butterfly Garden - This boardwalk trail winds through the marsh and out to overlooks on the Laguna Madre. Also, small woodlots on South Padre Island provide resting and feeding areas for migrating songbirds.
Tyler Nature Center - Nature trail
Wetlands Trail at the Texas Freshwater Fisheries Center - The new site features an all-weather, ADA accessible trail that winds pleasantly through a naturally wooded and re-vegetated area on the south and west portions of the TFFC grounds. A small stream connects ponds, small swamps, and other wet areas that will provide habitat for a wide variety of plants, birds, and animals. The area will be used for educational programs, and offers visitors an opportunity to see and learn about wildlife and the important functions that wetlands serve in the environment.
National Wildlife Refuges
Anahuac – Current wheelchair accessible viewing areas include the Shoveler Pond Overlook, East Unit Hunt Blind, East Bay Bayou Fishing Bridge, and Galveston Bay Overlook. Shoveler Pond Boardwalk is under construction.
Aransas/Matagorda Island – Current viewing facilities include the Heron Flats Trail Observation Deck, Jones Lake Observation Deck, and Hog Lake Observation Deck. The Big Tree Trail is planned to be accessible by August 2002. There is also a 16-mile paved auto tour loop. The refuge brochure is available in Braille.
Brazoria – Facilities include Environmental Center and Information Pavilion, Big Slough Auto Tour, Teal Pond Observation Platform, and Bastrop Bayou Fishing Area.
Buffalo Lake – Viewing facilities include the Stewart Marsh Hiking Trail and Observation Blind, Group Wildlife Interpretive Camping Site, Viewing Overlook, and Cottonwood Canyon Birding Trail.
Hagerman – Current facilities include Harris Creek Fishing Area, Big Mineral Day Use Area, Cedar of Lebanon Display Area, and Hagerman Townsite Kiosk
Laguna Atascosa – Current viewing facilities include the Bird Feeding Station/Photoblind, Butterfly Garden Walk, Kiskadee Trail (1/8 mile hard surface), Paisano Trail (1 1/4 mile paved), Osprey Overlook (covered platform with accessible scope), Alligator Pond Trail (1/4 mile paved), and Alligator Pond Viewing Platform.
McFaddin – Facilities include the Pond 11 Waterfowl Hunting Blind and Five Mile Cut Fishing Pier.
Santa Ana – Current viewing facilities include the Butterfly Garden Trail, the "A" Trail, and the Wildlife Tram/Auto Tour Route.
San Bernard – Facilities include Moccasin Pond Auto Tour and Bobcat Woods Boardwalk and Trail.
Note: In addition to viewing sites listed above, many National Wildlife Refuges in Texas have accessible Visitor Centers, restrooms, and campsites.
National Park Service Sites
Alibates Flint Quarries National Monument
Amistad National Recreation Area
Big Bend National Park
Big Thicket National Preserve - Sundew and Pitcher Plant Trails are 1/4 mile each in length.
Guadalupe Mountains National Park
Padre Island National Seashore
National Forest Service Sites
Angelina National Forest
Sabine National Forest
Stephen F. Austin Experimental Forest and Interpretive Trail System - The 1-mile "Jack Creek Loop" is the only major accessible trail in East Texas within a natural forest setting. Located halfway between Lufkin and Nacogdoches, the Forest, trails, and picnic area offer a unique area for public recreation and education about the natural resources and history of East Texas. The trails are open during day-light hours 7 days a week.
*Information will be coming soon for the National Park Service Sites and the National Forest Service Sites