Saltcedar Management in the Upper Brazos River
Saltcedar (Tamarix spp.) is a highly invasive woody plant that infests more than 2 million acres in the southwestern United States, including over half a million acres in Texas. Its most detrimental impacts arise from its tendency to form dense thickets that displace native plants along rivers, alter the shape and function of streams, reduce water availability, and alter water quality. As a result, habitat for fish, for wildlife such as turkeys and quail, and even for livestock grazing is reduced.
Estimates of water usage and loss due to saltcedar infestation vary, but suggest that dense stands of relatively young plants across the floodplain have a negative effect on river flows. Along the upper Brazos River, saltcedar infestation is pronounced throughout the designated critical habitat of two federally listed minnows endemic to the Brazos River in Texas. This fact contributed to the decision by the U.S. Fish and Wildlife Service to list these fishes as endangered. Effective, targeted management of saltcedar will help to restore or conserve habitat for these fishes and support healthy river function and diversity of riparian plant communities and wildlife.
Management efforts will initially focus on the Double Mountain Fork of the Brazos watershed along with habitat, water, water quality, fish and vegetation monitoring. The USFWS Partners in Fish and Wildlife Program is also contributing funds, time, and expertise to this important project.
What's Happening
Aerial surveys of saltcedar infestation have been completed on the Double Mountain Forks, Salt Fork, White River, and main stem of the Brazos River down to Possum Kingdom Reservoir.
As of the end of July 2017, 47 landowners and numerous partners are participating in large-scale efforts to manage saltcedar in the Upper Brazos River watershed and improve habitat for fish and wildlife.
In 2016, 3,500 acres along 112 miles of the North and South Forks of the Double Mountain Fork of the Brazos River were treated with herbicide to manage the impacts of invasive saltcedar. Biological control beetles are present, but population numbers remain low.
Research studies are underway to evaluate the effects of saltcedar and saltcedar treatment on river habitat, riparian habitat and vegetation, water quality and water budget.
Management efforts will continue on the Double Mountain Forks and expand to the Salt Fork and main stem.
For more details on any of these events or programs, contact:
Monica McGarrity, Aquatic Invasive Species Team Leader - 512-552-3465
Kevin Mayes, Aquatic Biologist, River Studies - 512-754-6844 Ext. 225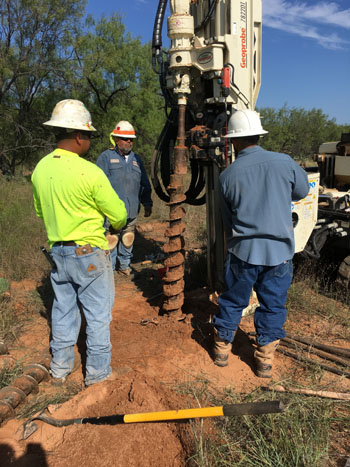 Contractors from UT Bureau of Economic Geology install hydrological monitoring wells