Deepwater Horizon Oil Spill
Background Information
On April 20, 2010, BP Exploration and Production Inc. (BP) was using Transocean's mobile offshore drilling unit Deepwater Horizon to drill a well in the Macondo prospect (Mississippi Canyon 252–MC252) when the well blew out. The drilling unit exploded and caught fire, resulting in the death of 11 workers. Two days later, Earth Day, the platform sank releasing millions of barrels of crude oil into the Gulf of Mexico over a period of 87 days. In addition, over 1 million gallons of dispersants were applied to the waters of the spill area in an attempt to disperse the oil. An undetermined amount of natural gas was also released to the environment as a result of the spill. It will be years before the full extent of the injuries are known. However, some restoration have begun to speed known resource injuries toward recovery, while other restoration activities can only be implemented once the full suite of natural resource losses are considered and appropriate restoration options are selected. The oil spill, along with associated removal activities, adversely affected and injured natural resources within the jurisdictions of the United States and the States of Texas, Louisiana, Mississippi, Alabama, and Florida and resulted in lost recreational uses of those resources. Texas suffered from both direct (e.g. direct oiling on beaches and wildlife) and indirect impacts (e.g. decreased recreational use; damaged habitat which in turn negatively impacted wildlife populations) as a result of the spill.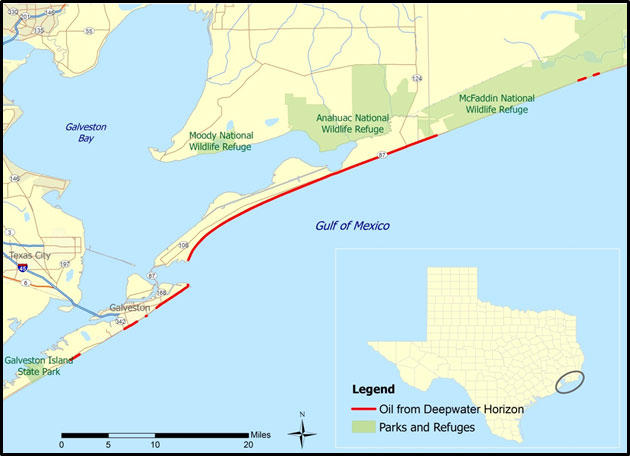 Above is a map displaying preliminary information regarding the location of oil that was observed on the Texas shoreline.
Legal Basis Requiring BP to Restore Lost Resources
Pursuant to the Oil Pollution Act, designated federal and state trustees for natural resources are authorized to (1) assess natural resource injuries resulting from a discharge of oil or the substantial threat of a discharge and response activities, and (2) develop and implement a plan for restoration of such injured resources. The Trustees have made the following findings:
The explosion on the mobile offshore drilling unit Deepwater Horizon on April 20, 2010, and other associated occurrences resulted in discharges of oil into and upon navigable waters of the United States, including the Gulf of Mexico, as well as adjoining shorelines.
The discharges were not permitted pursuant to federal, state, or local law; are not from a public vessel; and are not from an onshore facility subject to the Trans-Alaska Pipeline Authority Act.
Natural resources under the trusteeship of the Trustees have been and continue to be injured and threatened as a result of discharged oil and associated removal efforts. The discharged oil is harmful to natural resources exposed to the oil, including aquatic organisms, birds, wildlife, vegetation, and habitats.
Discharged oil and the response activities to address the discharges of oil have resulted in adverse effects on natural resources and services that those resources provide in and around the Gulf of Mexico and along its adjoining shorelines. The full extent of potential injuries is currently unknown, and may not be known for many years; however, current natural resources and resource services that have been impacted due to the discharged oil include but are not limited to the following:
Hundreds of miles of shoreline habitats, including salt marshes, sandy beaches, and mangroves;
A variety of wildlife, including birds, sea turtles, and marine mammals;
Lost human use opportunities associated with various natural resources in the Gulf region, including fishing, swimming, beach-going and viewing of birds and wildlife;
Waters of the Gulf of Mexico and adjoining coastal states;
Various other biota, including benthic communities and fish;
Water column habitat.
Accordingly, the Trustees have determined they have jurisdiction to pursue restoration under the OPA.
Technical Working Groups
A number of technical working groups made up of technical and legal representatives for the Gulf Coast natural resources Trustees have been established to evaluate potential impacts to the fate and effect of oil and dispersants. These groups develop and carry out pre- and post-impact field studies. For Deepwater Horizon, the technical working groups are collecting data on:
Water column
Fisheries and plankton
Submerged aquatic vegetation
Shorelines
Subtidal habitats
Shallow and deepwater corals
Birds
Marine mammals and sea turtles
Wildlife
Human uses, for example, fishing, hunting, and beach closures
Workplans and Data from these technical working groups.
Fish and Wildlife Links
Response Links