Upper Laguna Madre
The Laguna Madre is the longest and largest of seven estuarine systems in Texas and is one of six hypersaline bays worldwide in which the water is saltier than normal seawater (Figure 1.)1 In Texas, the Laguna Madre is divided into two sections:
Photo courtsey of Texas Aquatic Science ©2019,(Rosen Rudolph)
The Upper Laguna Madre (ULM), which extends from Corpus Christi to the Saltillo Flats, and
The Lower Laguna Madre (LLM), which extends from the Saltillo Flats into Mexico.

The ULM is isolated from the Gulf of Mexico by an expansive barrier island known as Padre Island. Spanning 64 miles (101 km) from the southern end of Corpus Christi Bay to the southern extent of the Land Cut, the ULM includes Baffin Bay, as well as its three tertiary bays: Alazan, Laguna Salada and Cayo de Grullo.2 The ULM is home to many ecologically and economically important fish and bird species and is known for the rich wildlife it offers anglers and birdwatchers from around the world. To learn more general information about the ULM, click here.
Climate and Hydrology
The ULM is classified as a sub-humid, semi-arid, subtropical climate that typically experiences high temperatures (average summer highs of 92.0 °F), low yearly rainfall (annual average of 27.8 inches), and high levels of humidity (annual average of 88%). The area experiences long, hot summers while winters are often short and mild with average low temperatures around 47.0 °F. Of particular importance to conditions in the ULM is the low level of rainfall in the area. Because no major rivers empty freshwater into the ULM, rainfall is an important factor in controlling the salinity of the bay. Evaporation rates in the area often exceed precipitation, contributing to the hypersalinity that characterizes the ULM. Large inputs of freshwater to the system through substantial rainfall or hurricanes not only change salinities within the bay, but also increase water levels, often leading to the deepening of tidal inlets and ultimately increasing rates of erosion and sediment deposition. Despite spanning 63 miles, there is only one channel (Packery Channel) within the ULM that allows water inflow from the Gulf of Mexico (Figure 2a)3 .
Photo courtsey of Texas A&M University Press ©2002,(Tunnell J.W.)
Although not found within the ULM, Mansfield Pass, located approximately 30 miles south of the Saltillo Flats, may also influence water flow in the ULM by pushing water northward through the Land Cut. Because of the distance between many areas of the ULM and Gulf passes,water residence times (i.e., how long water remains within the bay) in the ULM can be as long as one year in areas farthest from a channel (e.g., Baffin Bay). The combination of low precipitation, high evaporation, and long residence times in the ULM lead to hypersaline conditions. Due to its distance from Gulf passes, salinities in Baffin Bay are typically much higher than in the rest of the ULM, leading to a different community of organisms. Click here for a deeper look at the climate and hydrology of the ULM.

top of page
Geology and Habitat

The ULM began forming as early as 18,000 years ago as glacial ice melted, cutting deep valleys in the ground that ultimately filled with water and large amounts of sediment.  Around 5,000 years ago, the continuously rising sea level led to the formation of shoals and sand bars along the coast.  The most prominent of these sand bars is the barrier island we now refer to as Padre Island, the formation of which isolated the body of water known today as the ULM.  Today, the ULM is characterized primarily by a soft sediment bottom with very little hard substrate.  Of the hard substrate found within the ULM, two of the most prominent are coquina beach rock (Figure 3a)5and serpulid reefs (Figure 3b).6  Coquina beach rock is found primarily at the mouth of Baffin Bay and formed around 30,000 years ago during the alternating deposition of sediment and broken shell fragments.  Serpulid reefs are much younger than beach rocks, forming only 300 to 3,000 years ago, and cover 16 square miles of Baffin and Alazan Bay, most commonly found along the shoreline.7

Photo courtesy of Wikimedia Foundation © 2020; Photo courtesy Harte Research Institute © 2020
These reefs were formed by serpulid worms that build protective tubes made of calcium carbonate, the same substance found in coral reefs.  Both types of hard substrate found in the ULM provide valuable structure and habitat for a variety of speciesfound within the bay. 
In addition to hard substrate, the Laguna Madre is known for housing nearly 80% of all seagrasses in Texas.8  Seagrasses not only provide habitat for a variety of species in the ULM, but also contribute to nutrient cycling within the system and help prevent the suspension of sediment, thereby decreasing erosion rates and improving water clarity.  There are five species of seagrass found in the ULM, with the most common type being Shoal Grass (Figure 4).  To learn more about the geology and habitat of the ULM, click here.

Fish and Waterfowl
The ULM is home to hundreds of species of animals, including several well-known and highly sought-after fish and waterfowl species.  Anglers travel from around the world to fish the waters of the ULM, often looking forspecies such as Black Drum, Red Drum, and Speckled Seatrout (Figures 5a,b,c).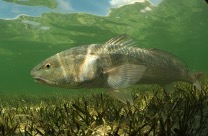 Photos 5b and 5c are courtesy of The Record Live at therecordlive.com © 2017
The area is known for its abundance of Black Drum, which are found in particularly high numbers in Baffin Bay.  Black Drum thrive in unvegetated areas where they feed on small mollusks (e.g., clams) and crustaceans (e.g., shrimp, crabs) that live in the sediment.  Black Drum have been found to spawn throughout the Laguna Madre and do particularly well in Baffin Bay, where unvegetated bay bottom habitat is more abundant.  This species is not only an important recreational species, but also comprises a large proportion of the finfish caught for commercial purposes.  Over the last 10 years, 53% of Black Drum harvested for commercial purposes along the Texas coast came out of the ULM (including Baffin Bay).  Another highly sought-after species in the ULM is Red Drum, which are also referred to as Redfish.  Red Drum are found primarily in areas of the bay with seagrass beds, which provide habitat and protection for juveniles.  By age three, most adults move offshore, but return to Gulf passes, such as Packery Channel, to spawn in the fall.  Another recreationally important finfish species in the ULM is Spotted Seatrout.  This species of fish is entirely dependent on the estuarine habitat, as they spend their entire life cycles in estuaries like the ULM.  They are able to reproduce under hypersaline conditions and are often found in areas with seagrass beds, where they feed on smaller prey such as shrimp, Pinfish, and menhaden.  Although Black Drum, Red Drum, and Spotted Seatrout are only a few of the hundreds of species of fish found in the ULM, they represent an important part of the ULM ecosystem and our interaction with it. 
In addition to housing a variety of important fish species, the ULM is also known for attracting numerous bird species, including many migratory birds that stop off at the ULM for resting and feeding during their migration routes.  In addition, Texas supports more waterfowl than any other state along the Central Flyway, a bird migration route that extends from South America all the way into Canada.  Although many important waterfowl species winter in the Laguna Madre, one of the most abundant and notable species observed in the ULM is the Redhead duck (Figure 6)11.


Photo courtesy of the Beacon at thebeacon.net © 2020, (Mark Duncan)
The US Fish & Wildlife Service recorded a staggering 2.4 million Redheads on the coast of south Texas in 1997-1998, with an estimated 75% of the global Redhead population wintering in the Laguna Madre annually.  The ULM is a wintering hotspot for Redheads and other waterfowl because of the availability of healthy Shoal Grass, which Redheads and other "diving ducks" feed on.  The ULM provides valuable habitat as well as foraging and breeding grounds for many migratory and non-migratory birds.  Click here to learn more about the abundant wildlife found in the ULM.
top of page
Human Impacts

The ULM ecosystem provides incredible opportunities for boating, fishing, and hunting; however, the increased number of people recreating in the ULM can also have negative impacts on the ecosystem.  Although hunting and fishing in Texas are regulated by the Texas Parks and Wildlife Department, overhunting and overfishing can still occur if individuals are harvesting more animals than bag limits allow for, or if people are
hunting or fishing without the proper licenses.  Adhering to bag and size limit regulations is vital to ensuring the health of our animal populations so that we can continue to enjoy these resources in the future.  
Another widespread human impact in the ULM is propeller scarring, which occurs when the propellers of boats come into contact with seagrass beds in the bay (Figure 7).  Propeller scarring usually occurs as a result of taking shortcuts, misjudgment of water depth, and individuals being unaware of the damage boat propellers can have on seagrasses.13  The loss of seagrass associated with propeller scarring results in a loss of habitat for animals, decreased productivity and carbon storage of a system, decreased water clarity, and an increase in erosion.  Preventing propeller scarring is the responsibility of boaters and can be accomplished by ensuring the use of appropriate navigational aids and adhering to the "Lift, Drift, Pole, Troll" guidelines when boating near areas with seagrass.  To read more about "Lift, Drift, Pole, Troll" guidelines and other human impacts in the ULM, visit the following website: https://tpwd.texas.gov/landwater/water/habitats/seagrass/.
top of page
Reference List
1Rosen, Rudolph. "Bays and Estuaries – Texas Aquatic Science Curriculum." Texas Aquatic Science, 31 May 2019,
https://texasaquaticscience.org/bays-and-estuaries-aquatic-science-texas/.
2Tunnell, J. W., & Judd, F. W. (Eds.). (2002). The Laguna Madre of Texas and Tamaulipas (Vol. 2). Texas A&M University Press. Pgs 9-10, 18, 34
3"Packery Channel, Texas Tide Station Location Guide." Tide Times and Tide Charts, www.tide-forecast.com/locations/Packery-Channel-Texas.
4"Packery Channel Jetties." Packery Channel Jetties in Corpus Christi, www.stxmaps.com/go/packery-channel-jetties.html.
5"Coquina." Wikipedia, Wikimedia Foundation, 13 Apr. 2020, en.wikipedia.org/wiki/Coquina.
6"Coastal Conservation & Restoration." Coastal Conservation & Restoration | Harte Research Institute, 9 Mar. 2020, www.harteresearchinstitute.org/research/coastal-conservation-restoration
7 Larimer, Amy. "The Rocks of Baffin Bay." Texas Saltwater Fishing Magazine, Sept. 2009, www.texassaltwaterfishingmagazine.com/fishing/education/texas-parks-wildlife-field-notes/the-rocks-baffin-bay.
8"Laguna Madre." The Nature Conservancy, https://www.nature.org/en-us/get-involved/how-to-help/places-we-protect/laguna-madre/.
9FWC Fish and Wildlife Research Institute. "Shoal-Grass (Halodule Wrightii) Planted in Sediment." Flickr, Yahoo!, 7 July 2010, www.flickr.com/photos/myfwc/4771653278
10"Black Drum Provide Rod Bending Action This Spring." The Record Live, 22 Feb. 2017, therecordlive.com/2017/02/21/black-drum-provide-rod-bending-action-this-spring/?mobile=true.
11Egan, D'Arcy. "Birders Enjoy a Bonanza of Waterfowl at East Harbor." The Beacon, 5 Feb. 2020, www.thebeacon.net/birders-enjoy-a-bonanza-of-waterfowl-at-east-harbor/.
12Chumney, B. "Recent Report Documents Prop Scarring in Florida Bay." Audubon Florida, 17 Mar. 2016, fl.audubon.org/news/recent-report-documents-prop-scarring-florida-bay.
13 Dunton KH and Schonberg V. Assessment of Propeller Scarring in Seagrass Beds of the south Texas Coast. Coastal Education and Research Foundation. 37:100-110.