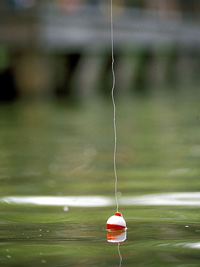 Fishing at Sheldon Lake
Sheldon Lake State Park
Perfect Outdoors Classroom
One of Texas' most unusual state parks sits in northeast Harris County on the edge of the nation's fourth largest city, representing an oasis of water and woods amid a smattering of manufacturing plants, freeways and urban sprawl. Here, just 20 miles from downtown Houston, the call of a great blue heron competes with the howl of a freight train barreling along tracks right outside the park gates. But that's not what makes Sheldon Lake State Park unique to the Texas state park system.
Sheldon Lake offers no overnight campgrounds, swimming pools or most other recreational facilities common to most state parks. There is a small picnic area, compost and recycling demonstration site and native wildscape garden. But the heartbeat of 2,800-acre Sheldon Lake State Park is the 35-acre Environmental Learning Center (ELC). The ELC occupies the site of a former state fish hatchery that was carved out of one of the state's first wildlife management areas established in the 1950s as a waterfowl refuge, a research facility and public fishing lake. As usage changed and the city encroached on the facility, Texas Parks and Wildlife changed the designation to a state park in 1984.
Robert Comstock, who has managed the facility since that time, refers to the park as a "biological island" in an urban environment that provides, as one of the few inland, freshwater marshes along the upper Texas coast, for more than 500 species of nesting and migratory waterfowl and other birds. More than 20 tree-covered islands in the 1,200-acre Sheldon Reservoir provide nesting sites for heron and egret rookeries. Bald eagles and osprey frequent the area as well, according to Comstock.
People still come to fish the shallow waters of the reservoir, created originally by the federal government in 1942 to service war industries along the Houston Ship Channel, but most visitors to the adjacent park and education center are youngsters from the urban core more familiar with video games and shopping malls than the outdoors.
Comstock says Sheldon Lake has found a niche among educators in the Houston area public school systems that is seeking to provide students with an "outdoors classroom" to teach conservation, ecology and nature study. Teachers often make reservations months in advance to bus students to the ELC to attend half-day programs on ecology, conservation, nature study, composting and recycling. Students also can learn to fish in two well-stocked ponds (catch-and-release only) and can take nature tours along a half-mile trail that skirts 28 one-acre ponds teeming with various waterfowl, turtles and even alligators. All are schooled on alligator etiquette before heading out on nature tours.
"Typically, for younger students," Comstock explained, "we take them for a walk along the trail and let them fish. There's plenty of opportunity to view wildlife. Believe it or not, to a lot of children to see a common egret walking along the pond shore, fishing is one of the most fascinating things they've every seen. And kids are just fixated by turtles."
The park supplies binoculars, wading boots and seining nets for youngsters interested in getting up close and personal with wildlife, doing pond studies and the like. Each rain-filled pond is different, some virtually clear of trees and brush, while others sport felled trees and a variety of cattails and lily pads. Armadillos, white-tailed deer, opossums, rabbits and raccoons can be readily spotted along the Pond Loop Trail and several spur trails leading into the park's wooded areas.
Sheldon Lake State Park experiences little walk-in traffic, though weekends have become popular because of Free Family Fishing Day. Parents and children may bring suitable bait (worms, crickets, etc.) to the ELC, where poles are provided on loan for kids to try their luck in two children's ponds. Free fishing hours are 8 a.m.-5 p.m Saturday and Sunday. The Learning Center is open from 8 a.m. to 5 p.m. Tuesday through Sunday.
A boat ramp located at the south end of the reservoir and four T-piers along the west and south levee off Pineland Road provides anglers good bank fishing for crappie, bass and catfish.
The park's excellent bird watching reputation has been spreading in recent years among Gulf Coast birding clubs and members of the general public hoping to glimpse more than 20 species of ducks and geese, a host of wading shorebirds and woodland species that frequent the park. Winter proves an excellent time for viewing not only colorful waterfowl such as wood ducks and mallards that frequent Sheldon Lake State Park, but also kinglets, yellow-rumped warblers, chickadees, hawks and owls who scour the brushy areas for berries and rodents. In the spring, neotropical migrant species such as the painted bunting can be spotted.
In 2002, Texas voters approved $2.58 million in bonds for Sheldon Lake to develop the old fishery pond area into an outdoor pond area classroom complex along with accessible nature trails for school and scout programs. This work, completed in 2005, entails a Pond Area that includes a Pond Center, Pond Plaza, Aquatic Study Stations, habitat restoration and recreational facilities.
Future plans for the park include numerous other developments. Park staff will be seeking financial support to make improvements such as a Visitor Learning Center, cabins, and camping area facilities. These facilities are designed to accommodate teachers who will attend environmental education seminars and learning sessions on-site.
Park staff will be seeking financial support to make future improvements that will include a visitor orientation center, meeting space, overnight group camping facilities, and a bridge spanning the 200-foot wide aqueduct that supplies drinking water to the City of Houston, thus linking the east side to the west side of the park.
Sheldon Lake State Park is one of more than 90 state parks that make up the Texas State Park System. The park, open 8 a.m. to 5 p.m. Tuesday through Sunday, is located on old U.S. 90 (15315 Beaumont Highway) two miles east of Beltway 8 East. For more information about the park and its educational programs, call (281) 456-2800. To learn about all of the Texas state parks, call (800) 792-1112, or log onto the Texas Parks and Wildlife Web site: www.tpwd.state.tx.us.
Read about the TPWD Privacy Policy.
© 2005-2008 Texas Parks and Wildlife Department
This document and other documents provided pursuant to the State Parks Getaways e-newsletter are for information purposes only. Texas Parks and Wildlife Department cannot guarantee the accuracy of any information presented after the date of publication. Information provided in this document is provided "as is" and this e-newsletter may be copied and distributed subject to the following conditions: (1) All text must be copied without modification and all information must be included; (2) All copies must contain TPWD's copyright notice and any other notices provided therein; (3) This document may not be distributed for profit.